September 28, 2021
[On the Job] The Lab Where Clean Air is Made
In this installment of On the Job, we go inside LG's Air Science Research Center to get a close and personal look at how researchers are helping to bring better air quality to the home.
What do smoke detectors, smart doorbells and security systems all have in common? They are all ways to make our homes safer. But few consumers think about the safety of the air we breathe at home. Clean air is more important to our health and well-being today, with people and families spending more time at home than before social distancing became the status quo. But cooking, cleaning, heating and pets all affect the air we breathe. Consider nearby construction activity, the changing of seasons and passing cars and there are even more factors outside of our control that affect family health. With this in mind, LG is investing even more in research to increase its technological capabilities and to better understand the science behind indoor air quality.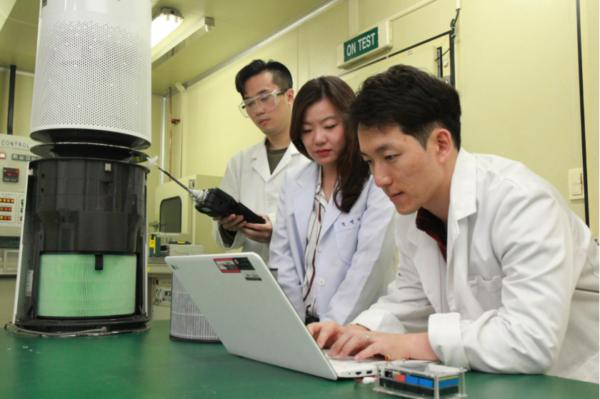 Established in 2018, the LG Air Science Research Center in Seoul is dedicated to the research and development of next-generation core technologies for use in the company's air care products including air purifiers, air conditioners and dehumidifiers. By analyzing the properties of dust particles, toxic gases and microorganisms that accumulate under different conditions, the lab's researchers are able to develop more effective methods of cleaning and making the air throughout the home safer for its occupants to breathe.
The Air Science Research Center is divided into three main sections: Home Environment Test Facility, Microorganism Test Facility and Dust and Odor Test Facility. In the Home Environment Test Facility, researchers recreate real-life environments to assess the effectiveness of new air care technologies. The facility houses an enclosed area where the ceiling height and floor space can be adjusted to mimic the interior dimensions of various buildings, from small apartments to large commercial spaces.
The Microorganism Test Facility is where the performance of LG's air purifiers are put to the test. Here, various microorganisms are dispersed and the effectiveness of each air purifier model's performance is recorded. At the Dust and Odor Test Facility, the speed and efficacy of the company's advanced filters on fine dust is measured by introducing dust or gas particles into a sealed test space. The deodorizing capability of LG's air quality technologies is also tested here. In recognition of its high standards and reliability of its methodology, the LG Air Science Research Center was officially accredited as a national microbiological and fine dust tester by the Korea Laboratory Accreditation Scheme (KOLAS) this February.
"To help create a better home environment as most of the world was sheltering at home, we introduced PuriCare Air Purifier with special features for coping with pet hair and odors," said Noh Jin-hee, a specialist at the Air Science Research Center. "We visited pet shops, pet cafes and homes to study the air conditions which we captured as data. We analyzed and used the information to develop the most effective filter and filtration settings for managing the air when living with furry companions."
To expand the knowledge base and refine research methods related to indoor air quality, LG cooperates and shares its information with other experts and specialists in related fields. Through the efforts of its dedicated researchers and investment in a world-class R&D and testing facility, LG is better able to live up to its reputation as a global air care solution provider to create a more comfortable, pleasant and healthier home for both consumers and their four-legged friends.
# # #