May 18, 2021
[On the Job] Accelerating UX Design Into the Future
Photo Credit: Cadillac
In this segment of On the Job, we take a look at user experience (UX) designers and the crucial role they play in LG's Vehicle component Solutions Company.

The future of mobility is fast approaching, with software predicted to account for 90 percent of all vehicle-related innovation within a decade.1 According to some estimates, around 461 million vehicles will have been equipped with digital head units – the control center for an automobile's information and entertainment center – and 115 million with digital cockpit architecture, between the years 2020 and 2030.2
And it's software that gives digital dashboard displays, head units, cockpits among other in-vehicle systems, their ability to enhance the overall driver and passenger experience. And as an expert in both plastic OLED (P-OLED) and user experiences (UX), LG is helping to shape the future of mobility with advanced in-vehicle digital displays.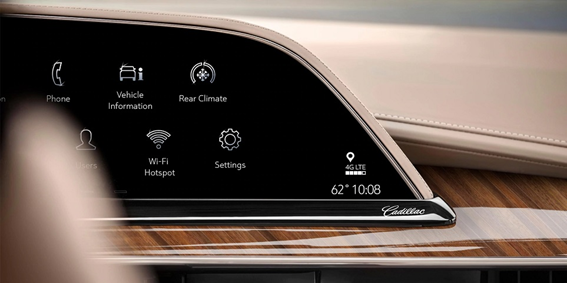 Photo Credit: Cadillac
As the automotive interior becomes more complex and more informative, the role of the UX designer is growing in importance. While UX design may not be as well-known as a car's exterior design, there is no question that it's one of the most dynamic fields related to design today with much room to evolve. Currently, the UX in vehicles relates to three main elements: traditional driver clusters such as speedometers and odometers; rear-seat entertainment (RSE); audio, video and navigation (AVN).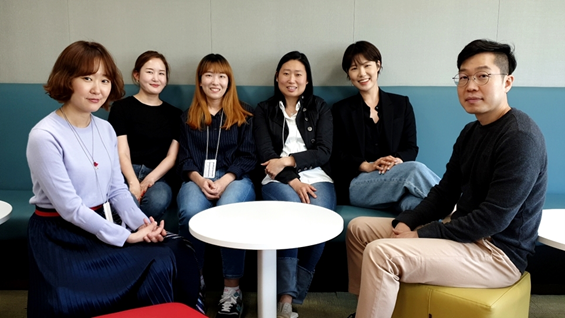 From left: Park Ji-yeong, Yoo Ah-yeon , Ko Seung-yeon, Oh Ji-won, Jeong Hye-in, Ahn Jong-yoon
From concept to production, the development cycle of a car today takes years. The whole time, LG's UX designers are involved every step of the way, considering every angle, every possible experience. Safety and convenience are of the greatest importance to LG UX designers, especially when it relates to AVN and driver cluster displays.
Details from font, text size, screen brightness and visibility at different times of the day to accessibility of commonly-used functions is factored in to produce an optimized graphical user interface (GUI). And because drivers' preferences differ widely, both physical controls must coexist seamlessly with more flexible touch displays without confusing the vehicle's occupants.
But beyond usability and safety, LG's in-car displays must also deliver exceptional style. The integrated infotainment system must exude a sleek, modern aesthetic that complements the interior and makes the driver and passengers feel as though they've stepped into a luxurious cockpit.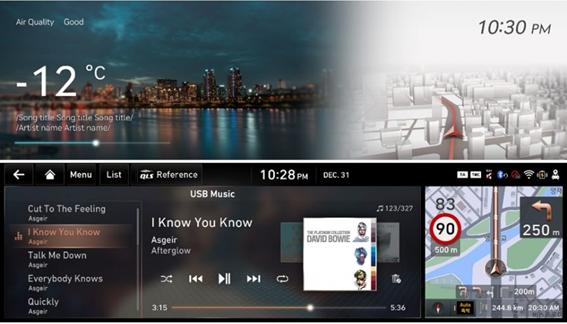 But a UX designer's role doesn't just stop at the drawing board or the CAD system. LG UX designers are also well versed in customer service.
"While working on the digital cockpit for a client, I took up residence in their offices for many months because the collaboration with our clients doesn't simply end with the design," said Park Ji-yeong, senior UX designer at LG Electronics. "Automobile software is updated for years, even for models launched almost a decade ago, so we make it a priority to follow up with our clients regularly."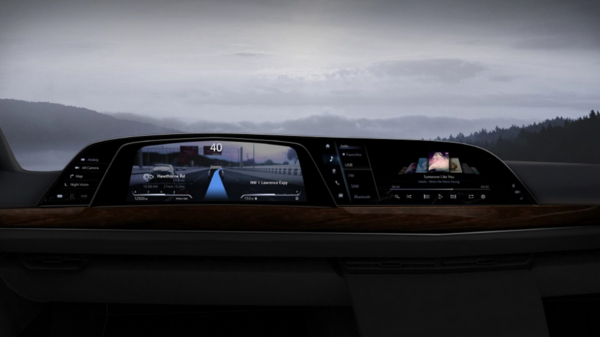 As UX designers at LG work to advance the in-vehicle experience, the information and entertainment technology inside the vehicle cabin will continue to evolve and become more complex. So it's a fairly sure bet that the job of a vehicle user experience designer will only be more vital to the driving experience, even if the driving is mostly done by the car.
# # #
1 https://www.ibm.com/thought-leadership/institute-business-value/report/auto-2030
2 https://www.abiresearch.com/press/digital-cockpit-be-mainstream-2030-due-major-restructure-connected-automotive-infotainment-architecture/