February 14, 2023
[Mobility Inside] How Infotainment Brightens Up Your Driving Experience
The latest trends in mobility focus on the unique driving experiences the latest cars can provide. This comes down to consumers valuing the journey more as an important part of their daily lifestyle. In 2022, building a vehicle that provides comfort and new driving experiences contributes to its competitiveness in the market. One such technology that provides new experiences is the in-vehicle infotainment (IVI) system.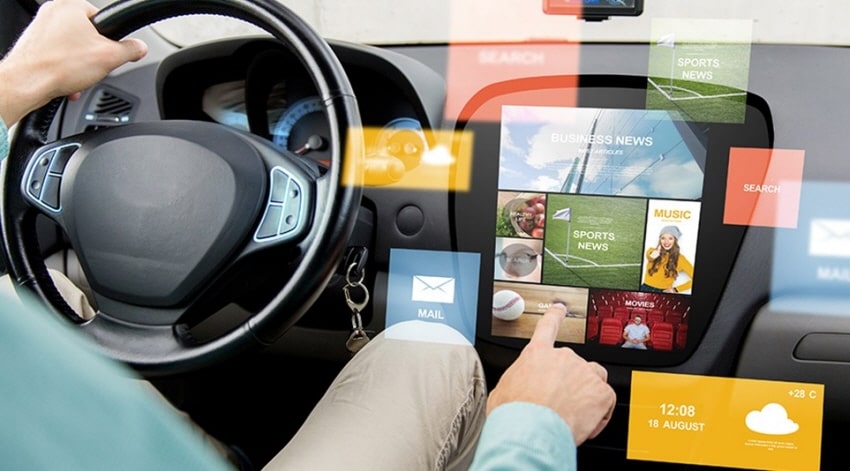 In-vehicle infotainment (IVI) system combines the words 'information' (navigation, speedometer, etc.) and 'entertainment' (movies, music, games and social media). The best IVI systems introduce fun and interesting ways to enhance the driving experience that go way beyond notifications.
Considering that the user experience (UX) and user interface (UI) are primary contact points between the product and customer, their ease of use, speed and intuitiveness are more important than ever. With this in mind, LG Electronics is developing infotainment technology that brings new value to drivers and passengers.

Photo credit: Autobest website
In 2020, the Pivi Pro IVI system, jointly developed by LG and Jaguar Land Rover (JLR), was awarded SMARTBEST 2020 award by Autobest, a renowned European non-profit automobile reviewer.

Photo credit: Land Rover
Since then, LG has been constantly improving its IVI systems which, in partnership with JLR, are the most intuitive and seamless to date. To get a better idea of just how exceptional they are, let's discuss the five main benefits of the LG IVI system featured in the iconic Land Rover Defender.
Multi-device connection
Unlike AVNs (Audio, Video, Navigation), which only support a single connection, LG's infotainment technology supports two connections at once so passengers can connect their smartphone using a hotspot to perform two separate actions on the vehicle's AVN screen and smartphone screen simultaneously.
After connecting a device to the Defender's AVN, passengers can stream music from their device via the AVN while watching YouTube on their portable screen. Basically, the driver can play music while the passenger watches YouTube with one smartphone. AVN supports other multitasking operations such as running a car software update as the navigation app works on the smartphone.
Personalized screen per user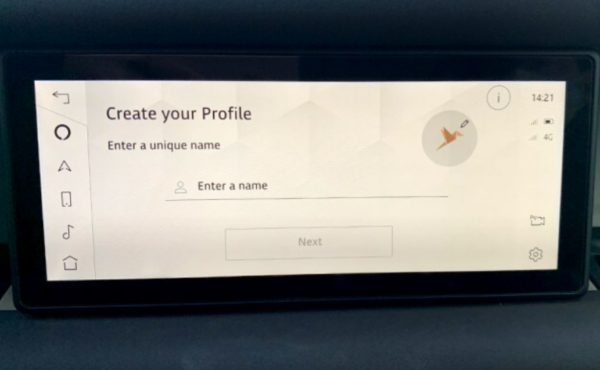 On the road, we often find ourselves sharing the cabin with family members or work colleagues with different interface preferences. That's why the LG IVI system lets you create multiple user accounts on the AVN so that everyone's ideal screen layout is just a few presses away.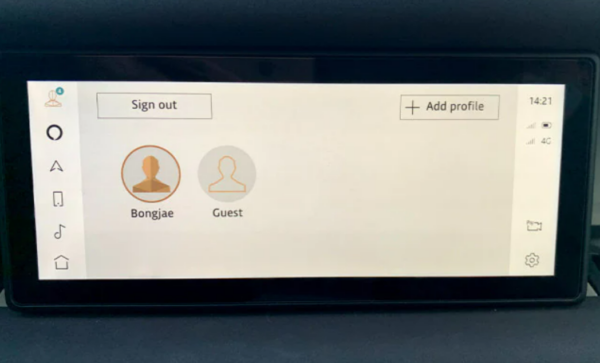 Land Rover Defender's AVN UI for selecting and adding user profiles
After selecting an account, the user's personal wallpaper, playlist and recent destinations are displayed on screen. This feature is ideal for cars driven by more than one person.
As easy as a smartphone
On the screen, users can even launch apps as they would on a smartphone, making it much easier to access online media stored on the Cloud. What's more, its easy-to-use UI sports unique fonts, an intuitive menu layout and optimized menu structure let them access the menu instantly. And editing apps is easier and more intuitive too, meaning the layout and order of apps can be adjusted to one's liking with ease.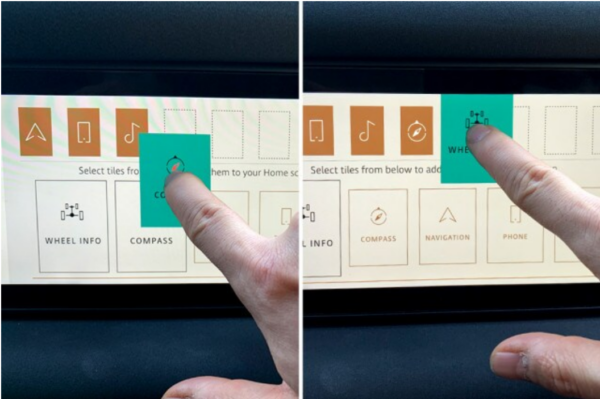 Selecting apps to display on the Land Rover Defender's AVN home screen
Single Sign-In eliminates the hassle of logging in multiple times for different apps as it permits users to log into their account once for complete app access. It's the perfect example of the seamless experience, where the seamless smartphone experience is extended to the car.
Safe and secure
When leaving your car with a valet attendant, being logged into a profile on the AVN gives that person access to sensitive information, including home addresses and contacts – a serious security risk.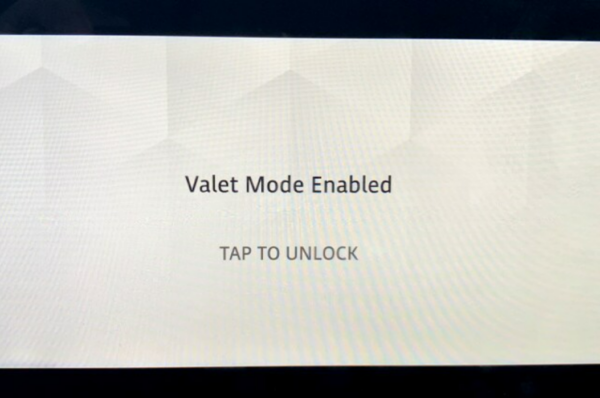 To protect consumers' personal information, Valet Mode password-protects the screen to prevent any unwanted access, perfect for when hiring a driver or lending a car to a friend.
Customizable cluster screen
The vehicle's cluster provides key information like the speedometer, warning indicators, maps and other driving-related information. The driver can even enlarge one of these indicators to enhance its visibility or even display something in its full screen mode.
The IVI system developed by LG Electronics for Jaguar Land Rover can be found in various models, both internal combustion models and electric vehicles. LG's goal is to provide more consumers around the world with the benefits of its IVI systems by bringing them to more premium automakers.
# # #