October 1, 2021
Clothing Care Tips That Help Memories Last a Lifetime

Pursuing a more sustainable life can be challenging. Like every lifestyle change, it's easiest when done in small steps. Take today's fast fashion as an example. Consumers are buying more clothes and wearing them less. The aim of the second phase of LG's #CareForWhatYouWear campaign is to convince consumers to do just the opposite.

The first phase of the campaign in 2020 introduced audiences to the issue of "disposable" fashion and how thrown-away clothing was impacting the Earth. The campaign's goal was to educate consumers on how to reduce clothing waste by choosing quality, environmentally friendly clothes, repurposing what we already own and passing on unwanted items to those who will wear and appreciate them.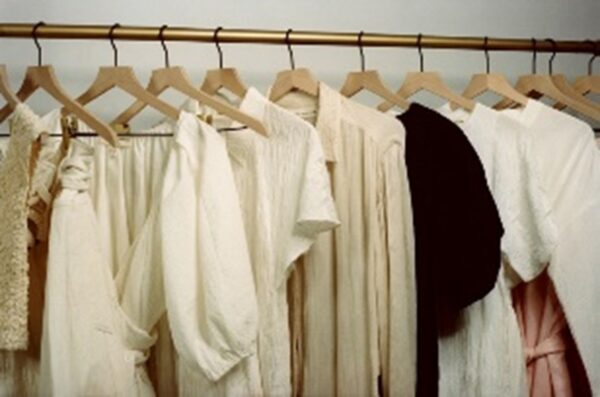 Following the success of the first campaign which gathered 130 million cumulative views on LG's YouTube channel and inspired LG's partnership with online luxury fashion retailer NET-A-PORTER, LG is introducing a three-episode video series titled, "Care For What You Wear" to show the love affair we have with our clothes. In the second phase of its #CareForWhatYouWear online campaign, LG is inviting fans to share their most cherished clothes and the stories behind them with the hashtags #MyCherishedClothes and #CareForWhatYouWear.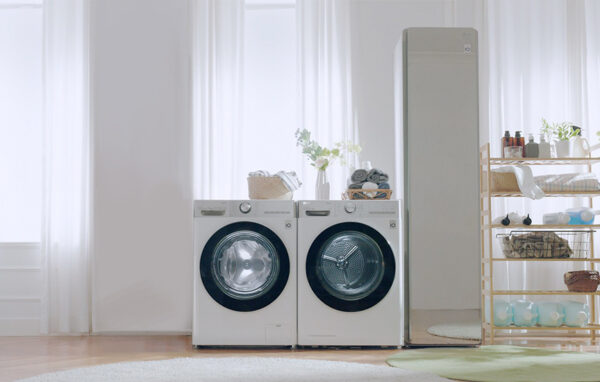 LG's advanced, energy-efficient clothing management products help extend the lifespan of all clothing types by minimizing fabric damage reducing fashion waste. LG is doing its part for fashion sustainability with its comprehensive laundry management system that makes it easier to manage garments properly.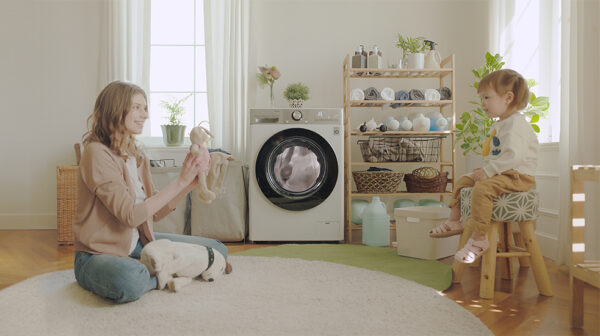 To extend the life of hand-me-downs, vintage clothing and other beloved fashion items, the advanced LG washer with AI Direct Drive™ (AI DD™) automatically sets up the optimal wash pattern for far less fabric damage.1 And thanks to ezDispense™ technology and TurboWash 360™ feature, just the right amount of detergent is used in the process of achieving Energy A-rated energy efficiency.2
As many already know, dryers are hard on clothes. LG's DUAL Inverter Heat Pump dryer, however, reduces wrinkles, shrinkage and is gentler on delicate garments. Unlike a traditional dryer, LG's DUAL Inverter Heat Pump dryer utilizes lower temperatures to achieve desired results, revitalizing and softening laundry without causing more wear than necessary. For clothes that simply can't be washed, the one-of-a-kind LG Styler wardrobe management appliance employs TrueSteam™ technology to gently remove wrinkles while also sanitizing.3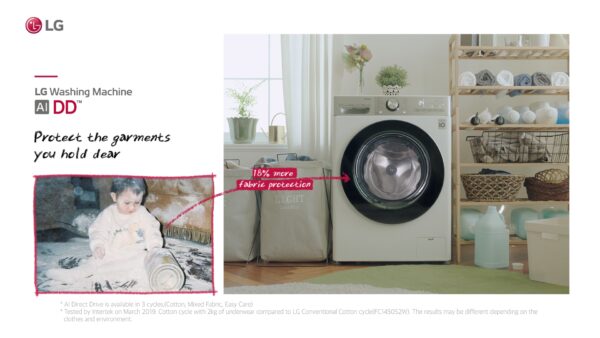 LG believes that anyone can achieve a more sustainable lifestyle with small steps, starting with the desire to take better care of clothes. To learn more about LG's #CareForWhatYouWear digital campaign and to receive sustainable clothing tips on managing your clothes along with information to get the most out of LG's washing machine, dryer and Styler, click here.
# # #
1 AI DD provides 18 percent more fabric protection to help extend the lifespan of clothing. Tested by Intertek in March 2019, comparing Cotton cycle with 2kg of underwear to LG's conventional Cotton cycle (F4V9RWP2W vs. FC1450S2W). AI DD available for three cycles (Cotton, Mixed Fabric and Easy Care). Results may differ depending on product models.
2 Washer tested by Intertek based on IEC 60456 Edition 5.0 on TurboWash39 cycle with 5kg of IEC load compared to conventional Cotton cycle (F4V9RWP2W vs. FC1450S2W). Results may differ depending on load composition and environmental factors.
3 Certified by Korea Apparel Testing & Research Institute (KATRI) comparing results using Refresh cycle. Endorsed by the British Allergy Foundation (BAF) for reducing live house dust mite and bacteria with Sanitary Normal cycle, and viruses (H3N2, H1N1, PEV, IBRV, ICHV, PEDV, MHV, and hCoV-229E) with Sanitary Heavy Duty cycle. Certified as an asthma and allergy friendly® appliance by the Asthma and Allergy Foundation of America (AAFA).