May 4, 2021
[Why ESG] Promoting Sustainable Consumption With Responsible Products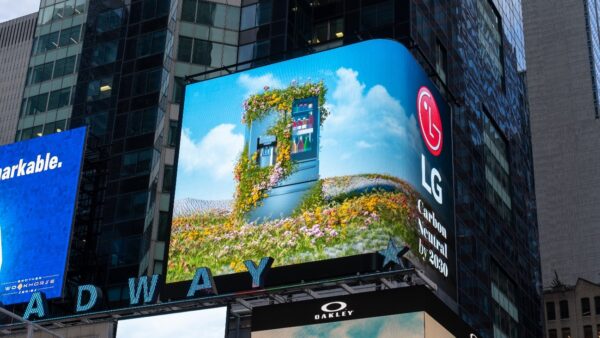 Since the initiation of the environmental movement in the 1960s, the fragility of our world has become a global topic, requiring united social action and even multinational companies to reconsider their strategies. That focus has also shifted in a more sustainable direction that puts nature conservation first, a change that can be seen in the attitude of today's rapidly growing eco-conscious consumers.
In matters relating to conscious spending, there isn't a more active group than Gen Z, with 89 percent of Gen Z-ers saying they prefer buying from brands that actively support social and environmental causes over those that do not. Society's youngest consumers are now the ones informing the public on all things green, making this generation the leaders of real societal change.
On a governmental level, the EU introduced new Energy Labels on March 1, taking a stricter stance on products that wish to be labeled green. Such environmental labels are important because they provide insightful energy consumption and environmental data that today's consumers expect before purchase. The new energy designation replaces the outdated system by providing manufacturers with added incentive to improve energy efficiency.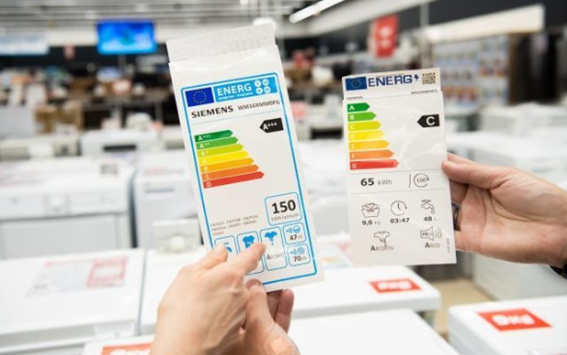 Photo Credit: European Commission
A washing machine's spin efficiency could be crucial in determining the energy consumption of a dryer, since low spin performance increases running time and uses more energy. When it comes to noise level, although the difference between 72dB and 73dB may seem small, the new rules could have an appliance demoted an entire letter grade.1
As part of its commitment to reduce its carbon footprint, LG has converted all DUAL Inverter Heat Pump™ Dryers to use R290 refrigerant, which has a lower global warming potential (GWP) than R134a refrigerant.2 As a result, LG's DUAL Inverter Heat Pump Dryer earned the Green Product Mark from TÜV Rheinland for meeting the requirements of pollution prevention, sustainable use of resources and climate change mitigation.3
And in an effort to further reduce greenhouse gas emissions, LG makes every effort to make products lighter, using fewer resources during the production process. LG is developing and supplying energy-efficient products that carry the Energy Star label and are certified by the European Commission for contributing to the reduction of greenhouse gas emissions and helping to modify usage behavior for a greener lifestyle.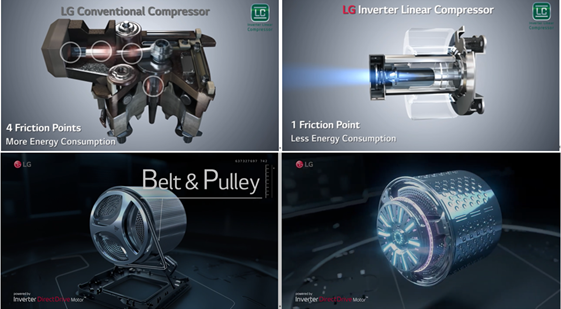 For example, the Inverter Linear Compressor™ found in LG's refrigerators efficiently keep food fresh longer and noise levels lower compared to LG's conventional models.4 LG's world-class inverter technology regulates the speed and revolution of motors and compressors depending on the situation to optimize operation. The unique linear motion of the compressor enables LG refrigerators to reach target temperatures quickly while reducing friction points for heightened durability and less noise.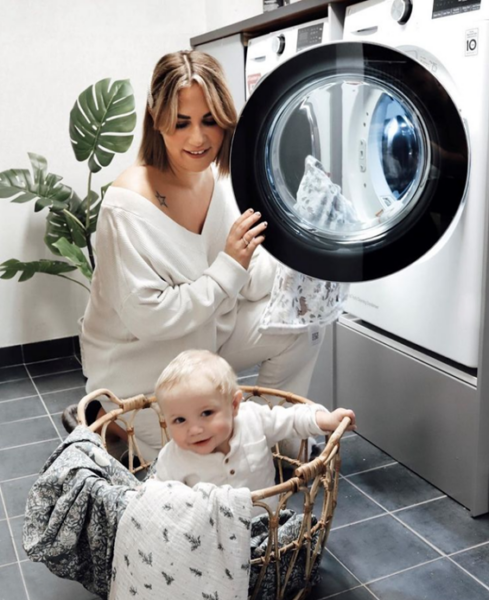 For LG washers with LG Inverter DirectDrive™ technology, the motor is directly connected to the drum without the use of a belt or pulley, allowing for durability and energy efficiency while reducing noise compared to models without DirectDrive. LG is so confident of the durability of its core technologies that all inverter components are backed with a 10-year warranty.

Photo Credit: Corporate Knights
LG's contributions for a greener world have been recognized both globally and locally. LG was ranked the 13th most sustainable global corporation by Corporate Knights and As You Sow's annual 2021 Carbon Clean 200 list. In its home country, LG claimed This Year's Green Product award from the non-profit civic group Korea Green Purchasing Network (KGPN) for the eleventh straight year and also took KPGN's Award of Green Masterpiece (AGM), an accolade exclusively for businesses that have made a significant contribution to the conservation of the environment.
The damage inflicted on our planet and all the life on it is one of the greatest threats we face as a global community. Overcoming such a global problem is only possible with the support of all members of society. Through its products, LG will continue to set an example that responsible products and good business can go hand in hand.
# # #
1 The acoustic airborne noise emission class of a household washing machine is determined on the basis of acoustic airborne noise emission at spinning phase. A-grade is assigned to noise level below 73dB (https://t.ly/ZyGH).
2 GWP for R290 is 3 versus 1,430 for R134a.
3 Tested by TÜV Rheinland in August 2020 with R290 applied to LG dryer models RC*0***V**.
4 Tested by VDE by comparing energy consumption between LG model GBB530NSCXE (LG Inverter Linear Compressor) and GBB530NSQWB (LG conventional reciprocating compressor). Energy consumption test based on ISO 15502 standard.