March 19, 2021
[Why ESG] Because the Planet!
LG Electronics is committed to taking systematic action across its diverse business portfolio to achieve net-zero carbon emissions from all of its operations by 2030. Expanding its eco-friendly businesses such as electric vehicle (EV) components and solutions as well as renewable energy business is a key part of this strategy. To better understand why LG and other forward-thinking companies are investing heavily in ESG, it's important to first understand at what we're facing.

Extreme weather conditions and climate-related natural disasters are on the rise all around the world. Reports warn that sea level will rise by 30 centimeters by 2100, with even more rise caused by land ice melt.1 Unprecedented monsoon rains in Pakistan last year caused devastating floods in Karachi that left hundreds of thousands of people homeless. In Australia, bush fires raged for months due to soaring temperatures and drought whereas in California and the western half of the United States, more than 8,000 wildfires laid waste to the natural environment and drove thousands from their homes.
And it's not only homo sapiens that are under attack. According to the United Nations Intergovernmental Panel on Climate Change (IPCC), 20 to 30 percent of all species will be at risk of extinction if the current average global temperature rises by 1.5 to 2.5 degrees Celsius. A staggering 40 percent will become extinct if the temperature rises by an additional four degrees Celsius. With their habitats gone, many animals will simply be unable to survive, which won't bode well for even for the species that manage to dodge extinction.
The world's nations are working together to slow the advance of climate change, with key examples of this cooperation being the 1997 Kyoto Protocol and the 2015 Paris Agreement. While the former involves mostly developed nations and focuses solely on the reduction of greenhouse gases, the latter is notable for bringing together both developed and developing nations and recognizing the need for financial support, technology transfer and operational transparency in the fight to reduce emissions globally.
The Paris Agreement aims to limit global warming to well below 2 degrees Celsius, preferably to 1.5 degrees Celsius, compared to pre-industrial levels. The agreement calls upon its signers to gradually reduce emissions of carbon dioxide, methane and nitrous oxide to ultimately achieve carbon neutrality by the second half of the 21st century. Carbon neutrality is a state where carbon dioxide emissions are effectively net zero, meaning the amount of carbon emitted is equal to that removed from the atmosphere. This will ultimately require the phasing out of fossil fuels and converting to 100 percent renewable and highly efficient energy sources.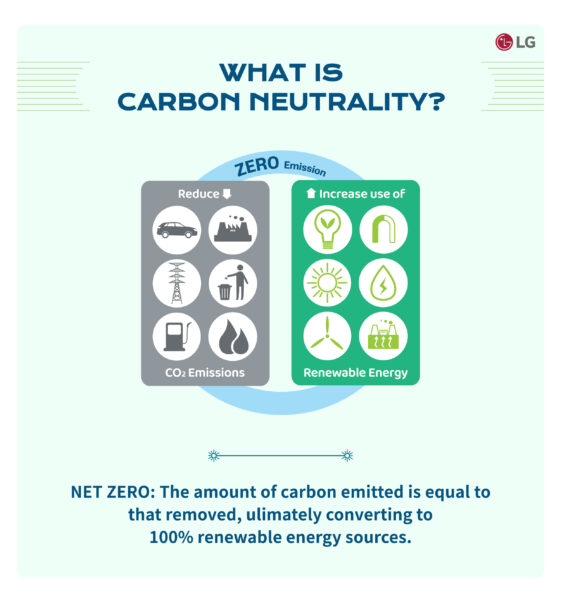 Nations including Denmark, England, France, Hungary, New Zealand and Sweden have already enacted laws targeting the goal of carbon neutrality. Other developed countries such as the US, China and Japan, have not yet enacted relevant legislation but have announced specific goals pertaining to carbon neutrality, while South Korea's leaders have outlined a plan to become net zero by 2050.
Not only nations but global corporations are also concerned about the environmental impact of their operations, as are their customers. Of the US-based companies that participated in the Deloitte Resource 2020 Study, about 75 percent reported that their customers expected renewable energy sources to account for a certain percentage of all business-related electricity usage. The study also found that approximately 77 percent of companies are now engaged in actively promoting the use of renewable energy, a trend that is expected to continue and grow in the coming years. More companies today are acknowledging that in order to secure long-term business viability and grow brand loyalty, it is essential to pursue a low-carbon future.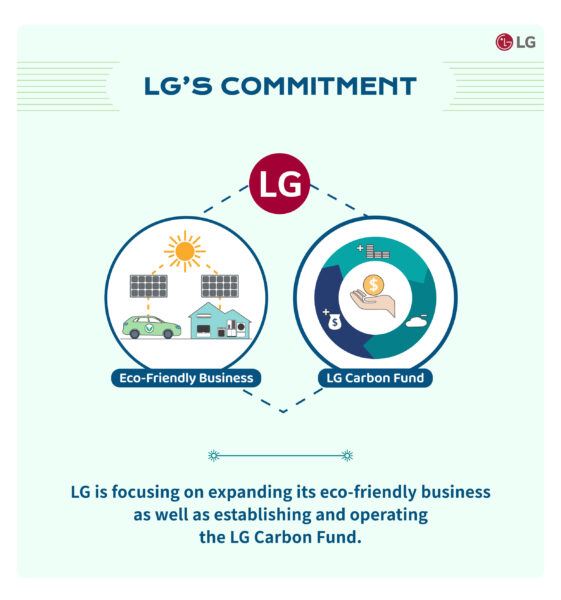 For its part, LG is growing its renewable energy business and has established 6.7MW PV power-generation facilities in South Korea, generating a combined 8,832MWh of solar energy in 2019 alone. That same year, LG started mass-producing the LG Solar Car roof for EVs, which can charge a vehicle's battery using collected solar energy. LG is also contributing to the reduction of greenhouse gases through solutions that increase the mileage of electric and hybrid vehicles, and also via a wide range of residential and commercial solar power products.
In the process of broadening its portfolio to embrace a more eco-friendly business, LG Electronics expects to cut greenhouse gas emissions from manufacturing by 50 percent compared to 2017 by the end of 2030. LG Carbon Fund was established in 2017 to support the development of GHG-reducing technologies and solutions through the virtual cycle concept wherein all profits from LG Carbon Fund investments are funneled back into the effort to reduce greenhouse gases. LG is also an active participant in the Clean Development Mechanism (CDM) project, which seeks to curb harmful emissions through investing technology and capital in developing countries.
For its efforts, Corporate Knights' recent 2021 Carbon Clean 200 report ranked LG 13th among publicly traded companies with the highest level of eco-friendly management based on various factors such as reduction of carbon emissions during production of goods and services, usage of eco-friendly materials and conversion to alternative energy.2 LG was praised for its efforts in producing home appliances with first-class energy-efficiency ratings.
The next installment of this ESG series will take a look at LG's wide ranging and innovative efforts to create more environmentally-compatible consumer and commercial products.
# # #
1 https://www.climateaction.org/news/warming-oceans-to-raise-sea-levels-30cm-by-2100-study-finds
2 https://www.corporateknights.com/reports/2021-clean-200/clean-200-16136460