September 30, 2020
Two TVs Exquisite Enough For One of America's Most Celebrated Designers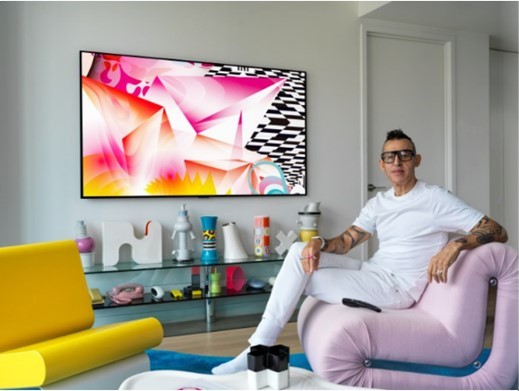 LG GALLERY DESIGN TV displaying Karim Rashid's painting, DREAMSKAPE
For Karim Rashid, being able to enjoy his paintings at home means turning off the TV.
Widely considered one of the best industrial designers in the world, Karim is the winner of many prestigious industry awards, including this year's Lifetime Achievement Award from the American Prize for Design, numerous IF Product Design awards and the Brooklyn Museum of Art's Designer of the Year recognition in 1998. His work can be seen in the permanent collections of art galleries around the globe and his prolific and varied creations boasts many internationally-successful products such as the celebrated Woopy chair, Garbo trash can and Bobble water flask.
Karim's work is at once familiar and refreshingly different, with the designer taking ordinary objects and reimagining them with his distinctive take on minimalism and signature use of bright colors. Affectionately called the "Prince of Plastic" by TIME magazine for his appreciation of man-made materials, Karim feels strongly that innovation and technology are essential to good design– a view that is shared by LG Electronics (LG).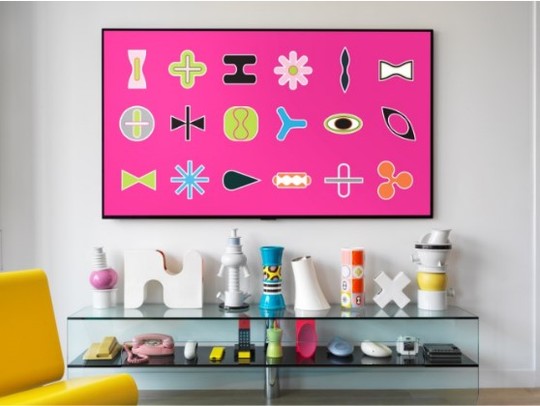 18 IKONS
It is this combination of innovation and technology that Karim Rashid recognized in the company's exquisite LG GALLERY DESIGN TVs, two which found a home in the designer's ultra-modern Manhattan penthouse. With two bedrooms, two bathrooms, plus a private rooftop, the luxury apartment covers almost 1,340 square feet and has an aesthetic that is immediately recognizable as Karim's.
In the spacious open-plan living/dining area hangs the designer's wallcovering for Marburg, the German company famed for its high-end wallpaper and wall dressings, and a full-sized mirror he created for Belgium-based Deknudt. In the center of the wall hangs a 77-inch LG GALLERY DESIGN TV. Mounted flush to the wall, the TV functions as a large digital canvas when not in use, leveraging LG's unrivalled self-lit OLED technology to bring the vibrant colors of Karim's unique artworks – and those of his favorite artists – to life.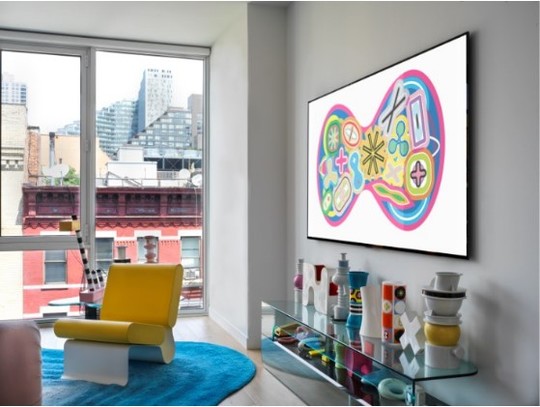 KOSMOS
"They are all very colorful works speaking about a digipop language, that makes me feel alive. The colors, in combination with the objects, give me a sense of minimalism and energy," explained Karim.
With its self-lighting pixels, LG GALLERY DESIGN TV delivers incredibly lifelike images that look sublime from any viewing angle. Rich, accurate colors and exceptional contrast create an almost-palpable sense of three-dimensional space on screen and serve to make any content more compelling.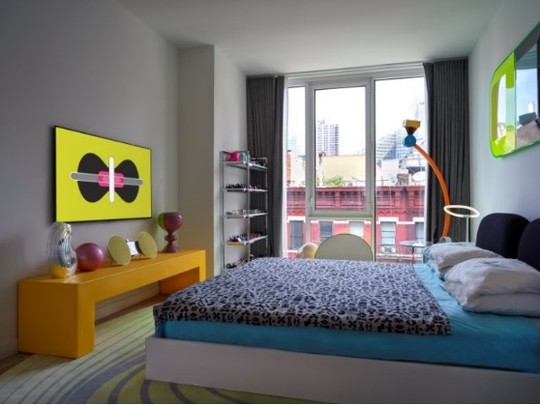 KARMA
The TV's minimal, wall-friendly design also resonated with Karim, its sleekness complementing his living area's curated collection of objects and furniture – including pieces from the likes of BoConcept, Tonelli and Slide – without intruding the space. Not content with just one, another 55-inch LG GALLERY DESIGN TV resides in the main bedroom, seamlessly blending with the room's décor and again assuming the role of gallery frame when idle.
And because there's no need for a TV cabinet, shelf or entertainment unit, Karim's LG GALLERY DESIGN TVs maximize the potential of his living space, taking up even less room than most wall-mountable TVs because they don't require separate connection boxes. Their slender frames cleverly house all the componentry, concealed in LG's ingenious, integrated wall mount. The flawlessness of the flush-to-the-wall design instantly adds value to the rooms, improving flow and fitting in effortlessly with his lifestyle.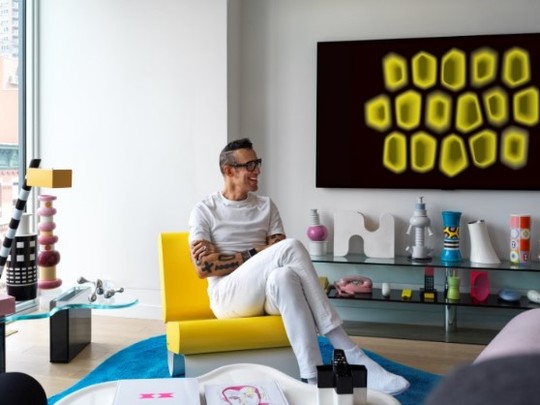 Karim and INTROVERT
"Innovation and technology are symbiotic with design, they're inseparable," said Karim. "LG GALLERY DESIGN TV is quite beautiful… it feels less like television, it doesn't have that kind of intrusion into my living room like a big object."
If an endorsement by one of the world's preeminent industrial designers is anything to go on, LG GALLERY DESIGN TV is just as much an art-object as it is a TV. With its scant depth, whisper thin frame and gapless mount, the TV integrates with its surroundings as no other can. Much like the work of Karim Rashid, LG's TV is a modern-classic, presenting a unique take on the familiar to provide consumers with a whole new level of functionality and enjoyment.
Check out www.youtube.com/watch?v=15v-tIte7Nk to tour Karim's stylish Manhattan apartment.
# # #