July 13, 2023
LG at ISTELive 23: Supporting Digital Education With Innovative Technology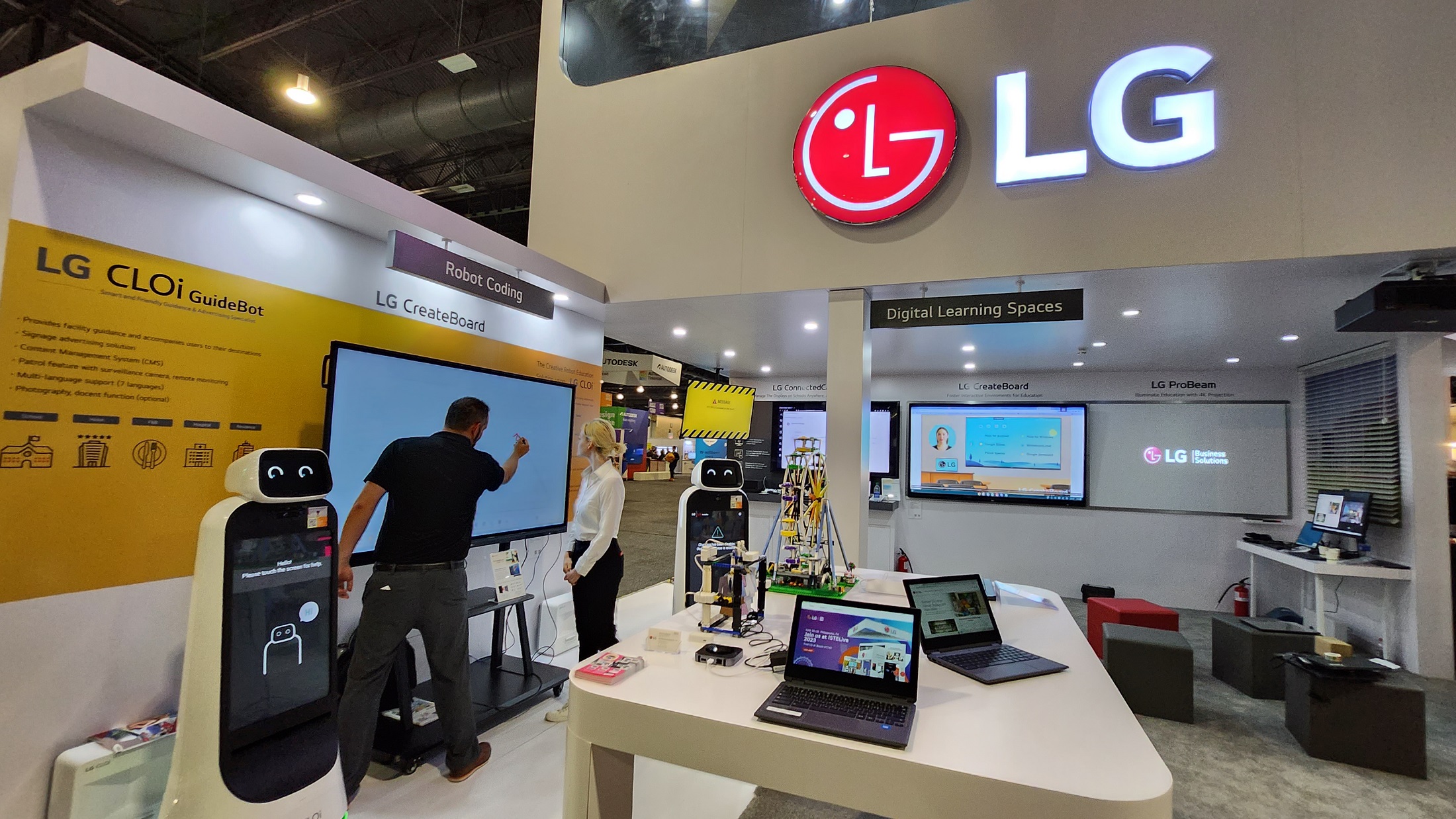 ISTELive, the annual exhibition of the International Society for Technology in Education (ISTE), is a showcase of the latest in edtech innovation. This year's event was held recently in Philadelphia, USA, attracting educators, education leaders and other key stakeholders from all around the world. It also saw the debut of LG at ISTELive, with the company presenting its state-of-the-art digital learning solutions and reaffirming its commitment to improving education through technology.
Designed to foster student engagement and interaction, and to support teachers in lesson planning and delivery, LG's impressive solutions at ISTELive 23 attracted a lot of positive attention. The company's booth featured several distinct areas – including the Digital Learning Spaces Zone, Robot Coding Zone and Esports Lab Zone – each highlighting different use cases and benefits of LG's tailored educational hardware and software.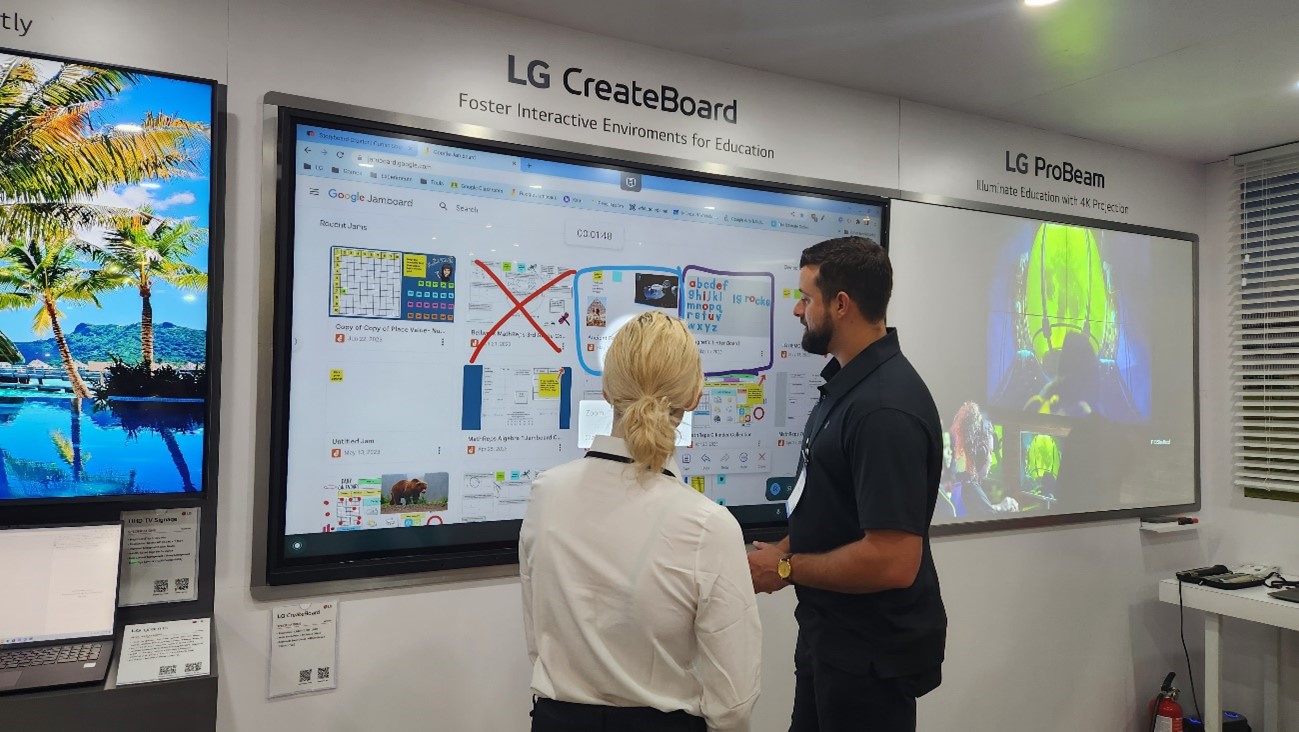 Digital Learning Spaces With LG CreateBoard and ProBeam
In the Digital Learning Spaces Zone, visitors were invited to see for themselves the convenience and capabilities of LG ConnectedCare DMS Solution, the 86-inch LG CreateBoard, interactive digital board and the LG ProBeam business projector. With a UHD (3840 x 2160) resolution display boasting 40-point multi-touch functionality, LG CreateBoard enables engaging learning experiences in today's classroom environments. Compatible with LG CreateBoard, LG ConnectedCare DMS (Device Management System) offers schools and educational institutes a comprehensive, versatile solution for streamlining display management. LG ConnectedCare DMS makes it possible to install an application on all LG CreateBoard solutions, saving administrators time and hassle.
Enhanced Safety Through LG ConnectedCare DMS
LG ConnectedCare DMS can also help ensure student safety during emergencies, such as an earthquake or a fire, facilitating the real-time communication of vital information to students and staff. Allowing administrators to instantly push notifications to LG CreateBoard in each classroom, it can deliver clear instructions to help prevent confusion and minimize risk. Through this function, LG ConnectedCare DMS can support educational institutions to enhance their emergency response protocols and foster a secure and protected learning environment.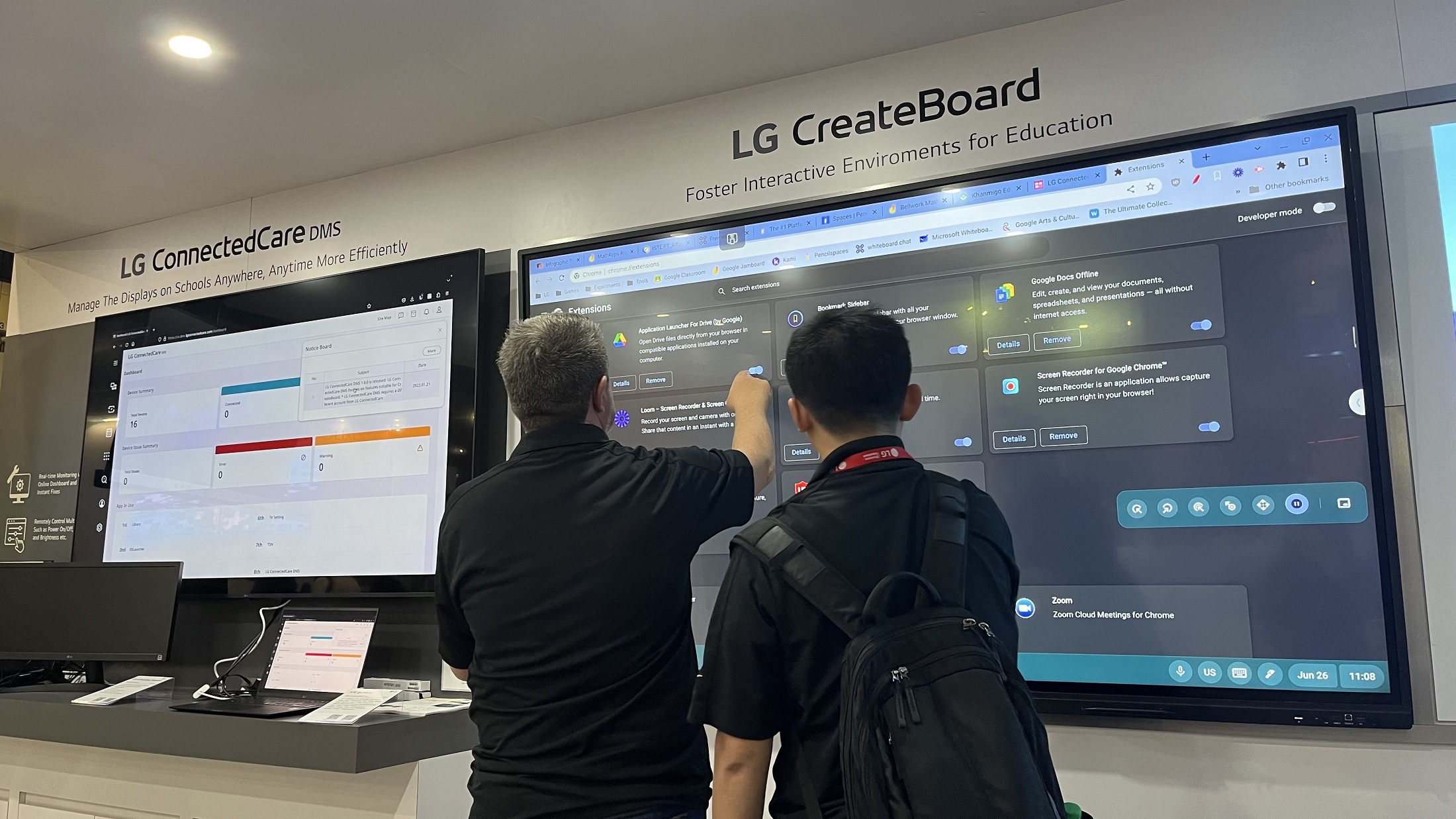 Real-Time Communications to Keep Everyone Informed
In bustling educational settings, timely communication is critical for keeping students and teachers informed about important announcements, schedule changes and upcoming events. LG ConnectedCare DMS seamlessly integrates with LG CreateBoard solution to effectively address this need. Administrators can instantly relay crucial updates and reminders in real-time via pop-up messages that are immediately displayed on all or select LG CreateBoards. This presents a simple and highly effective means of making sure that everyone knows what is happening; whether it's a timetable change, a notice for an imminent exam or an announcement about an extracurricular activity.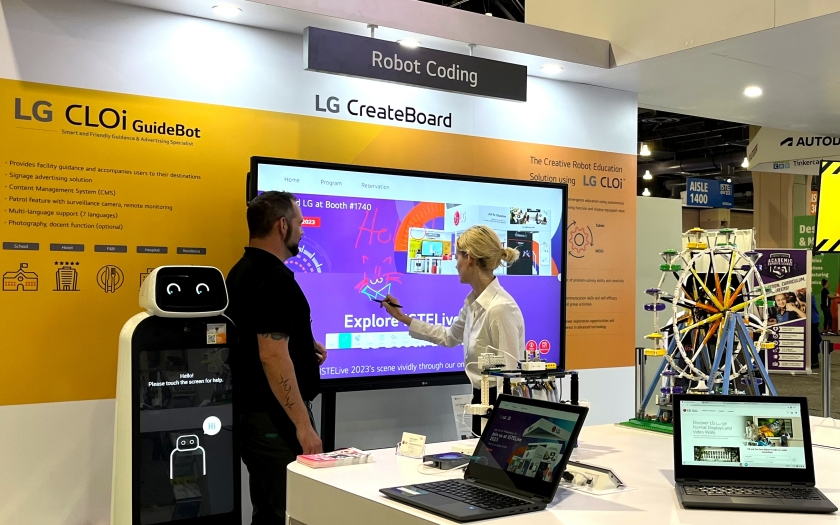 Getting Creative With LG CLOi GuideBot
In the Robot Coding Zone of LG booth, visitors were greeted by the charming and ever-helpful robotic assistant, LG CLOi GuideBot. The zone itself provided a memorable, hands-on learning experience, where visitors could code on LG Chromebooks and make a custom app to control LG CLOi GuideBot. They were also able to create images and videos and view them on the CLOi's built-in display.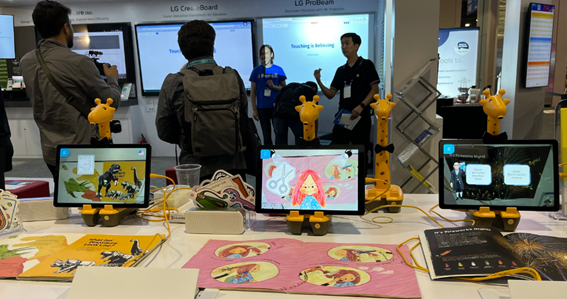 Fun and Educational Digital Content
A company that understands the value of collaboration, LG has partnered with South Korean edtech company Woongjin Thinkbig to help shape the future of education. Woongjin Thinkbig provides high-quality learning resources such as the ARpedia, an immersive augmented reality-based reading and learning platform, and Mathpid, an AI-powered mathematics app designed for K12 students. Linked with LG UltraTab and LG CreateBoard, these materials help provide a captivating learning experience for students.
Meanwhile, LG's dedication to imaginative art education was on show at ISTELive 23 through its collaboration with Dasverse, an art platform company leveraging dynamic art technologies. Harnessing the diverse functions and user-friendliness of LG CreateBoard, the interactive, step-by-step art education curriculum developed by Daverse stimulates students' learning abilities and expands their creative horizons.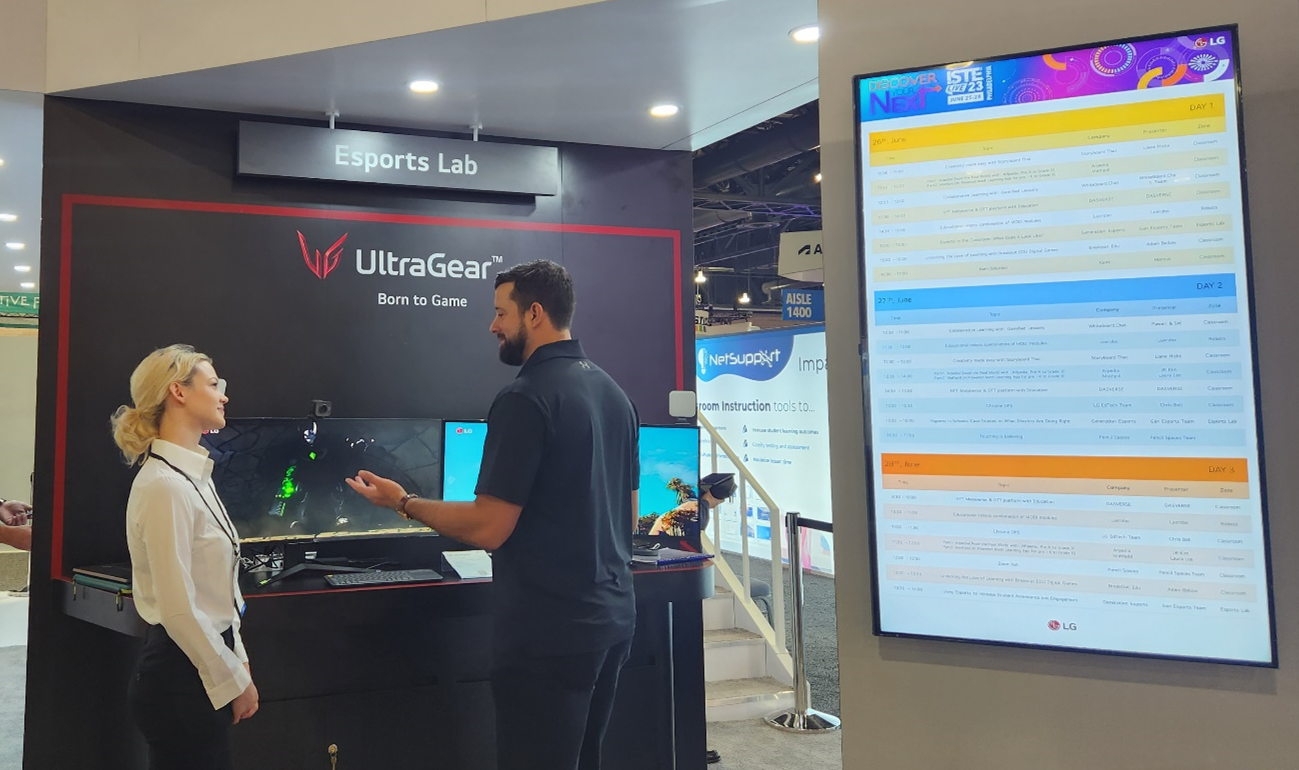 Gaining a Competitive Edge in Esports Education With LG UltraGear™
With the increasing popularity of esports among young people, more and more educational institutions are introducing gaming-related initiatives to build students' teamwork, problem-solving and communication skills. Recognizing this, LG created the Esports Lab Zone, a dedicated esports-for-learning area where LG's premium UltraGear™ gaming monitors took center stage. Renowned for delivering immersive gaming experiences, LG UltraGear™ gaming monitors bring virtual worlds to life with superb color and contrast, while their high refresh rates and fast response times ensure smooth gameplay. Visitors to the zone were impressed by how immersive games look and feel when played on LG UltraGear™ displays.
With its impressive debut at ISTELive 23, LG solidified its position in educational technology market, showcasing once again its commitment to driving innovation and empowering the next generation of learners.
For more information about LG's education-focused devices, initiatives and presence at ISTELive 23, click here.
# # #