June 21, 2023
One TV, Endless Possibilities: Designed for Every Lifestyle
Imagine yourself fully immersed in the final scene of a movie. What do you see? The careful arrangement of objects, delicate shades of color and every visual element artfully come together to portray a distinct message. This is known as 'mise-en-scène' in the film industry.
Mise-en-scène, which was previously only considered by iconic directors, is firmly on the minds of designers at the LG HE Design Lab, who pursue product designs that help people discover the unique beauty in everyday life. Taking a customer experience-focused approach, the team strives to produce versatile designs offering value for diverse needs and preferences – a myriad of lifestyles, packed into one TV.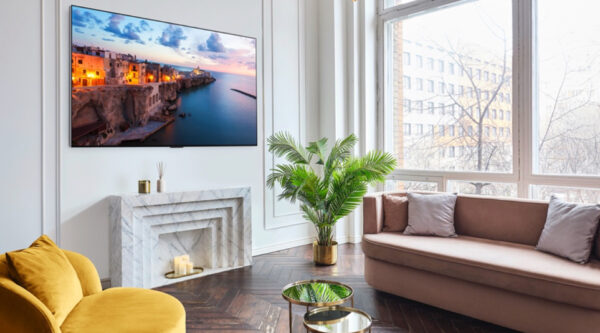 Minimizing a TV's visual elements help it effortlessly blend into its surroundings, thereby giving users greater freedom to inject their unique personality and style into their living space. With exactly this in mind, the "Gallery Design" of the LG OLED evo G Series, a flush-to-wall form factor that resembles art gallery picture frames, was born.
One of the innovations which makes the Gallery Design possible is a special recessed area at the back of the product which allows the TV to seamlessly rest against the wall when combined with LG's dedicated wall bracket – differentiating the G series from most premium flat-screen TVs, which have protruding back covers to make room for connections and back-firing speakers.
Making the LG OLED evo G Series even more of a minimalist's dream, a razor-thin bezel frame made of sleek, elegantly finished aluminum adds a touch of refinement to the home décor, as well as unlocking immersion of the highest degree so that movie and game nights are always unforgettable.
What's more, the LG OLED evo G Series' Zero-gap design allows its wall bracket and cables to be stored out of sight for a sleek and clean look. With all the drab TV accessories neatly tucked away, users can finally enjoy their living environment's aesthetics to the full. This incredible design fully demonstrates the LG HE Design Lab's efforts to make installation easier while expanding use cases.
According to LG's product designers, all these innovative form factors were born from a unique design approach which aims to conceal, rather than expose. "We tend to believe that designs exist to be detected with the user's eyes – but more often, obscurity is the superior approach," explained Jang Yong-hun, senior product designer at the LG HE Design Lab's Display Design Team. "In the case of LG OLED TVs, visual elements which easily stand out are carefully hidden from view in order to deliver the utmost level of content immersion."
LG's customer experience-driven approach showcases the boundless evolution of TV design, seamlessly emerging with increasingly diverse lifestyles. Unveiled at CES 2023, the 97-inch LG SIGNATURE OLED M TV features a wireless real-time video and audio transmission technology to eliminate cable clutter, creating endless new ways for homeowners to redefine their space. Leading the way for a reimagined form of home entertainment with new levels of convenience, the LG OLED M and its wireless solution stand out by far among TVs released to date.
LG's designers are conceiving new innovations to ensure the company's TVs complement every part of your prized home décor. So next time you rearrange your abode, take the full creative rein and become the director of your own scene.
For more on how the LG HE Design Lab is setting new standards for the perfect home entertainment experience through groundbreaking designs, keep coming back to the LG Newsroom.
# # #
* Images simulated to enhance features. May differ from actual use.