January 26, 2022
Combining Art and Technology in the Wilderness With Self-Lit OLED TV
A modern interior blended with sophisticated design and technology surrounded by nature creates the perfect environment to enjoy life. To create a home fitting for a premium lifestyle, LG Electronics Poland recently collaborated with architect and interior designer, Paweł Jurkiewicz, whose aesthetics are best described as a combination of various forms, textures and materials inspired by contemporary design and, now, cutting-edge technology.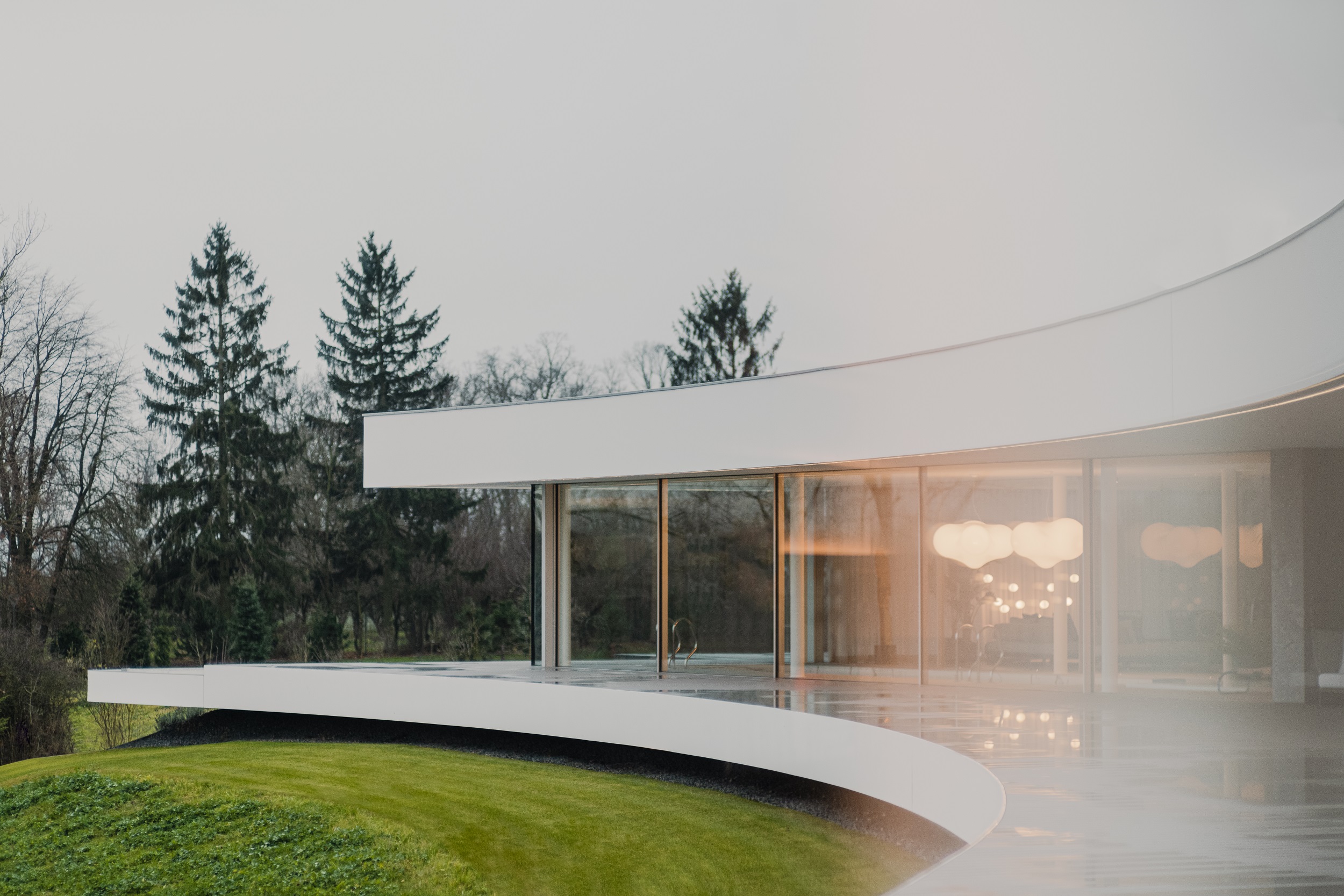 The project house of LG Poland and Paweł Jurkiewicz, a splendid mansion covering more than 1,000 square meters, is located on the bank of the Narew River. This iconic place features a curvaceous exterior design symbolizing the winding shape of the river. With its glass-paneled interior opening into the wilderness, the surrounding trees and meadows have been fully preserved while a swimming pool and running track were added to fit the lifestyle of the occupants.
"The biggest challenge was to balance modern architecture using concrete, steel and glass to create a warm, intimate atmosphere," says Paweł Jurkiewicz. He began with natural materials, including dark oak, warm gray marble and soft beige tones while utilizing draped woolen curtains to knit it all together.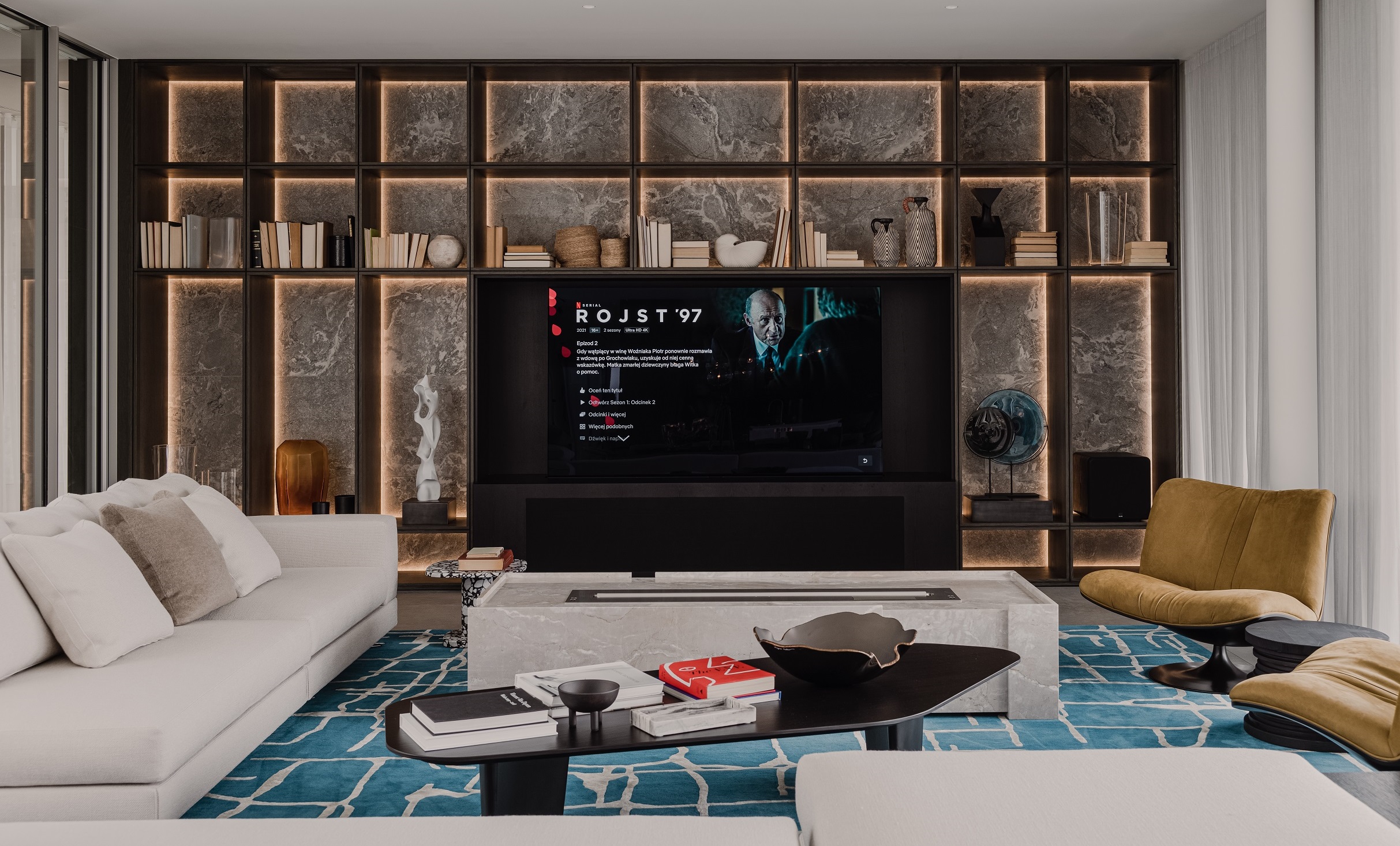 Jurkiewicz always opts for strong contrasts among elements to make the interior more significant and luxurious. "The striped black-and-white stone of the RiFRA kitchen island and the smooth cobalt rug by Edition Bougainville in the living room give more personal touch. Also, they make the space look more elegant, relaxed and capacious," says Jurkiewicz.
And, when selecting electronic devices to fill in the house, Jurkiewicz was seeking the ideal realization of the best performance, design and technology. He wanted products with best performance featuring beautiful, slim design that could fit perfectly into modern interiors, while also being friendly to nature.
To realize his vision, the designer worked with specialists from the LG Brand Store in Warsaw and chose eight different LG OLED TVs for the living room, bedrooms, study, gym and swimming pool. Thanks to LG's self-lit OLED, LG OLED TVs can display content with infinite contrast, deep blacks and amazing colors. Also, the least harmful plastics are used in the production of LG OLED TVs, as confirmed by the SGS Eco Product certificate.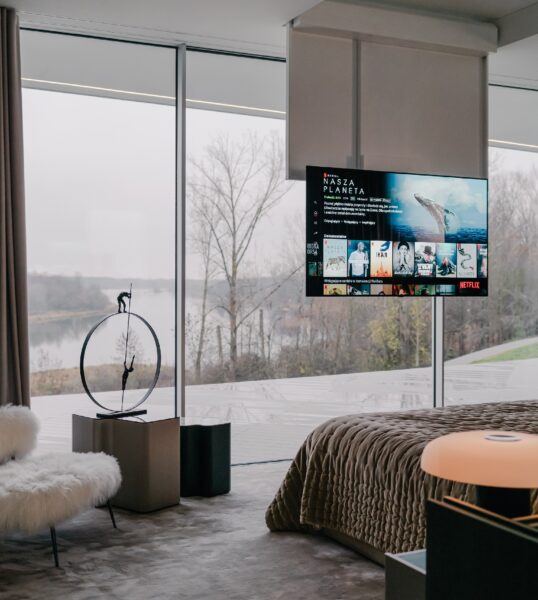 "For the huge living room, we opted for the 88-inch LG OLED TV from the premium SIGNATURE line. The perfect proportions and refined finish with the brushed steel housing harmoniously complements the luxurious décor," adds Jurkiewicz. And, for the bedroom, the architect opted for the 65-inch OLED TV, set up on a retractable ceiling mount, so that the occupants can enjoy movies lying comfortably in their bed at night, while also enjoying the unobstructed sunlight in the morning.
"Throughout the collaboration with LG, I learned first-hand that technology can help designers actualize their vision. Therefore, designers must look for innovative solutions as I did, thanks to help from LG. Then, no design elements or user convenience have to be compromised in the process," concludes Jurkiewicz.
Contributed by LG Poland
# # #