November 26, 2021
Video Conferencing Evolved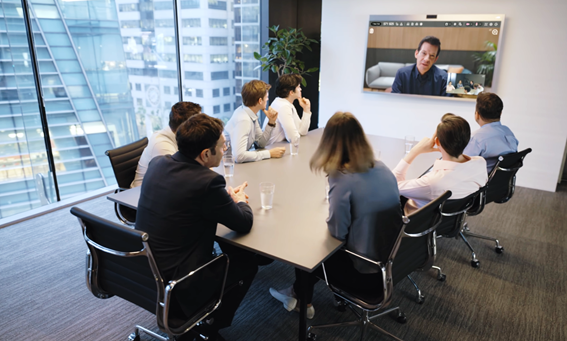 Love it or hate it, video conferencing has become essential to the way we work today. But despite the advanced technology available to the office worker in the 21st century, the experience still leaves much to be desired. For every "salary person" fed up with spotty connections, terrible audio and out-of-focus webcams, there's an easier, more productive way to conduct video calls and meetings.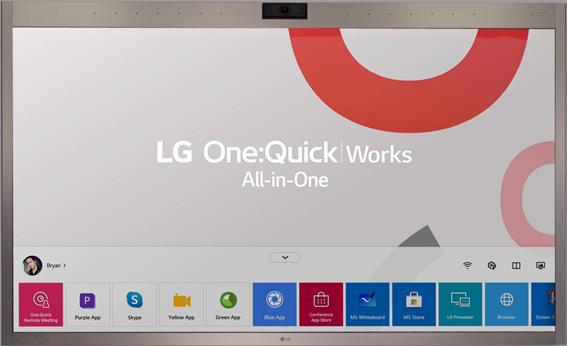 Introducing LG One:Quick Works, a powerful all-in-one video conferencing solution with an intuitive user-friendly design for everyone who hates video conferencing. The ideal productivity tool for remote work era, LG's category-creating innovation brings greater efficiency and sleek, modern styling to businesses of all types and sizes. With One:Quick Works and the complementary wireless screen sharing device One:Quick Share, workplace productivity and efficiency may never be the same again.
Fast and Simple Setup with Ultimate All-in-one Solution
Connectivity issues are the enemy of smooth conference calls. The complex and often time-consuming task of connecting cameras, speakers, laptops and projectors can easily derail your meeting schedule or make an important presentation fall flat. One:Quick Works avoids all such issues by integrating everything needed into a single, stylish package: touch-sensitive display, Windows-based interface, crisp 4K UHD camera, high-quality microphone, built-in speakers, digital whiteboard function and video conferencing apps. Just tap the icon of the function you want and you're ready to host your next virtual meeting in style.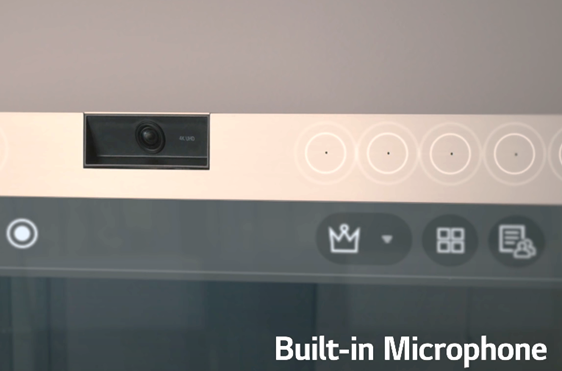 Feel Like You're in the Same Room with Smart Auto Focus Function
The meeting experience is on a whole new level with One:Quick Works due in no small part to the impressive performance of its camera and microphone. The high-gain mic can clearly capture the voice of a presenter seated or standing up to six meters away and employs noise cancellation to minimize most unwanted background sounds. With Smart Auto Focus, the 3,840 x 2,160 resolution camera quickly tracks and automatically focuses on the speaker. Virtual meetings take on a whole new level of satisfaction when everyone knows who's talking and what's being said.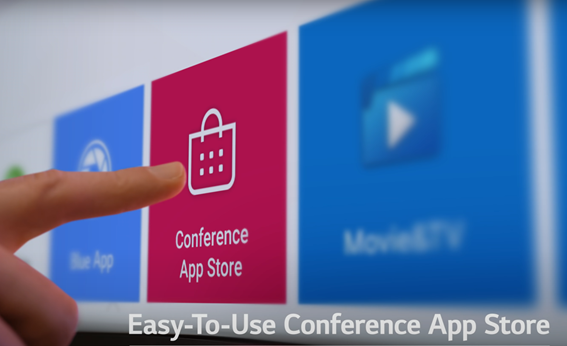 Compatible with Popular Video Conferencing Apps for More Flexibility
One:Quick Works supports a variety of video conferencing and collaboration apps to give users more ways to make the most of their meetings. Meeting participants can use LG's preinstalled One:Quick Remote Meeting application or install Webex, Zoom and Teams using the shortcuts conveniently located on the onscreen launcher. For apps not on the launcher screen, meeting hosts can simply go into the Conference App Store to find and install the video conferencing application of their choice.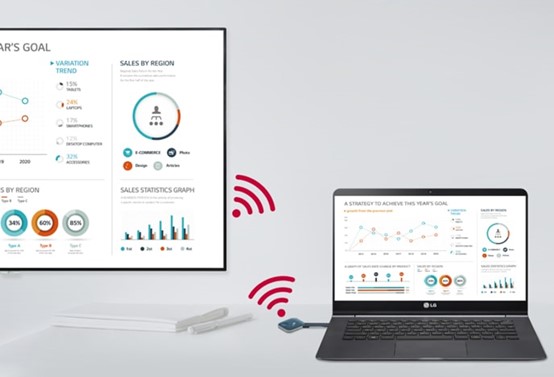 Wireless Screen Sharing at the Push of a Button
The complementary One:Quick Share allows presenters to easily connect their laptops and notebooks to compatible LG digital signage devices wirelessly. With its internal Wi-Fi antenna, the diminutive dongle offers effortless screen sharing and the makes the workspace free of cable clutter. With its Split View feature, One:Quick Share can connect to and display content from up to four devices simultaneously, making it the best choice for teamworking while remote conferencing.
To experience video conferencing the way it was meant to be, check out the LG Information Display YouTube channel and lg.com today. And because LG doesn't think remote conferencing needs to be dull, these lighthearted, informative videos will not only endear you to the One:Quick series, they'll hopefully leave you wanting LG's remote meeting solution for your own workplace.
(Images simulated to enhance features. May differ from actual use.)
# # #
[One:Quick Works] Episode 1. All-in-One
[One:Quick Works] Episode 2. Smart Auto Focus
[One:Quick Works] Episode 3. Flexible Video Conference App Use
[One:Quick Share] Wireless Screen Sharing