August 18, 2021
Navigating the Future of Connected Living
It's no longer news to say that innovations and advances in technology can have a profound change on lifestyles. While smart homes and smart products have clearly been embraced by mainstream consumers, what hasn't been clear is what benefits users are actually getting in return for their investments. With this in mind, LG dug deeper into how homes of the new age are transforming everyday lives. By gathering the opinions of 857 U.S. smart homeowners, the LG ThinQ 2021 Smart Home Report reveals just how smart homes can be a win for everyone.
No Need For An Advanced Degree
Contrary to what many might think, less tech-savvy users are actually more satisfied with their smart homes with twice as many users between the ages of 50 and 54 (60 percent) responding that they were "very satisfied" compared to participants in the 25-29 age group. Satisfaction was higher for older homeowners as they spend more time at home with their families compared to other age groups, affording them more time to fully enjoy the benefits of their smart homes. The fact that smart homes provide adaptable, easy-to-use solutions was an added plus. Smart homes can be enjoyed by everyone regardless of tech fluency or age and they can play an important role in narrowing the digital divide.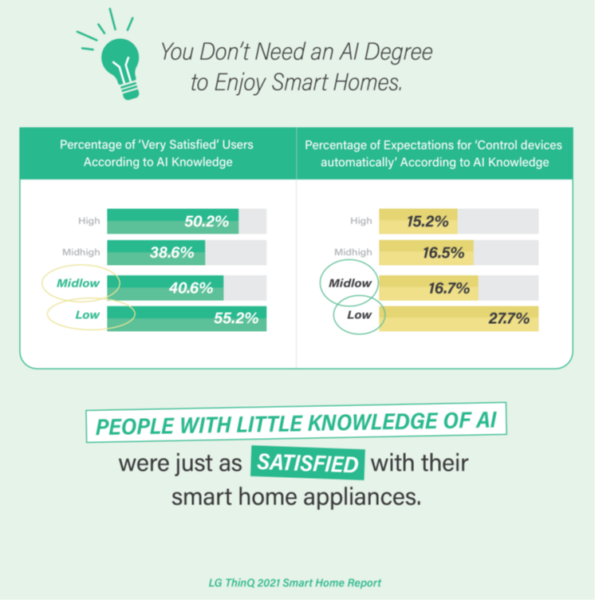 Flexible Homes Adapt To Unique Lifestyles
While smart homes are designed to be universally beneficial, those benefits have the advantage of being unique to every individual. The survey revealed how smart spaces are providing flexible solutions that adapt to distinctive lifestyles based on users' key values, interests and hobbies. For example, when it comes to leisure time, survey respondents with a passion for gardening named the remote control/voice command function of their smart TVs, refrigerators and washing machines among their top three most utilized features as they allow users to communicate with their products even when they're busy in the garden.
Paving A Smart Way For Sustainable Living
Today's smart homes are setting a new benchmark for environmentally-friendly living. Among the long list of smart home benefits, saving energy was mentioned most frequently by respondents. Through energy optimization features found in the latest connected products, smart homes help users achieve a more sustainable way of life while protecting consumers from hefty energy bills.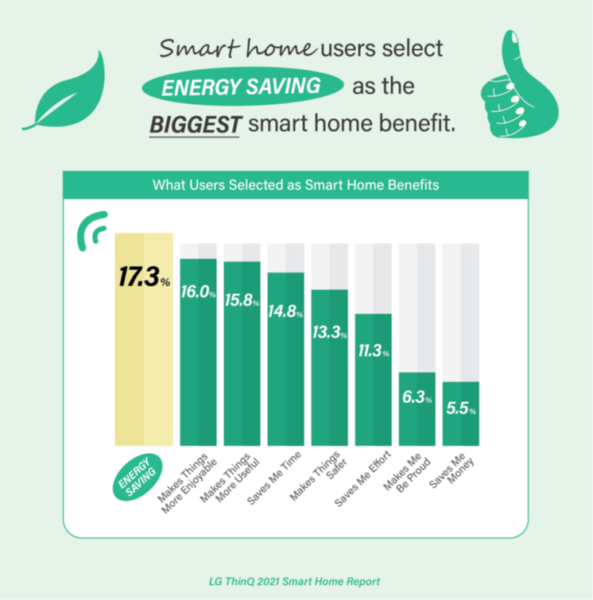 The LG ThinQ Smart Home Report presents an interesting look at how consumers' lifestyles may change in the years ahead, a blueprint for those interested in incorporating smart technologies in their everyday lives. Click here for the full report.
# # #