July 21, 2021
TWS Earbuds for the Football Fan Who Has Everything
As sports leagues around the world return to playing in front of spectators, global companies and brands are eager to be a part of the action. Well targeted sports marketing is a win for both sides; sports teams can give its fans a sense of belonging in their everyday lives with products featuring the team's logo, and brands can promote the product's benefits to the fans.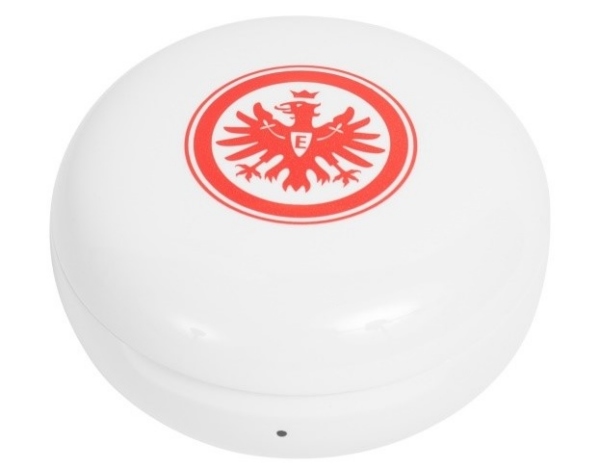 To give avid football fans even more to get excited about, LG is introducing a special edition of its true wireless stereo LG TONE Free FN6 in partnership with Germany's beloved Eintracht Frankfurt football club of the Bundesliga. With the team's logo prominently displayed on the box and charging cradle, there's no doubt to the owner's allegiance. The Eintracht Frankfurt TONE Free will only be available for sale at the club's fan shop to accentuate its exclusivity.
LG TONE Free is ideal for those who lead active lifestyles without worry about wires and tangles. The earbuds deliver a premium listening experience with tuning and technology by longtime LG partner, Meridian Audio. The realistic soundstage completely immerses listeners so they forget they're even wearing earbuds at all. And just a simple tap lets in outside sounds for a quick conversation, when crossing the street or to hear a public transportation announcement without having to remove an earbud.
And when it comes to hygiene, no other TWS earbuds on the market today can match the LG TONE Free FN6. Its innovative UVnano charging case that harnesses the power of ultraviolet-C light to refresh the earbuds' speaker mesh effectively kills pathogens such as bacteria during the powered charging cycle.1 In just minutes the speaker mesh is germ-free and fully powered for hours of listening pleasure. The eartips are made from soft, medical-grade ear gel that is both non-toxic and hypoallergenic for all-day comfort.2 And because these buds are rated IPX4, there's no need to worry when working out or running through the rain.
Earlier this year LG teamed up with The Football Association to offer limited edition TONE Free (model FA4) for English fans to show their support during the postponed Euro 2020. Through its support of football and its loyal fans, LG is making a name for itself when it comes to premium sound quality with hygienic benefits, features that no other pair of earbuds can claim.
# # #
1 Independent testing shows that the UVnano charging case eliminates 99.9 percent of bacteria on the earbud speaker mesh in ten minutes while charging. UV LED operates only when the case is charging.
2 Base material in silicone ear gel meets ISO 10993 and USP Class VI requirements.
Disclaimer: Not a medical device, nor for use as or to replace a medical device. Device or any of its parts not intended or implied to prevent or treat any health conditions.