July 22, 2021
For Top Athletes, Breathing Clean, Pure Air While Training is Now a Reality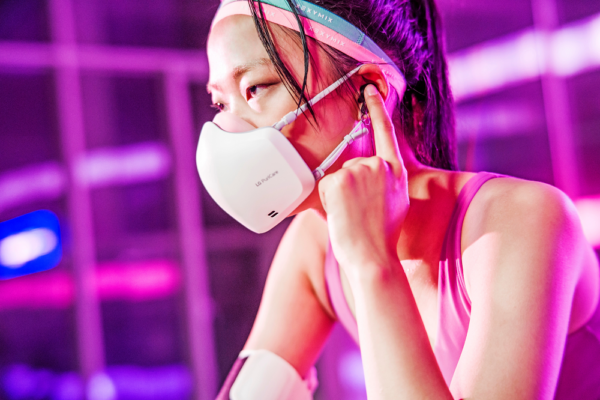 In the past 16 months, the face mask has become a necessity – as well as an accessory – worn by billions of people across the globe. While effective, it's no secret that face masks worn for extended periods of time can get uncomfortable. They fog up eyeglasses, make your jaw sweat more and can restrict airflow when breathing hard, such as during exercise. LG engineers experienced in air purification technologies looked into the challenge of staying safe while minimizing the inconveniences of face masks and have come up with a new personal air solution that is not only more effective than traditional masks, but looks stylish to boot.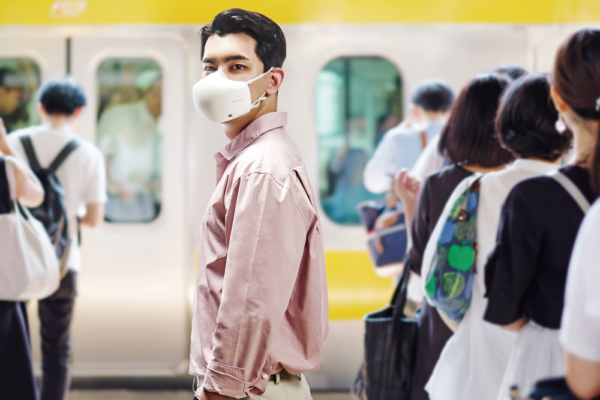 The latest iteration of LG PuriCare™ Wearable Air Purifier introduces a number of improvements to the earlier beta model. Employing LG's unique air solution technology, the new PuriCare Wearable delivers enhanced all-around performance with a smaller, lighter, more efficient motor. What hasn't changed are the reliable LG DUAL fans which control air flow automatically1 by sensing the user's breathing patterns to make breathing easier and more natural.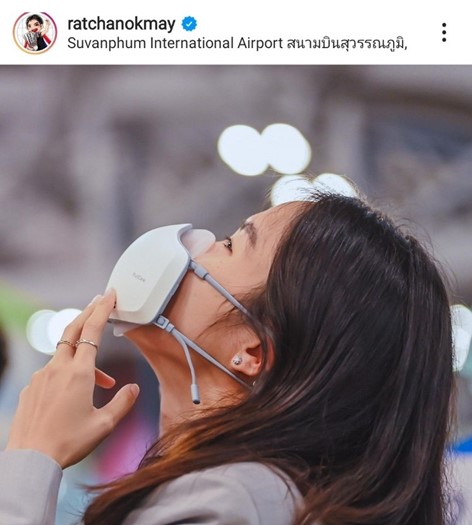 Photo Credit: Instagram (@ratchanokmay ) of Ratchanok Intanon, Thai badminton player
The new PuriCare Wearable's lightweight design makes it easier to wear throughout the day. Weighing in at only 94 grams, the device can be worn comfortably up to 8 hours with its 1,000mA which recharges in two hours with the included Easy Charge USB cable.2 The PuriCare Wearable's sleek, ergonomic design minimizes air leakage around the nose and chin to create a tight but comfortable seal for hours.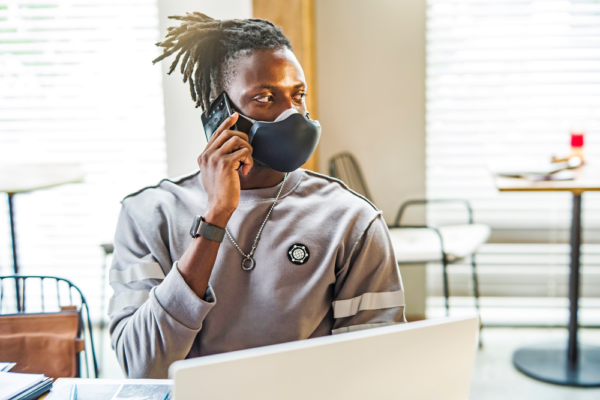 What wearers will appreciate most is the built-in microphone and speaker employing VoiceON technology, no longer requiring users to pull down their mask or raise their voice to carry on a conversation. VoiceON automatically recognizes when users are talking and amplifies their voice through the built-in speaker so listeners don't have to strain or lean in to hear every word.3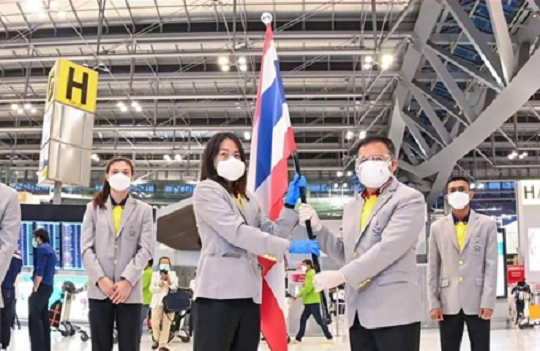 The newest LG PuriCare Wearable Air Purifier was worn by 120 Thai athletes, coaches and staff as they departed Suvannabhumi Airport Bangkok for the summer games in Tokyo. The device will officially launch in Thailand in August, with other markets to follow once approved by local regulators.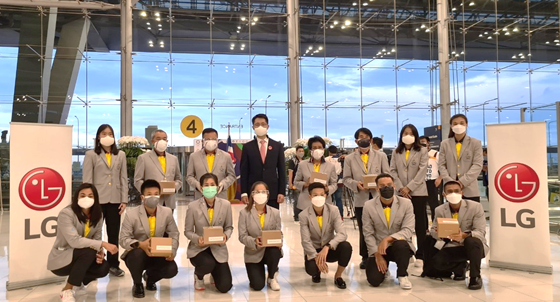 Improved for better breathing with the most advanced wearable technology in the industry, the lighter, slimmer, more advanced PuriCare Wearable Air Purifier will satisfy the needs of everyone seeking maximum convenience and comfort without compromising style and clean air.
Take it from the best athletes in Thailand.
# # #
1 Certified by Air Cleaning Association and observed by TÜV Rheinland for ability to adjust air flow automatically according to the breathing flow by testing automatic breathing interlock test through a breathing simulator under 10-40 LPM breathing test conditions at LG Electronics Gasan R&D Campus using test model AP551AWFA.
2 Weight not including accessories. Battery life varies by actual usage, and other external factors.
3 Certified by Korea Electronics Technology Institute, Next-Generation Sound Industry Support Center (NSSC) for obtaining over 0.75 (Excellent) on the STI (Sound Transmission Index) evaluation under the anechoic chamber and speaker test standards at Next Generation Sound Industry Support Center Test Lab using test model AP551AWFA.