May 13, 2021
[On the Job] Product Designers: Tiny Lights, Big Idea
In this installment of On the Job, we put the spotlight on a few of the talented and creative individuals who make our products come alive.
From dazzling nighttime displays on buildings to state-of-the-art screens in stadiums, LEDs are literally everywhere. LED, or light-emitting diode, has become the lighting technology of choice in cars, homes and consumer electronics. Recently a new form of LED has entered our lexicon and piqued the public's interest because of its size, or lack thereof – Micro LED.
It would be a serious understatement to say that Micro LEDs are small.  Micro LED refers to tiny, individually addressable, self-emissive LED light sources measuring between 10 to 100 micrometers in size. A Micro LED display comprises an array of microscopic LEDs with a gap no bigger than one millimeter between them. Turning this new LED technology into a viable commercial display was the challenge facing the LG MAGNIT product design team. To bring LG MAGNIT to life, the team at LG's Design Lab aimed to create a slim, lightweight product that offered hassle-less installation, next-level flexibility and an attractive aesthetic.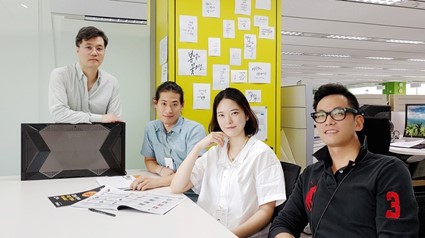 From left: Lee Yong-ho, Park Chan-woo, Kihl He-won, Hwang Jung-yeon
LG MAGNIT is made up of an array of microscopic LEDs with a gap no bigger than one millimeter between them. These tiny LEDs are capable of improved brightness and color accuracy than conventional LCD displays and make it possible to produce a near-infinite variety of screen sizes. Micro LED displays also offer additional benefits such as energy efficiency and fast response time.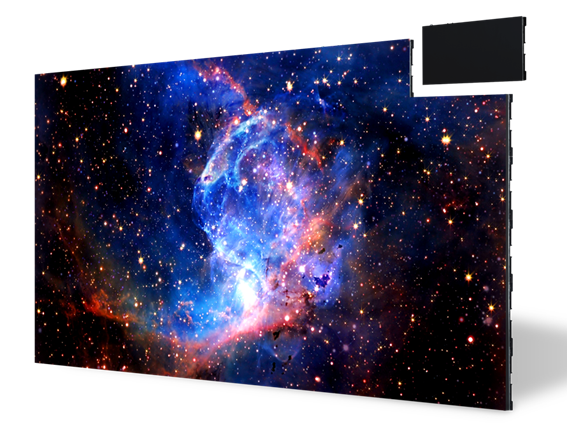 The clever block-assembly design is one of the most creative features of LG MAGNIT. Each Micro LED "cabinet" links seamlessly to other cabinets, allowing installers to quickly and easily construct large-scale display on any site. Thanks to the MAGNIT design team's use of non-contact connector technology, sending and receiving signals wirelessly between cabinets is a cinch, simplifying and reducing the time needed for cable management.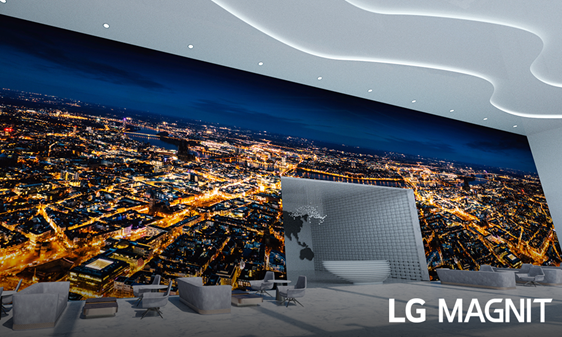 The product design team also made sure that LG MAGNIT's wireless data transfer technology made for easier content management as well. This design allows users to simultaneously display the same content across any number of LG MAGNIT solutions without having to configure a wired network connection. What's more, the clever block-assembly power docking mechanism developed specifically for LG's micro LED signage can shorten installation time by up to 33 percent.
To create a visually-striking, premium look, the LG MAGNIT product design team opted to use pressed metal for the rear-casing instead of typical plastic. Not only does the metallic finish look great, but it also reduces the overall weight and cost of the product and offers excellent durability as well. With its distinctive triangular motif, the cover resembles an expertly-cut diamond that makes LG MAGNIT a pleasure to behold from all angles.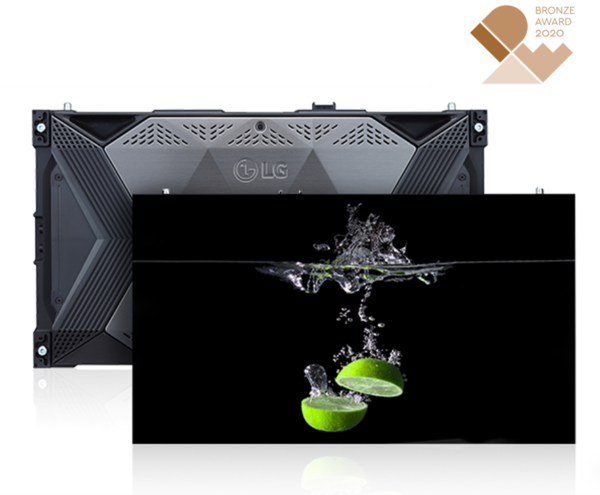 The successful efforts of LG's product designers to realize the sleek, premium design of LG MAGNIT have not gone unnoticed. With its innovative clever block-assembly concept, the Micro LED signage solution won a Bronze Award at the 2020 International Design Excellence Awards (IDEA), one of the world's top three design competitions. The accolade was well deserved recognition for a team that continues to excel at finding new ways to solves problems and deliver on LG's mission to make life better.
# # #