March 17, 2021
Laying the Foundation for More Inclusive and Equitable Education in Africa
Sadly, in 2021 there are still millions of children worldwide who don't have access to quality education. Like many developing countries around the world, Kenya is working hard to address this situation and meet the United Nations' Sustainable Development Goal 4 on the delivery of an inclusive and equitable education for its people. To provide its youth with the learning opportunities they deserve, a key component of Kenya's efforts is renovating and expanding existing infrastructure.
In Machakos County, about 60 kilometers southeast of Nairobi, the LG team in Kenya is supporting this worthy goal by helping to improve learning facilities at several local schools, including the Machakos School for the Deaf and the Kyumbi Primary School.
LG is working in partnership with Habitat for Humanity Kenya and the county government of Machakos to provide students in the county with a learning environment that can help them reach their full potential. From boosting students' health and attendance to increasing academic achievement and providing a greater sense of self-worth for both students and teaching staff, improving a school's facilities has been shown to have a number of positive effects.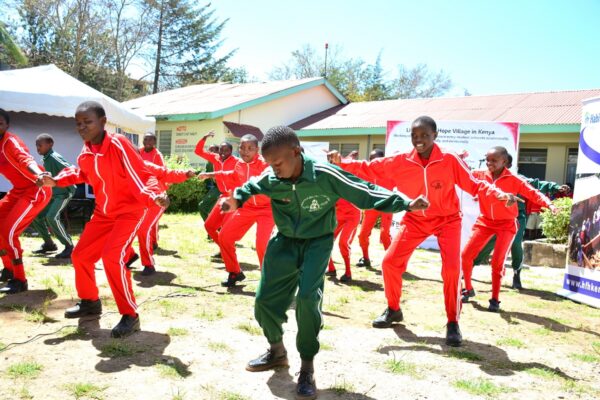 To better serve its 225 hearing-impaired students, the Machakos School for the Deaf identified the need for a new library as well as a significant upgrade to its existing water borehole and plumbing. As a key donor, LG Kenya participated in the groundbreaking ceremony for the construction of the library last month. During the event, students thanked benefactors with enthusiastic songs and dance and participated in a tree planting to enhance the school's grounds.
LG Kenya is also contributing toward the construction of two new toilet blocks and donating several home appliances including refrigerators for the school's kitchen and washing machines and dryers to keep students' uniforms clean.
"The pandemic has increased the need for safe, resilient and healthy communities, and schools are a large part of that equation," said Habitat for Humanity Kenya spokesperson Ruth Odera at the ceremony. "We are glad to contribute towards meeting this need in Machakos County through providing quality buildings and improved access to water and sanitation at the Machakos School for the Deaf."
Addressing ceremony attendees, LG Electronics Managing Director for East and Central Africa, Kim Sa-nyoung, added, "LG believes strongly in giving back to the community and making life better. This project is also important to us since it aids Kenya's overall efforts to meet the United Nations' SDG4 and create fair and equal learning opportunities for all."
LG Kenya is also part of an initiative benefitting 400 early learners at Kyumbi Primary School in Machakos County. In operation since December, the project involves the construction of restrooms, classrooms, kitchens and various other facilities to improve learning outcomes. At an event to mark the project's launch, Father Joseph Mutuku cut the ceremonial ribbon and blessed the construction site on behalf the school's official sponsor, St. Christopher Catholic Parish Kyumbi.
The work at Machakos School for the Deaf and Kyumbi Primary School is set to be concluded by March this year, with all infrastructure fully completed and ready to support the next generation in their learning journey. Through forging partnerships and fostering trust with the local community, government and like-minded organizations, LG is making a difference today, and helping to pave the way for a better tomorrow.
By LG Kenya Staff
# # #