February 25, 2021
2021 Tech Trends: Staying Healthy Inside and Outside the Home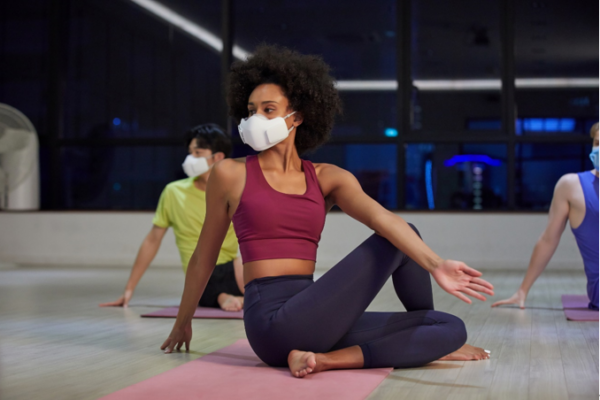 [Check out the first episode of the 2021 Tech Trends series here.]
This installment of Beyond News' 2021 Tech Trends series focuses on how LG's products are helping people stay healthier wherever they go.
Staying healthy goes hand in hand with practicing good hygiene both inside and outside the home. And if CES 2021 is anything to go by, appliances and devices that promote better hygiene will be one of the major trends in consumer electronics this year and quite probably for the foreseeable future. Always responsive to the needs and concerns of its global customers, LG showcased several products and technologies at its virtual CES exhibit that are designed to boost hygiene and protect people's well-being. Let's take a look at some of the company's latest health-centric innovations and how they can make life better.
For anyone who feels that a conventional face mask just doesn't do enough to keep them safe, or is too uncomfortable to wear on a daily basis, LG presents the revolutionary LG PuriCare™ Wearable Air Purifier. The innovative device uses two H13 HEPA filters to prevent up to 99 percent of harmful particles from entering the wearer's respiratory system,1 and makes breathing easy (unlike your average face mask) with its DUAL Fans and the patented Respiratory Sensor, which syncs the fans with the user's breathing cycle. And thanks to a design based on extensive facial analysis, the PuriCare Wearable Air Purifier also offers day-long comfort.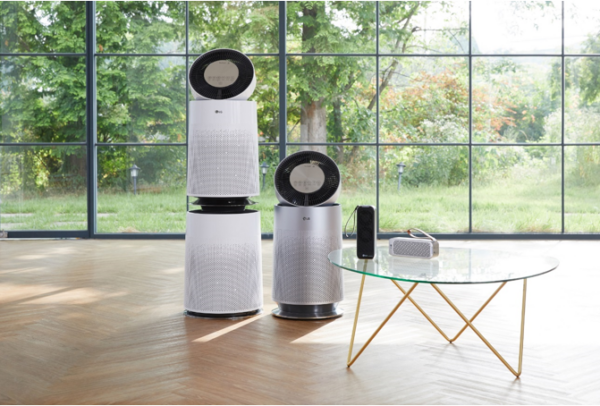 The LG PuriCare Wearable is just one of the company's growing lineup of premium air-care solutions, which also includes residential models and a handy portable option that is great for cars, cafés or even a baby's stroller! Fast becoming a must-have item in the home and office, air purifiers can rid the indoor environment of fine dust particles and other airborne matter that can be detrimental to one's health.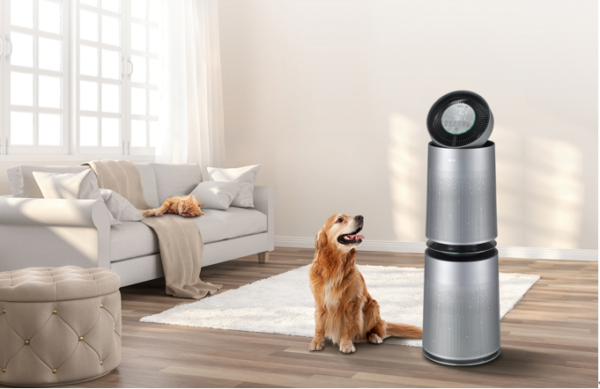 LG PuriCare™ 360° Air Purifier boasts a distinctive 360-degree design and powerful fan that enables the device to send out fresh, filtered air in every direction and to all parts of the room. A great option for those who share their abode with furry friends, the LG PuriCare™ Pet eliminates pet-related odors up to 55 percent more effectively than the standard LG PuriCare 360° model.2 With its specialized Pet Mode, it can draw in pet hair, as well as dust and other microscopic particles as small as 0.01 micrometers in size thanks to HEPA Filter3, to help keep the home free of sneeze- and itch-inducing allergens.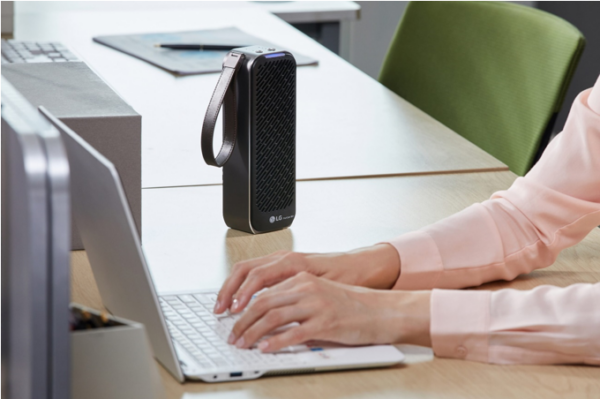 And then there is the PuriCare™ Mini Air Purifier, a model that provides supreme portability with a size and weight equivalent to that of a plastic, 500 milliliter bottle of water. Fitting easily on a desk, table or car seat, PuriCare Mini can refresh the user's immediate environment for up to eight hours on a single charge and also collects dust from the air to ease allergy-related problems.4 What's more, the Bluetooth-enabled device lets users monitor the quality of the air around them via the LG ThinQ app for smartphone.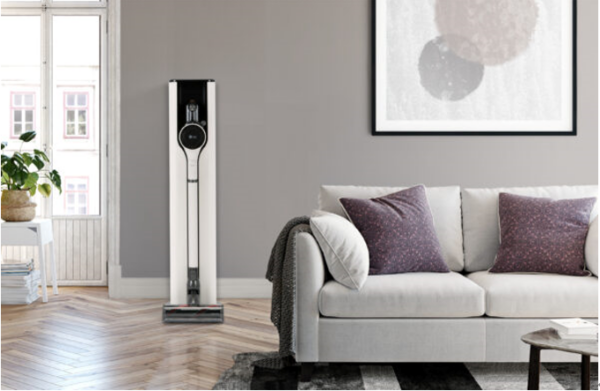 In conjunction with effective air purification, a high-quality vacuum cleaner is essential to creating a healthy, hygienic place to live. Making its debut at CES 2021, LG's latest cordless stick vacuum, the CordZeroThinQ A9 Kompressor+, comes with a brand-new charging station that automatically empties the vacuum's dustbin. This outstanding feature saves users from a messy job and prevents dust from escaping back into the environment.
Another excellent feature of the new CordZero model is its ability to transform from vacuum to mop (and back again) with its easy-change cleaning attachments. With the Power Mop attached, LG's multifunctional cleaning solution sucks in dust while wetting and cleaning the floor. Conveniently, water is automatically dispensed into the mop head to keep it from getting dry, thereby ensuring optimal results and minimizing fuss for the user.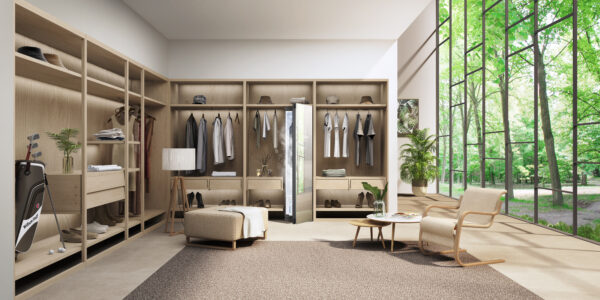 LG even provides a way to remove germs and bacteria as well as allergens5 from clothes while simultaneously delivering that freshly dry-cleaned look without any expensive, time-consuming trips to an actual dry cleaner. Introducing the amazing LG Styler.
From jackets to dresses, from business shirts to pants and winter coats, LG Styler can refresh and revitalize all kinds of clothing as well as items like teddy bears and backpacks. The Styler uses LG's TrueSteam® technology to ensure the hygiene of users' garments, and moving hangers to shake out any unsightly wrinkles. It also has the Pants Press feature built into its door, which creates a sharp pants crease that helps users look good and frees them from the hassle of ironing.
Assisting consumers and their loved ones to stay healthy both inside and outside the home, the latest solutions from LG deliver impressive hygiene benefits and peace of mind. And during these trying times, those are two things that can really mean a lot.
Stay tuned for future installments of TECH TRENDS here at LG Beyond News.
# # #
1 Blocks 99.95 percent of harmful particles with 99.95 percent elimination rate H13 HEPA filters, removing micro particles such as dust, virus, bacteria and allergen. Certified by TÜV Rheinland for eliminating 97.3 percent of viruses and 93.5 percent of bacteria in 8m3 room and 99.1 percent of pollen in 3m3 room with ambient temperature of 25°C (± 2°) and relative humidity of 50 (±10) percent. Product specifications may vary depending on regions and performance results may vary depending on environmental conditions and other external factors.
2 Test conducted by TÜV Rheinland comparing maximum suction of PuriCare Pet (model AS190DNPA) and standard PuriCare (model AS199DWA) in 8m3 lab at temperature of 23.0° C (± 5.0°) with a relative humidity of 55 percent (± 15 percent). Results may vary depending on environmental conditions and other external factors.
3 Test conducted by Korea Institute of Machinery and Materials (KIMM). Based on internal testing methods using PuriCare 360° (AS281DAW) in a chamber of 30m3. Results demonstrated that, on average, LG PuriCare is at least 95 percent effective at deodorizing ammonia, acetaldehyde, acetic acid, toluene and formaldehyde. It is also 100 percent effective at removing toluene, and formaldehyde from an enclosed environment (KIMM standard test conditions: 4m2, substances used in test: SO2, NO2). Results may vary depending on environmental conditions and other external factors),
4 Test conducted by Intertek for clearing 99% of 0.3㎛ particulate matter at the High Speed Mode(H) within 155 minutes in the space of 8m3. Results may vary on depending on the environment and use of the unit.
5 Test conducted by Korean Apparel Testing and Research Institute (KATRI). Steam Hygiene option sanitizes 99.99 percent of harmful bacteria including Staphylococcus aureus, Pseudomonas aeruginosa, Pneumococcal bacillus, for 6.4 kilograms load, the international standard test load. Also, certified by the British Allergy Foundation (BAF) for reducing 99.9 percent of house dust mite allergens and Esche-richia coli and Staphylococcus aureus bacteria. Certified as an asthma and allergy friendly® appliance by the Asthma and Allergy Foundation of America (AAFA).