February 26, 2021
Net Zero Showhomes Open for Virtual Tours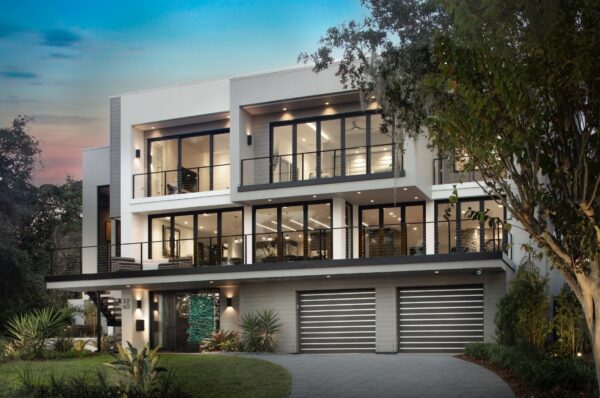 Innovative home appliances, solar panels, HVAC technologies and consumer electronics from LG Electronics are delivering high performance, connectivity, convenience, and energy efficiency to The New American Home® (TNAH) and The New American Remodel® (TNAR), the official show homes of the 2021 International Builders' Show® virtual experience (IBSx) which took place earlier this month in Orlando, Florida, USA. The International Builders' Show is the annual event sponsored by the National Association of Home Builders (NAHB), the largest US trade group representing the home building industry.
Located in the heart of central Florida, TNAH and TNAR 2021 are state-of-the-art showcase houses illustrating how any home can be transformed into a high-performance, high-tech space when integrating today's building and appliance innovations to reduce energy consumption, increase efficiency and enhance daily life. Seven-time ENERGY STAR® Partner of the Year LG Electronics was named NAHB Platinum Partner for both Net Zero homes.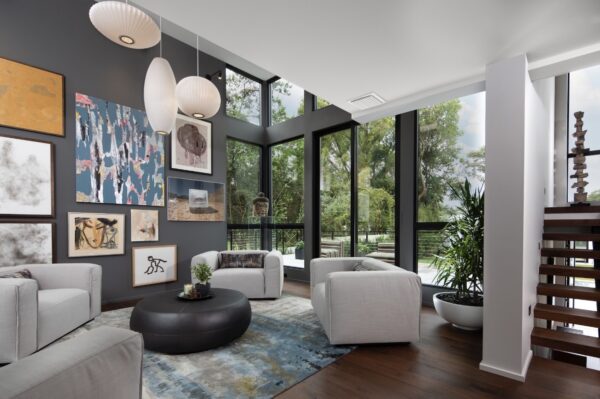 Net Zero Homes
TNAH and TNAR encompass advanced, high performance products and functionality that homeowners look for when building, purchasing or renovating. Both homes have achieved the U.S. National Green Building Standard Emerald certification, ENERGY STAR Building certification, and Net Zero status from the U.S. Green Building Council:
TNAH 2021 is a stunning, three-level single-family home that showcases the latest designs centered on urban living. The new 514-square-meter abode – the latest project from Phil Kean Designs – consists of three bedrooms, four full baths and one half-bath, a showroom three-car garage, innovative exercise room, and ultra-energy efficient, net-zero features.
TNAR 2021, built in 1973, draws lineage from Frank Lloyd Wright architecture. Renovated by E2 Homes, the 722-square-meter home features a sleek chef's kitchen, as well as six bedrooms, six bathrooms and two half bathrooms, ultra-energy-efficiency products, and a fully furnished cabana and an outdoor entertaining area with a large pool, spa and lanai.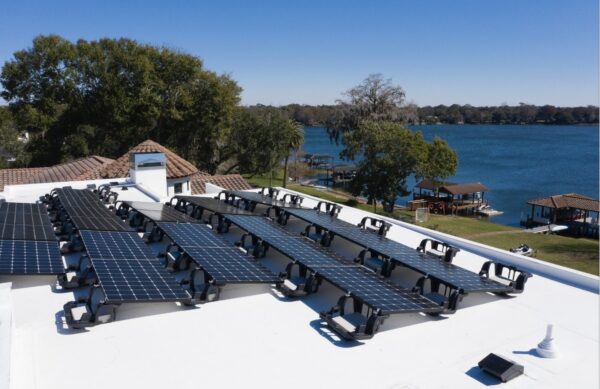 Renewable Energy
Key to TNAH's and TNAR's environmental sustainability and appealing designs are rooftop installations of high-efficiency solar modules from residential renewable energy leader LG Business Solutions. Forty LG NeON® 2 60-cell modules help power each home to support their Net Zero designs. These popular high-efficiency modules generate more power from the same amount of sunlight than lower-efficiency modules of the same size while blending in unobtrusively to the look and feel of the home's design.
Chef's Kitchens
The chef's kitchens in both homes feature built-in appliances – advanced pro-style ranges, column refrigerators, freezers, wine refrigerators and more – from LG's fast-growing luxury brand, Signature Kitchen Suite. In addition to ENERGY STAR certified refrigerators and dishwashers, Signature Kitchen Suite appliances featured in the homes include first-ever innovations: pro-ranges with built-in sous vide functionality, along with induction and gas, wine column refrigerators with exclusive "Wine Cave" technology to better preserve at-home collections, and a unique built-in undercounter convertible dual-drawer refrigerator.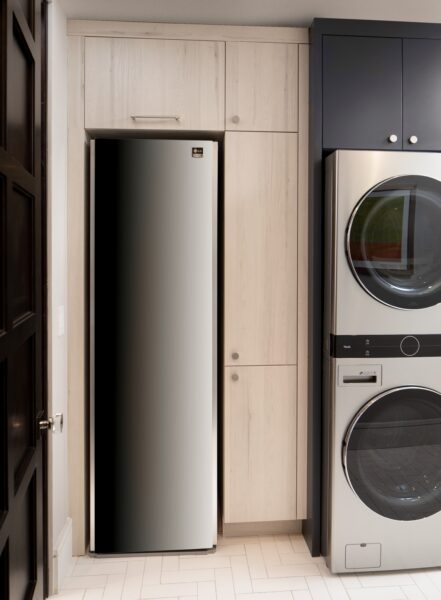 Smart Laundry Appliances
Energy efficient laundry appliances in TNAH and TNAR deliver added convenience and offer advanced technologies, elevated designs and designer-grade finishes. Featured innovations from the LG Builder division include the ENERGY STAR certified LG WashTower, an industry-first single-unit, vertical laundry solution takes up half the floor space, elevating consumers' laundry experience while still tackling ultra-large loads. TNAH incorporates the new LG Studio WashTower in the exclusive Noble Steel finish, while TNAR features the LG WashTower in white, both complemented by LG Styler clothing care systems, which are certified "asthma & allergy friendly" by the Asthma & Allergy Foundation of America.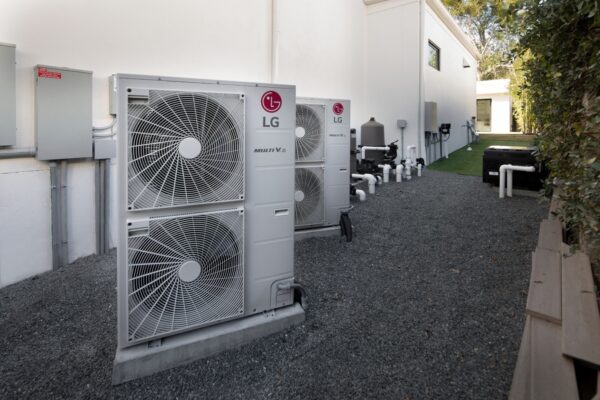 Efficient Air Conditioning Systems
Featuring efficient HVAC systems and controls from LG, TNAR embeds advanced comfort solutions that support the home's Net Zero status and complement its unique design characteristics. TNAR boasts two award-winning LG Multi V™ S 5-ton Heat Recovery outdoor units. They are connected to a number of LG Vertical Air Handler units, which feature LG's efficient inverter technology and offer discrete and flexible installation. Customizable comfort can be controlled via wall-mount controls or with a smartphone using the LG ThinQ app.
Tours of the homes are offered virtually. Visit The New American Home's virtual experience and The New American Remodel's virtual experience to learn more about the construction process, as well as the final showcase homes. The final version of the homes will be available indefinitely on buildersshow.com.
By LG USA Staff
# # #