October 4, 2019
BRAZILIAN SOCIAL MEDIA MAVENS PEDAL THEIR WAY TO MORE EFFICIENT INDOOR COOLING
By LG Brazil Staff
 
Since the beginning of the Industrial Revolution, what has never been in dispute is the fact that the more powerful a machine, the more power it requires. This has held true since the first light bulb and the first gasoline-powered vehicle. With petroleum reserves running dry and consumers' focus on cleaner living, many are willing to accept lower performance for more energy savings. But when it comes to cooling a home, comfort always wins out over efficiency.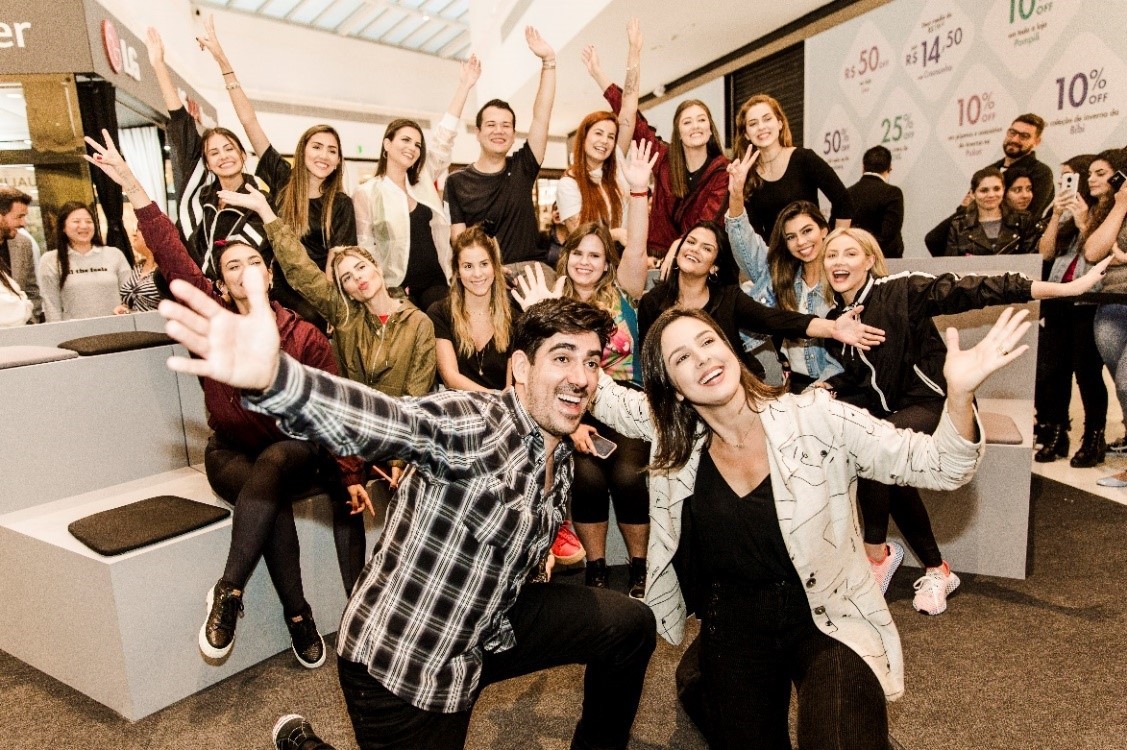 To communicate both the performance and energy efficiency of LG's DUAL Inverter Compressor-powered air conditioners in Brazil's sweltering climate, LG came up with the most creative solution.
In the middle of the busy Iguatemi Shopping Mall in the southern city of Porto Alegre, LG held a biking challenge featuring two teams of seven popular social media celebrities to deliver the message that today's technology is capable of delivering both maximum comfort as well as energy savings. The bicycles were hooked up to sensors that measured how much energy could be produced through pedal power, represented by colors on a digital display.
But LG added a twist.
The two teams were separated by a curtain with one team pedaling a tandem bicycle, representing the dual rotors of LG's super-efficient, low noise DUAL Inverter Compressor. Just as LG's twin rotor design helps its air conditioners cool 40 percent faster than single inverter compressor units, the tandem bike was designed to be more efficient by spreading the input energy over two riders.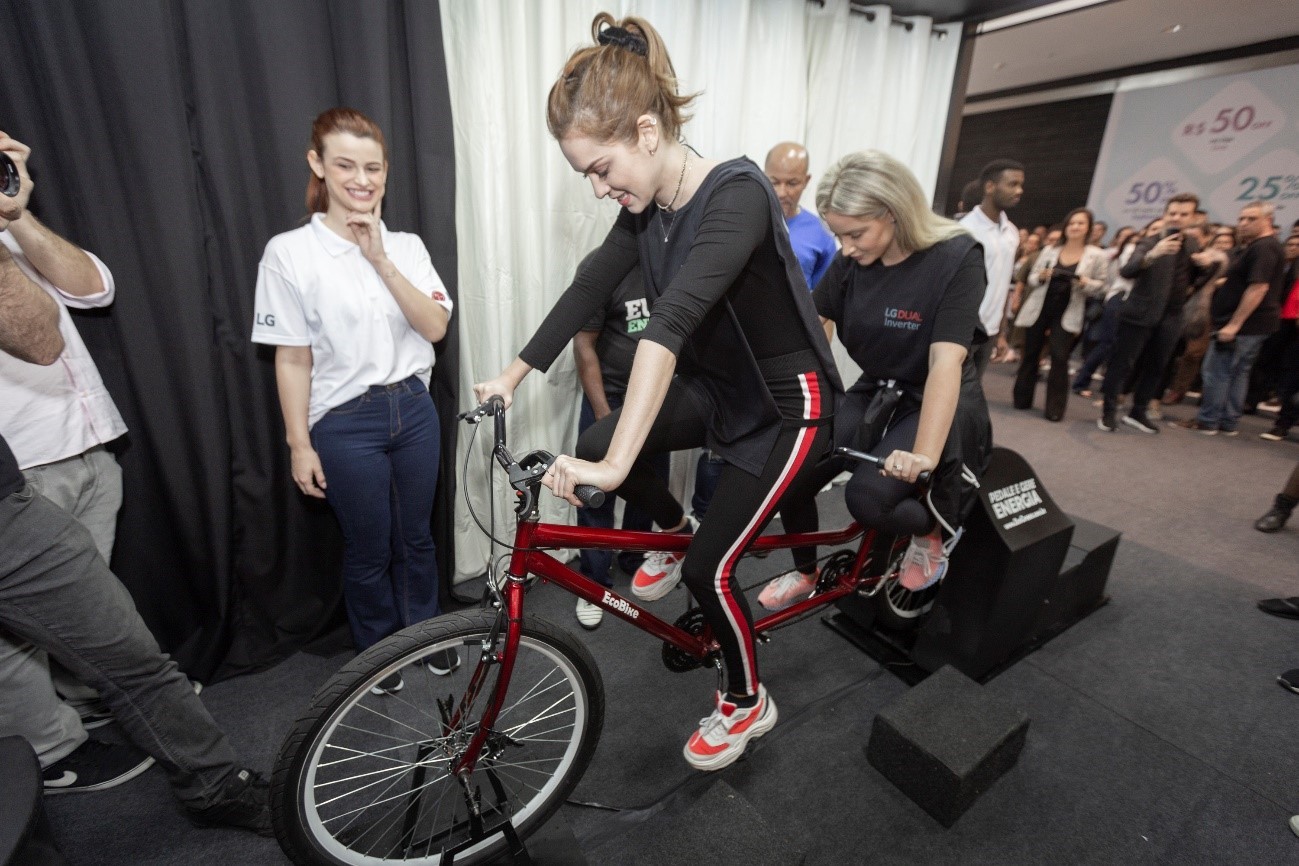 Fast cooling is not the only advantage offered by LG's compressor, it also excels in reducing energy consumption, using up to 70 percent less electricity than a single inverter system while simultaneously providing 40 percent faster cooling than non-inverter residential air conditioners.* This means users can save as much as USD 570 per year on energy bills while enjoying a blissfully cool home. On top of that, the compressor is also a super-silent performer, ensuring peace as well as supreme comfort.
Even the riders learned something new about air conditioning.
"I was surprised by the challenge's clever twist and amazed at the incredible power and value the DUAL Inverter Compressor brings to LG air conditioners," said Brazilian singer and actress Sophia Abrahão, one of the riders. Another participant, a respected financial expert and educator Mirna Borges, was impressed by how much one could actually save with higher air conditioning efficiency.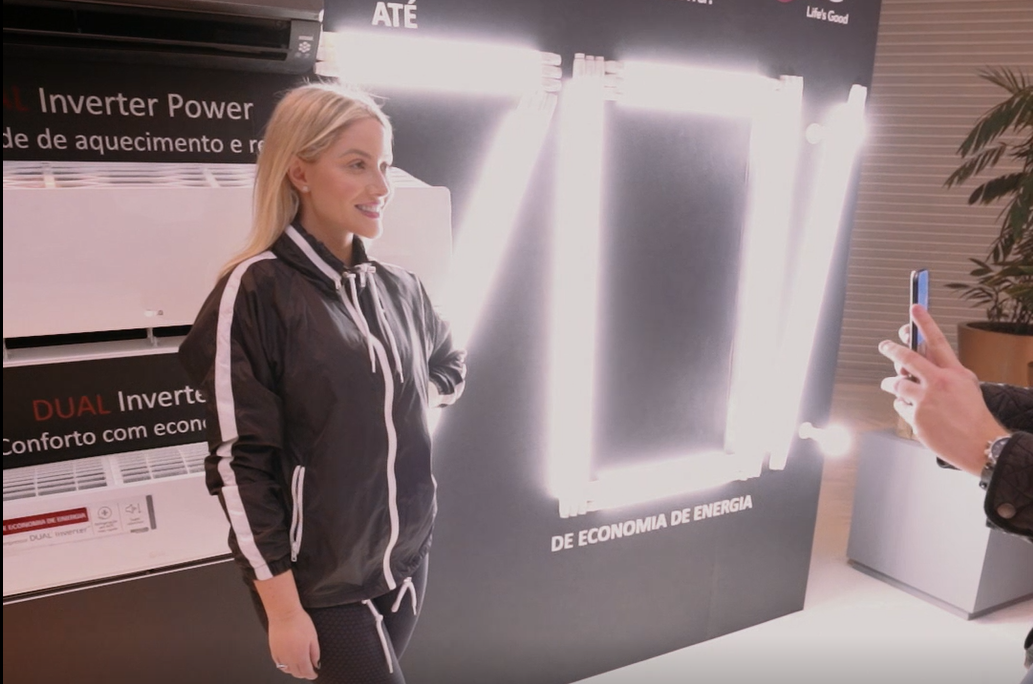 For participating and giving the audience their best effort, each influencer received an LG DUAL Inverter ARTCOOL air conditioner. The stories and images they subsequently uploaded to their Instagram accounts resulted in more than two million views and helped generate over 300 posts and comments on the topic of LG and air conditioning.
LG Brazil's unique event was an inventive means of conveying the benefits of DUAL Inverter compressor-powered air conditioners but more importantly, it allowed LG to educate the public and social influencers of the importance of energy efficiency in the home. With products that exemplify such efficiency, it's no surprise that LG products represent almost half of the residential air conditioning market in Brazil.
For LG, it doesn't get any cooler than that.
VIDEOCASE BATALHABIKES
https://www.youtube.com/watch?v=qQC5IEJs1jM&feature=emb_title
# # #
* Based on LG Electronics internal test methods, air conditioner models (US-Q242K series) with DUAL Inverter Compressors™ were tested next to air conditioner model TS-H2465DA0 with constant-speed compressor.