April 2, 2014
LG ENHANCES POSITIONING IN ASIA WITH INNOFEST 2014
First Regional Roadshow Showcases LG's Consumer-Focused
Product Lineup to Asian Audience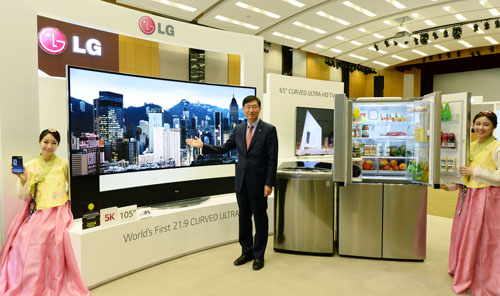 SEOUL, Apr. 2, 2014 — LG Electronics (LG) kicked off the third leg of its global Innovation Festival (InnoFest) roadshow in Seoul with a showcase of its newest products aimed at Asian consumers, which included the company's diverse lineup of TVs, refrigerators, washing machines, air conditioners and smartphones. InnoFest Asia follows on the heels of InnoFest Middle East & Africa event in Turkey and InnoFest Europe in Italy in February and March, respectively.
"LG expanded LG InnoFest to Asia this year for the first time to show our regional business partners and stakeholders LG's diverse lineup of consumer-centered products for 2014," said Weon-dae Kim, senior vice president and regional head of LG Electronics Asia. "The hundreds of guests who come to LG InnoFest are the first impression customers have of LG so it's critical that they have all the tools and knowledge to be our ambassadors."
LG showcased its full lineup of TVs for Asian consumers starting with the superior picture quality of ULTRA HD TVs. LG announced the expansion of its ULTRA HD TV family from 49 to 105 inches and adding two new models — 77 and 65 inches — to its current 55-inch OLED TV offering. LG also introduced its newest smart TV operating system, webOS, at InnoFest Asia. Setting up, searching and viewing content and connecting to other devices are incredibly simple and intuitive with webOS.
LG also showcased at InnoFest Asia its latest big capacity, energy conserving home appliances. Interest was high for LG's top-load washing machines with Tub Clean+ which increases water temperature to 60 degrees Celsius to wash dirt and germs from inside the unit. LG's new front-load washing machine reduces wash time to only 59 minutes1 with its TurboWash™ technology and removes wrinkles and odors from delicate clothes with TrueSteam™.
In the kitchen, LG's refrigerators equipped with Inverter Linear Compressor and the double layered Door-in-Door™ system take energy efficiency and convenience to a whole new level. LG's Deluxe Inverter V smart air conditioners can be adjusted to operate under four power consumption options, according to needs and conditions. Artcool Mirror Inverter V air conditioner includes LG's proprietary Voice Mate feature enabling it to respond to vocal commands. Smart cleaning solutions such as HOM-BOT SQUARE and KOMPRESSOR RoboSense™ round out LG's appliance lineup at LG InnoFest Asia.
Other products featured at LG InnoFest Asia include LG G Flex, the ergonomic,  curved smartphone designed around the human face, and the new G Pro 2, G2 mini, L Series III, as well as the company's first wearable fitness device, Lifeband Touch.
"It was very impressive to see LG Electronics' technology leadership and innovative products right here, the country where LG was born and raised," said Mr. Handy Sundjaja, Owner of Log-In, one of the biggest retailers in Indonesia. "I hope we can continue to help each other grow, succeed and lead the Indonesian market going forward."
——————————————————————–
1 Based on tests carried out by Intertek, LG Model F94933WHS (washing load 5kg on Cotton cycle).
# # #