March 31, 2014
LG BREAKS WITH CONVENTIONAL CONCEPTS OF LIGHTING AT LIGHT+BUILDING 2014
Smart Lighting Lead the Way as LG Expands Global Lighting Business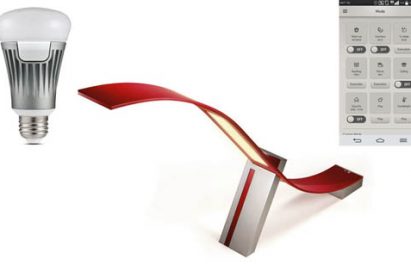 FRANKFURT, Mar. 31, 2014 — LG Electronics (LG) will mark the expansion of its global lighting business by introducing its newest lighting products at the Light+Building 2014 trade show from March 30 to April 4 at the Frankfurt Fair and Exhibition Centre in Germany. Under the theme of Simply Smart in Lighting, LG will showcase advanced lighting technologies in the areas of Energy Savings & Payback, Connect & Control and Comfort & Well-being.
Making its global debut following its introduction in Korea will be LG's Smart Lamp, which can be connected directly to a smartphone or tablet via Bluetooth and controlled with a free downloadable Android or iOS app. The Smart Lamp offers nine modes of operation that can be personalized for each individual. In Sleep Mode, for example, the Smart Lamp can be set to gradually dim as the user falls asleep and brighten in the morning when the alarm clock sounds.
Another innovative lighting product being unveiled at Light+Building 2014 is LG's OLED Table Lamp, the world's first product of its kind to utilize a curved OLED panel as a light source. Produced exclusively by LG Chem, the OLED panels utilized in the OLED Table Lamp are incredibly thin and flexible and are considered by many to be the next generation in lighting technology. LG OLED Table Lamp can also be controlled remotely with a compatible smartphone or tablet running the LG lighting control app.
Also being showcased for the first time at the Light+Building show is LG's Color Tunable Flat Light which can alter its color and color temperature via the smartphone and tablet app to create a unique mood for any room. Light has always been known to have an amazing effect on people, both emotionally and biologically. Used effectively, LG's Color Tunable Flat Light can play a key role in promoting the well-being of individuals and creating a pleasant ambience.
To highlight their advanced capabilities, all three products will be demonstrated in LG's Smart Home Zone at Light+Building using LG's HomeChat™ service, first introduced at the Consumer Electronics Show (CES) in January. With HomeChat, customers will be able to communicate with the lights using the popular messaging app LINE, utilizing normal everyday language. Type "I am going out" and HomeChat will ask "Do you want me to turn on security mode?" If the user responds affirmatively, the lights will be randomly cycled on and off to give the appearance of the home being occupied.
Other LG lighting products on display at Light+Building 2014 are:
LG LED Flat Light incorporates the company's advanced optical technology from its incredibly thin LED TVs, making LG's LED Flat Light approximately 70 percent slimmer than competing LED lighting. The slim profile and soft light generated by LG LED Flat Light makes this appropriate for most living and work spaces.
Benefitting from the company's proprietary technology in heat dissipation, LG LED-T111 lighting offers the brightness of a 70 watt metal-halide lamp (3,400 lumens) from its small and light form factor. This product is a perfect match for high-end retail stores and other commercial spaces where premium feel and energy efficiency are high priorities.
LG's LED Streetlights and Downlights are designed to be modular to meet the needs of various environments and customers. The modular design makes LG lights more future-proof since older parts and components can be replaced with more efficient ones. Modular design also has the potential to save customers money because only certain parts need to be changed — as opposed to the entire luminaire housing—and future upgrades would likely result in higher energy efficiency. And to ensure that LG LED Streetlights properly blend in with their surroundings, LG set a high priority on minimalistic design with high functionality.
LED Essentials from LG Lighting, a new lineup of commercial LED products from LG, will also be unveiled at Light+Building 2014. Focusing on the core features and benefits of LED lighting, the five products in LED Essentials from LG Lighting — halogen replacement downlight, CFL replacement downlight, LED recessed flat, LED high-bay and LED batten — are designed to better meet the needs of the global commercial lighting market.
"At Light+Building, LG is presenting a new paradigm of lighting solutions that breaks with conventional concepts and traditions," said Si-kwan Ryu, executive vice president of LG Electronics' Lighting Business. "Our newest smart and energy efficient lighting products are expected to set new standards of innovation and deliver even higher value to our customers."
As the world's largest trade fair for lighting and building-services technology solutions, the biennial Light+Building trade show is host to 2,300 exhibitors and nearly 200,000 visitors from the fields of architecture, design, engineering and other related disciplines. Visitors to the Light+Building show are encouraged to see LG's newest lighting products for themselves at the company's booth in Halle 6 Ebene 2 Stand A60 from March 30 to April 4, 2014.
# # #