March 19, 2014
LG TARGETS EUROPEAN MARKET WITH CONSUMER-CENTERED PRODUCTS AT INNOFEST 2014
Showcasing LG's Superb Picture Quality TVs, High Efficiency Appliance in Italy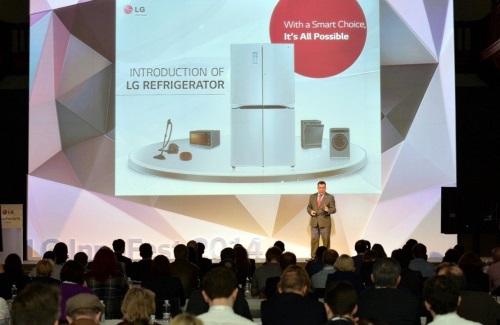 VENICE, Mar. 19, 2014 — Under its new brand theme, It's All Possible, LG Electronics (LG) showcased its most comprehensive product lineup for European consumers at the 2014 LG Innovative Festival (InnoFest) roadshow, held in Venice, Italy this week. With a variety of differentiated solutions featuring premium technologies and innovative designs, LG is strengthening its position in the region and expanding its relationships with local partners and businesses.
Following the inaugural LG InnoFest 2014 show in Istanbul last month, LG's European roadshow was attended by approximately 300 of LG's business partners and other stakeholders from all across the region. The third and final leg of the InnoFest roadshow will take place in Asia in April.
"InnoFest is our chance to showcase our diverse consumer electronics and appliance offerings for European consumers against the backdrop of an economy that's showing signs of turning the corner," said Brian Na, vice president and Europe region head at LG Electronics. "Success in Europe is a prerequisite for being a global company in today's business world. We want to thank all the people who attended LG InnoFest 2014 and made it the success that it was."
LG demonstrated its commitment to delivering superior picture quality to European customers, announcing its intention to expand its range of ULTRA HD and OLED TVs across Europe. As the first manufacturer to produce an 84-inch 4K ULTRA HD TV in 2012 and the largest 4K ULTRA HD CURVED OLED TV in 2014, LG outlined its plan to roll out seven series of ULTRA HD TVs in sizes ranging from 49 to 105 inches for the European market this year, its largest and most diverse TV lineup to date. To no one's surprise, LG's stunning 77- and 55-inch curved OLED TVs were the stars of the show. To strengthen its position in the European TV market, LG plans to expand its regional R&D capability and to secure manufacturing capability of ULTRA HD and OLED sets in Poland.
Reinventing the smart TV experience to be simpler and more intuitive than ever before, LG introduced its webOS platform in Europe for the first time at InnoFest. Its ease-of-use makes content searching and viewing, connecting with other devices and even the initial setup process incredibly smooth. Expected to be a game changer in the smart TV market, webOS will make its debut in more than 40 TV models including LG's ULTRA HD, OLED and CINEMA 3D Smart TVs this year. Guests at LG InnoFest had the chance to experience LG Smart TVs for themselves to see just how innovative and easy-to-use a smart TV could be.
In addition to its advanced range of home entertainment products, LG also exhibited its latest energy conserving appliances designed for European consumers. Highlighting the collection was LG's new front-loading washing machines, launching in Europe in the first half of the year, that are 40 percent more energy efficient than A+++ models. With TurboWash™ and TrueSteam™ technology, the washing machine cuts wash time to only 59 minutes1 and reduces energy consumption by up to 15 percent 2 and water consumption by up to 40 percent3 without sacrificing cleanliness and without chemical-based fabric softeners.
LG also showcased its newest energy efficient refrigerators, including its bottom-freezer models with Total No Frost that are 10 percent more efficient than A+++ energy rating. And thanks to LG's proprietary Inverter Linear Compressor, customers will benefit in energy savings, quieter operation and longer life.
Other products featured in LG InnoFest 2014 included LG's ARTCOOL Stylist Inverter V with subtle LED lighting and new 3-way Soft Airflow feature to distribute air evenly for a comfortable environment and the ARTCOOL Slim Inverter V offering a combination of energy efficiency, durability and health-centric features. Among LG's superb collection of home cleaning solutions included the HOM-BOT SQUARE and the Cordless 2-in-1 Vacuum Cleaner. What's more, LG's revolutionary curved smartphone, G Flex, and wearable fitness device, Lifeband Touch, also attracted much attention at LG InnoFest.
————————————————————————————
[1] Based on tests carried out by Intertek, LG Model F94933WHS (washing load 5kg on Cotton cycle) comparing to LG washing machine (wash load 5kg on Cotton cycle) without TurboWashTM.
[2] Results from tests carried out by Intertek, comparison between 5kg cotton-only wash (724wh) and TurboWash™ (617wh).
[3] Results from tests carried out by Intertek, comparison between cotton-only wash (78L) and TurboWash™ (47L).
# # #