March 18, 2014
GLOBAL ROLL OUT OF LG G PRO 2 KICKS OFF IN ASIA
First LG Smartphone with Knock Code™and OIS+ Makes its Debut Overseas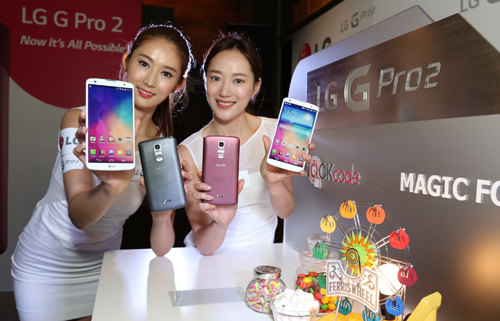 SEOUL, Mar. 18, 2014 — LG Electronics (LG) today announced the start of sales of G Pro 2 in the Asia Region in markets including Hong Kong, Taiwan, Singapore, Philippine, Vietnam and Indonesia among others. The device was first introduced to a global audience at Mobile World Congress in Barcelona last month where the smartphone was well received for its innovative UX features,superb display and advanced camera functions.
"With its 5.9-inch Full HD IPS display, versatile camera functionsand user-oriented UX features, we expect the LG G Pro 2 to make a strong impression with Asian customers." said Dr. Jong-seok Park, president and CEO of LG Electronics Mobile Communications Company. "Asian consumers have been the biggest fans of smartphones with displays over five inches and we wanted to make sure that the G Pro 2 exceeded their high expectations."
LG's proprietary UX feature, Knock Code™, enables users to power on and unlock their G Pro 2 in one easy step by entering a personalized pattern on the display. Consumer research shows that users check and unlock their devices more than 100 times a day which was the inspiration for LG to take its existing KnockON feature to the next level. With G Pro 2, users can tap or "knock" the display in a specific sequence two to eight times to power on and unlock the phone. And with more than 80,000 possible combinations and no fingerprint streaks, LG's patented Knock Code™ solution offers a greater level of security over other methods. Customer response has been overwhelmingly positive, as more than 50 percent of participants selected Knock Code™ as the most anticipated feature of the G Pro 2 in a survey1 in Korea.
The G Pro 2 offers an industry-leading 77.2 percent screen-to-frame ratio with a stunning 5.9-inch Full HD IPS display and incredibly narrow 3.3mm side bezels. The smartphone's IPS display produces impressively crisp, bright images, taking full advantage of LG's renowned display technology. Combined with the new high-power 1 watt Hi-Fi speaker, the 1080p display on the G Pro 2 delivers a superb multimedia experience.
And the G Pro 2 is the first device to offer a 13MP camera with OIS+ (Optical Image Stabilizer Plus) not to mention innovative features such as 120FPS HD Video Recording and Slow-Motion playback with adjustable speed, 4K ULTRA HD Recording, Magic Focus and Natural Flash. With such advanced image-capturing capabilities, the camera found on the G Pro 2 can not only outshoot and outperform most other smartphone cameras, but many stand alone point-and-shoot cameras as well.
Details regarding the availability of G Pro 2 in specific countries will be announced locally.
Key Specifications:
–    Chipset: Qualcomm Snapdragon™ 800 (2.26 GHz Quad-Core)
–    GPU: Qualcomm Technologies Adreno™ 330
–    Display: 5.9-inch Full HD IPS (1920 x 1080), Slim Bezel
–    Memory: 3GB DDR3 RAM / 16GB/32GB eMMC ROM / microSD slot
–    Camera: Rear 13.0MP OIS+ / Front 2.1MP
–    Battery: 3,200mAh (removable)
–    Operating System: Android 4.4 KitKat
–    Size: 157.9 x 81.9 x 8.3mm
–    Weight: 172g
–    Network: LTE / HSPA+
–    Connectivity: Bluetooth Smart Ready (BT 4.0) / USB /
Wi-Fi (802.11 a/b/g/n/ac) / NFC / SlimPort
–    Colors: Titan Black, White, Wine Red
–    Other: Knock Code™, 1W Hi-Fi Sound, Content Lock
____________________________
1Conducted by www.cetizen.com
# # #