December 3, 2013
LG G2, DESIGNED WITH ENVIRONMENT IN MIND, EARNS UL ENVIRONMENT AND CARBONFREE® CERTIFICATIONS
Certifications Further Enhance Award-Winning Smartphone's Credentials,
Highlight Company's Environmentally-Conscious Initiatives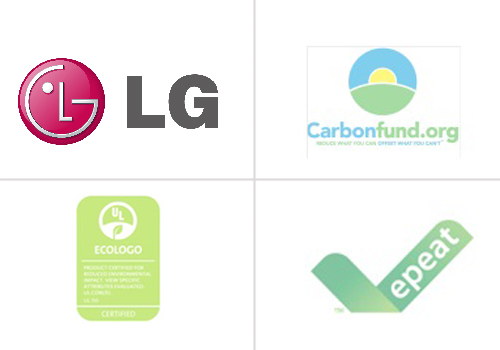 ENGLEWOOD CLIFFS, N.J., Dec. 2, 2013 — LG Electronics (LG) has earned key sustainability certifications from UL Environment and the Carbonfund.org Foundation for the award-winning LG G2 smartphone, further validating the company's global strategy to reduce its carbon footprint and develop products with an eye towards the environment.
The LG G2 has been ECOLOGO® Certified under UL Environment's sustainability standard for mobile phones, the foundation of the new mobile phone category planned for the Green Electronics Council's global EPEAT® Registry for products with greener features. The new smartphone also earned the CarbonFree® label that connotes a carbon-neutral product.
"Achieving these important certifications further validates the efforts we have made to reduce our carbon footprint and provides consumers important information they can trust," said Dr. Skott Ahn, president and chief technology officer, LG Electronics Inc. "Our commitment to environmental sustainability with the LG G2 shows that, with LG, it's all possible."
The LG G2 achieved the CarbonFree recognition after a comprehensive analysis that determined the carbon footprint of the smartphone throughout its lifecycle, spanning from manufacturing and shipment to usage and ultimately, disposal. The CarbonFree certification program distinguishes products that have undergone a rigorous third-party process that involves determining a product's carbon footprint, reducing it where possible and offsetting remaining emissions.
Eric Carlson, president of the Carbonfund.org Foundation, applauded LG's commitment to making and promoting carbon neutral products and following rigorous third-party standards. "LG's commitment to addressing environmental concerns with the LG G2 is further proof that what's good for the environment is also good business," he said.
UL's ECOLOGO Certification to the UL 110 (Sustainability for Mobile Phones) standard is based on the environmental and human health aspects of a mobile phone's entire lifecycle. This way, manufacturers, retailers and purchasers looking for sustainable mobile devices have an easy way to identify them, according to UL.
Sara Greenstein, president of UL Environment, said, "UL's ECOLOGO certification to the UL 110 standard empowers product manufacturers like LG to clearly demonstrate their commitment to measuring and communicating their product's environmental performance. UL recognizes reduced environmental impact for products like the LG G2 to ensure that the marketplace has access to recognizably healthier, more sustainable devices."
The UL 110 standard is at the heart of a new mobile phone category being developed for EPEAT, a third-party green-rating system that evaluates products on a lifecycle basis, addressing their design for recycling, elimination of toxic substances, use of recycled and recyclable materials, product longevity, energy efficiency, corporate performance and packaging, among other attributes. EPEAT is used as an environmental purchasing requirement by eight national governments, including the United States, as well as by educational and healthcare systems and multinational corporations.
Robert Frisbee, CEO of the Green Electronics Council, said the quick evolution and short lifecycle of mobile products "presents a clear opportunity to reduce their environmental impact. By meeting the UL 110 standard, the LG G2 is poised for success as stakeholders continue moving toward the creation of an EPEAT mobile phone category."
The LG G2 features an innovative rear-key design for easy, natural handling. Boasting a 5.2-inch Full HD near edge-to-edge display, the LG G2 is a powerful smartphone that brings together the best of mobile technology. The LG G2 is built with the Qualcomm® Snapdragon™ 800 Processor for fast-paced multitasking and a suite of intuitive features like Answer Me and KnockON, creating the ultimate mobile companion for work and play. With a 13-megapixel camera with Optical Image Stabilization, the LG G2 also captures crystal clear photos and videos, whether shooting in low-light conditions or fast-moving events.
One of the hottest new smartphones on the market, the LG G2 has been receiving accolades world over and was recentlychosen by a leading consumer magazine as the only Android device among its top 10 electronic products of 2013.
NOTE: Certification Marks are for illustrative purposes only.
# # #