December 4, 2013
LG G FLEX BEGINS GLOBAL ROLLOUT WITH INTRODUCTION IN KEY ASIAN MARKETS
World's First Curved, Flexing, Self-Healing Smartphone
Available For The First Time Outside Korea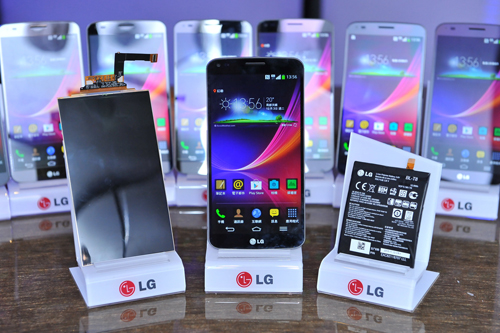 SEOUL, Dec. 4, 2013 — LG Electronics (LG) is introducing LG G Flex, the world's first curved flexing smartphone, to the global market starting in Singapore and Hong Kong this week. Key markets in Asia will also announce the availability of this innovative device before the end of the year, soon to be followed by other regions.
The LG G Flex has captivated early adopters everywhere as the first smartphone curved to follow the contour of the human face, made possible with the implementation of the world's first curved smartphone battery. With a durable plastic OLED (P-OLED) HD display, the G Flex also comes with a self-healing back cover that eliminates those day-to-day scratches, making it the first smartphone to incorporate such technology. These innovative features have earned LG's latest smartphone significant praise and accolades from major media outlets worldwide.
Customers in Singapore will be able to place their pre-orders for LG G Flex beginning December 8. In Hong Kong, the device goes on sale starting December 13 and will be available through major carriers and leading electronics retailers.
The vertically curved G Flex is the latest device in LG's premium G Series and incorporates proprietary innovations from other LG companies such as LG Display and LG Chem. The curved 6-inch Real RGB P-OLED display was developed specifically for the G Flex and is the largest of its kind in the world. The 3,500mAh curved battery from LG Chem was also developed with LG G Flex in mind and is also a world's first.
# # #