November 27, 2013
LG ELECTRONICS NAMES NEW EXECUTIVES
Experienced Executives Tapped to Lead Key Positions in 2014 and Beyond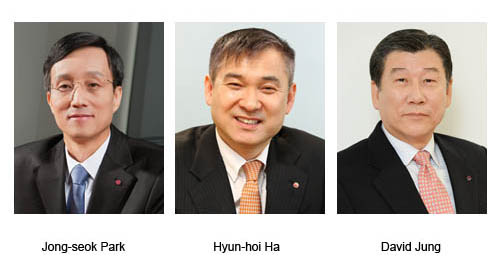 SEOUL, Nov. 27, 2013 — LG Electronics (LG) today announced 44 executive appointments, among them three new company presidents. Among the promotions are new executives to lead the Home Entertainment (HE) Company and Global Sales and Marketing Office. New positions are effective December 1, 2013 with promotions taking effect on January 1, 2014.
Dr. Jong-seok Park, head of LG's Mobile Communications (MC) Company, has been promoted to the title of President of LG Electronics. Dr. Park, 55, will continue in his role as President and CEO of the MC Company where he successfully oversaw the development of the popular LG G2, Nexus 5 and G Flex smartphones. With more than 30 years of experience at LG, Dr. Park previously headed LG's mobile phone R&D operations before taking on the role as head of the MC Company in 2010. A graduate of Seoul National University and Korea Advanced Institute of Science and Technology (KAIST), Mr. Park received his M.B.A. from McGill University in Canada and a Ph.D. in electrical engineering from the University of Florida in the United States.
Long-time LG Display executive Hyun-hoi Ha was promoted to President of LG Electronics and will take on a new role as President and CEO of the Home Entertainment Company. Mr. Ha, 57, has been with LG for 28 years, much of that time at LG Display where he held various positions in sales and product planning before assuming his most recent position as Executive Vice President in LG Corporation where he was responsible for bringing together the various LG companies to create new innovations and synergies. He holds degrees from Pusan National University and Waseda University in Japan.
Executive Vice President and CFO David Jung was promoted to the title of President of LG Electronics and will continue in his role as the company's CFO.Mr. Jung, 56, joined LG in 1983 and was appointed LG Electronics' Chief Financial Officer in 2008 after holding leadership roles in LG Corp. and LG International. Mr. Jung is a graduate of Seoul National University with a degree in business administration.
Wayne Park, head of LG Electronics USA since 2009, will be returning to Seoul to assume the position of Global Sales and Marketing Officer. Previously, Mr. Park was head of LG Electronics Korea marketing, President of LG Canada and Vice President of Zenith Electronics LLC, among other high profile positions. As Executive Vice President for Corporate Strategy, he created the company's global business strategy, evaluated the marketability of emerging markets and reviewed new business opportunities. Mr. Park joined LG in 1982 after earning his bachelor's degree from Seoul National University.
# # #