November 13, 2013
LG ELECTRONICS HONORED WITH 15 CES 2014 INNOVATIONS AWARDS
Excellence in Design and Innovation Recognized in 10 Categories;
77-inch OLED Ultra HD TV Earns 'Best of Innovations' Distinction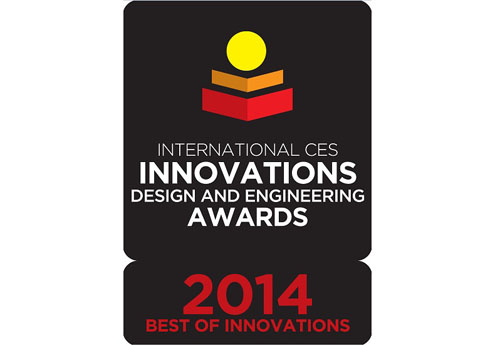 NEW YORK, Nov. 12, 2013 ㅡ The Consumer Electronics Association (CEA) recognized LG Electronics' excellence in design and technology with 15 prestigious 2014 International CES® Innovations Awards, including "Best of Innovations" recognition in the Video Display category for the dramatic new 77-inch class ULTRA HIGH DEFINITION CURVED OLED TV.
LG home entertainment products, home appliances and mobile phones were honored with CES Innovations awards in 10 highly-competitive categories: Video Displays, Eco-Design & Sustainable Technologies, Digital Imaging, Software & Mobile Apps, Home Audio/ Visual Components, Computer Peripherals, Computer Hardware & Components, Eco Sustainability, Home Appliances, and Wireless Handsets.
The 77-inch ULTRA HD CURVED OLEDTV exemplifies LG's commitment to leadership in the premium TV category. LG's marriage of the razor-thin OLED TV's infinite contrast ratio and Ultra HD technology that quadruples the resolution makes this stunning giant screen the pinnacle of home entertainment technology. The massive curved screen fills the viewer's field of vision more completely than a conventional flat-screen TV. When introduced in the United States in 2014, it will follow in the footsteps of the award-winning 55-inch class LG CURVED OLED TV that went on sale in the U.S. in July.
"Award-winning products and unique technologies are the proof-points for our brand promise to consumers that with LG, it's all possible. We are honored that CEA has awarded LG with our sixth 'Best of Innovations' award to further cement our commitment to this promise," said Wayne Park, president and CEO, LG Electronics USA. "Our 15 CES 2014 Innovations Awards also represent our dedication to providing consumers with innovative and intelligent features, intuitive functionality and sleek and stylish design."
In the home appliance category, LG captured awards for its new double-oven electric range with EasyClean technology™ (LDE3037ST) and the LG Front Load Mega Capacity TurboWash™ Washer with steam technology (WM8000HVA). The new EasyClean range offers a host of performance features for today's home chef, as well as enhanced convenience with LG's proprietary EasyClean technology that cuts cleaning time from hours to minutes, without the use of high heat or chemicals. The LG clothes washer features the largest capacity in the industry at 5.2 cubic feet, so it can wash more clothes – including larger, bulky items – in fewer loads, saving time and money in energy usage. It also features LG's innovative TurboWash™ technology which allows users to save  up to 20 minutes per load, even with larger loads of laundry, while still offering outstanding cleaning performance.*
In the wireless handset category, LG earned the CES Innovations distinction for the new LG G2 smartphone. Featuring an innovative rear-key design for easy, natural handling and a 5.2-inch Full HD near edge-to-edge display, the LG G2 is a powerful smartphone that brings together the best of mobile technology. LG G2 is built with the Qualcomm® Snapdragon™ 800 Processor for fast-paced multitasking and a suite of intuitive features like Answer Me and KnockON, creating the ultimate mobile companion for work and play. With a 13-megapixel camera with Optical Image Stabilization, LG G2 also captures crystal clear photos and videos, whether shooting in low-light conditions or fast-moving events.
Other LG honorees — including Ultra HD TVs, Smart TVs, Blu-ray players and monitors, sound systems, home appliances and mobile phones — will be announced on Jan. 6 at the 2014 International CES in Las Vegas.
CES Innovations Awards are selected annually by a panel of prominent industry designers, engineers and journalists who judge product entries on criteria including user value, aesthetics, innovative design, quality and contributions to quality of life. Sponsored by CEA and endorsed by the Industrial Designers Society of America, the CES Innovations Awards highlight product advancements in technology design and engineering. Since 2004, LG has been honored with 145 CES Innovations Awards.
LG's broad array of products for 2014 will be displayed at the 2014 International CES, Jan. 7-10, 2014 in Las Vegas. The Innovations Design and Engineering Showcase at International CES 2014 will feature honorees by product category.
*Based on AHAM-HLW-1-2010 test protocol. Cotton/Normal or comparable cycle at default settings, 8-lb loads, front load washers only. Excludes other LG manufactured products. Excludes quick wash or comparable cycles intended for small, lightly soiled loads only.
# # #