November 5, 2013
LG ELECTRONICS LAUNCHES ANDROID DEVELOPERS' DEVICE LOANER PROGRAM
New LG Program Gives Android Developers Easy Access to
LG Tools and Support, Latest Loaner Devices, New SDKs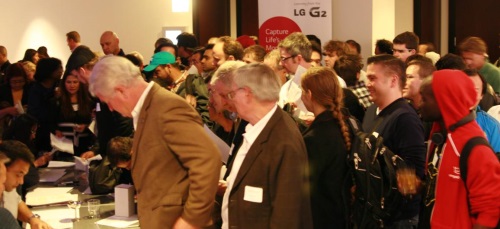 SAN FRANCISCO, Nov. 4, 2013 — LG Electronics, the maker of LG G2 and Nexus 5 smartphones, is expanding its LG Android Developers' Program with a new device loaner program that officially launches today.
The loaner program was previewed at last week's LG Android Developers' VIP event in San Francisco, where a new software development kit (SDK), the LG QRemote SDK, was officially introduced.
The hundreds of developers who attended the LG Android Developers' Workshop had the opportunity to experience the award-winning new LG G2 superphone, check out the LG QRemote SDK and learn more about the overall LG Android Developers' Program.
"When multiple developers followed up after the event, thanking LG for 'doing it right,' we know we're giving them what they want," said Cecilia Son, LG's head of mobile developer relations in North America. "By providing the Android developer community with a new SDK and the latest LG devices to test their apps on, we're living up to our brand promise, 'with LG, it's all possible.' We're giving them the tools to help inspire some great new apps — ones we expect to see on the LG App Store very soon."
The new LG Device Loaner Program for Android developers consists of a simple three-step process: registration on the LG Device Loaner Program website (http://goo.gl/Xa7A3L), completion of a brief order form designating the desired LG device, and return shipping at the conclusion of the 30-day loan period. The LG device loaner program is provided free of charge to the developer community, with the excep-tion of return shipping costs that are covered by the developer.
Supporting the hot new flagship LG G2 superphone and other LG Android devices, the new LG QRemote SDK (http://developer.lge.com) contains the library, documentation and sample codes that enable developers to create their QuickRemote apps to control multiple electronic devices such as TVs, cable set-top-boxes and audio systems, and even air conditioners. This SDK provides developers with open apps necessary to develop IR (infrared) remote sensor-enabled applications.
Developers can create the customized IR remote control apps for certain groups of people such as children or seniors and also add a macro button that enables both TV and cable set-top-box to power on with just one click.
The LG G2 — available on all major U.S. carrier networks — offers a perfect blend of intuitive design, intelligent features and powerful software that empowers consumers to make the most out of their desired smartphone experience. With user-friendly LG features like QuickRemote, owners can easily use G2 as a remote control for TVs, appliances and other devices.
The LG G2 is a stylish and pocket-friendly device with a super-slim body for comfortable one-hand gripping and an expansive 5.2-inch Full HD IPS display delivering near edge-to-edge viewing. For the personal photo enthusiast, LG G2 is equipped with a unique rear-key that makes snapping selfies easier than ever and an impressive 13 megapixel Full HD camera with Optical Image Stabilization (OIS) for ensuring every close up is blur-free without having to pause when in motion.
For more ideas about how LG G2 can make your smartphone experience a little more interesting and for pricing and availability information, visit www.lg.com/us/mobile-phones/g2.
# # #