September 4, 2013
LG'S LATEST SMART VACUUM CLEANERS REVOLUTIONIZE HOME CLEANING
LG's HOM-BOT SQUARE, KOMPRESSOR FOLLOW ME™ and Bedding Cleaner
Offer Consumers Powerful and Convenient Cleaning Experience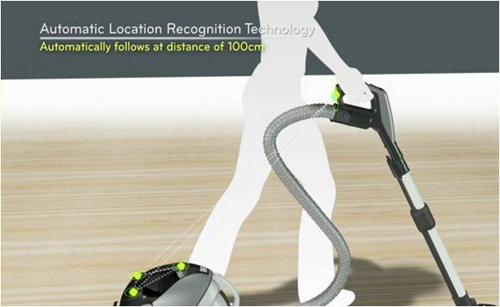 BERLIN, Sep. 4, 2013 — LG Electronics (LG) is showcasing its cutting-edge HOM-BOT SQUARE, KOMPRESSOR FOLLOW ME™ vacuum and hand-held Bedding Cleaner at IFA 2013. The HOM-BOT SQUARE is LG's flagship robotic vacuum cleaner while KOMPRESSOR FOLLOW ME™ is a canister unit equipped with innovative technology that enables it to follow the user around the house. The new hand-held Bedding Cleaner offers consumers a smart solution to help keep their bedding protected from unwanted dust mites and allergens which are often the cause of allergies and skin problems.
"LG's HOM-BOT SQUARE equipped with the Corner Master, Dual Eye 2.0™ cameras and Easy-out Dust Bin makes cleaning hard-to-reach places effortless," said Seong-jin Jo, president and CEO of LG Electronics Home Appliance Company. "In addition, the new KOMPRESSOR FOLLOW ME™ uses automatic movement and dust compression technology to give consumers a more convenient, more efficient and more enjoyable cleaning experience. With its three-level deep cleaning process that helps eliminate dust mites and allergens, the handheld LG Bedding Cleaner allows consumers to sleep peacefully and comfortably, without worrying about their health."
HOM-BOT SQUARE for Smarter, Faster, More Efficient Cleaning
The HOM-BOT SQUARE revolutionizes vacuuming by offering users a new level of efficiency and convenience. It comes with Corner Master, a feature set which includes the product's sharper angled square design, new brushes that are 1.5cm longer, and improved sensors. The greater reach of the brushes combined with the square shape of the cleaner leaves dust few places to hide. The upgraded Dual Eye 2.0™ camera sensors more accurately scan and map floor surfaces, even with the lights turned off. Ultrasonic and infrared sensors enable the HOM-BOT SQUARE to detect and avoid obstacles with ease. Thanks to its Learning Function, the HOM-BOT SQUARE can also recognize the areas it has cleaned on previous jobs. And alow noise level of just 60dBA means the HOM-BOT SQUARE can clean without causing a disturbance and with a height of just 89mm, its slimmed-down design enables it to maneuver around the home with ease, even under most furniture.
The HOM-BOT SQUARE is equipped with a number of features such as a larger capacity Easy-out Dust Bin, a larger and upgraded HEPA 11 filter and Turbo Mode which lets users manually set cleaning functions to the requirements of their flooring. Users will further enjoy a host of convenient features such as Voice Guidance and Smart Diagnosis that troubleshoots problems more easily. And unlike most other robot vacuums, the HOM-BOT SQUARE is powered by a lithium polymer battery that runs and lasts longer.
KOMPRESSOR FOLLOW ME™ with Automatic Following Technology
LG's new KOMPRESSOR FOLLOW ME™ follows the user's path, so customers no longer need to constantly carry the canister from room to room when vacuuming. Using Automatic Location Recognition Technology and Active Following Wheel Technology, the vacuum cleaner uses four interconnected sensors located on its body and handle to monitor and maintain a comfortable distance of approximately 100cm from the user. Sensors installed on the body automatically detect the handle's movement. Following detection, the sensors trigger the Active Following Wheel Technology to enable effortless, smooth and paced movement in accordance with the user.
The KOMPRESSOR FOLLOW ME™ is equipped with LG's proprietary KOMPRESSOR™ technology, which uses a motorized dust compression system within the bagless bin to compress the collected debris. This technology also reduces messy dust clouds when emptying the dustbin.
Cordless Bedding Cleaner for More Hygienic Bedding
At this year's IFA, LG will showcase its new cordless Bedding Cleaner, which enables even more hassle-free vacuuming be eliminating the power cord. LG's Bedding Cleaner handheld vacuum protects the health of consumers by effectively reducing the number of dust mites and harmful allergens in beds and mattresses. The Dual Punch™ feature pounds the surface 8,000 times per minute, helping to remove even the most stubborn of dust mites, while the soft rotating brush is ideal for picking up hairs and fibers from sheets and pillows. With a powerful suction and three levels of deep cleaning, the Bedding Cleaner offers customers the utmost in household hygiene.
The Dual HEPA filter of the Bedding Cleaner includes a multi-filtration system that removes dust, odor and germs from the home environment. The built-in UV sterilization station ensures both the hygiene of the consumer's bedding and of the cleaner itself, reducing the chance of secondary contamination.
Weighing a mere 1.8kg, LG's Bedding Cleaner also features an ergonomically designed tilted body and handle so that it can be easily picked up and operated with one hand, causing minimal stress on the hands and back. Equipped with an Easy-out Dust Bin, owners can conveniently and easily empty the dustbin with the One Touch button. Moreover, with its smooth, stylish design, the LG Bedding Cleaner can perfectly fit into any home environment.
Key Specifications:
HOM-BOT SQUARE
– Corner Master
– Dual Eye 2.0™
– Easy-out Dust Bin
– Noise level of 60dBA
– HEPA 11 Filter
– Smart Turbo
– Learning Function
– Voice Guidance
– Long-lasting Lithium Polymer Battery
KOMPRESSOR FOLLOW ME™
– Automatic Location Recognition Technology
– Active Following Wheel Technology
– Dust Compression Technology
– Easy to Wash & Dump
BEDDING CLEANER
– Dual Punch™
– Soft Rotating Brush
– Powerful Suction
– Dual HEPA Filter
– UV Sterilization Station
– Easy-out Dust Bin
# # #