September 5, 2013
LG UNVEILS LATEST RANGE OF ENERGY EFFICIENT REFRIGERATORS AT IFA 2013
 Equipped with Door-in-Door™ and Inverter Linear Compressor,
LG's New Refrigerators Lead the Industry in Innovation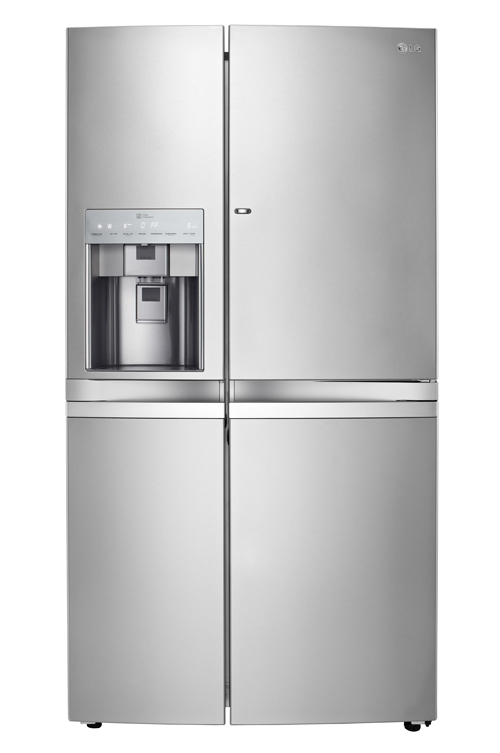 BERLIN, Sep. 5, 2013 — At IFA 2013 in Berlin, LG Electronics (LG) is showcasing its latest lineup of side-by-side and bottom-freezer refrigerators which offer consumers more energy savings and greater convenience than ever before.
LG's side-by-side refrigerators are equipped with convenience enhancing features such as Door-in-Door™ for quick access to favorite snacks and drinks. Door-in-Door™ comes with handy customizable basket sections, enabling family members to have their very own storage compartments.The energy efficient bottom-freezer models incorporate the Total No Frost feature, which offers faster and more even cooling to keep food fresh even longer. And LG's convenient Smart Diagnosis™ provides consumers with a quick and effective way to troubleshoot any issues with their units. These new refrigerators deliver even greater reliability and energy efficiency thanks to LG's powerful Inverter Linear Compressor, which comes with a 10-year warranty.
"When selecting home appliances, European consumers look for a combination of performance, user convenience and energy efficiency," said Seong-jin Jo, president and CEO of the LG Electronics Home Appliance Company. "We're confident that our newest lineup of advanced refrigerator models will prove popular with European consumers."
Door-in-Door™
LG's highly convenient Door-in-Door™ makes it easier to reach frequently sought after food and beverage items and also helps reduce cold air loss from escaping the main refrigerator compartment. By helping to reduce temperature fluctuations that occur whenever the refrigerator door is opened, the Door-in-Door™ helps to keep food fresh longer.
Inverter Linear Compressor
LG's proprietary Inverter Linear Compressor enables the refrigerators to provide industry leading energy efficiency and food freshness, reduced noise levels and superior durability. In comparison to a reciprocating drive system, the company's piston-driven compressor generates less internal friction and offers more precise cooling control, which ultimately ensures lower energy consumption. The Inverter Linear Compressor comes with a 10-year parts warranty.
Total No Frost
LG's newest refrigerators are also equipped with a Total No Frost feature. Most conventional internal-airflow systems disperse cool air inconsistently. LG's advanced design guarantees even cooling throughout the refrigerator's entire interior. Thanks to the new Multi Air Flow system, lunch meat stored on the top shelf of the fridge will stay just as cool as vegetables kept on the bottom shelf. Total No Frost cools down warm food much faster than other refrigerators and is more energy efficient than other internal-airflow systems.
Smart Diagnosis™
If an LG refrigerator experiences any problems, the Smart Diagnosis™ feature allows call center representatives to quickly diagnose the issue over the phone. What's more, the Smart Diagnosis™ smartphone app allows homeowners to record and analyze signals from the refrigerator for immediate advice on the best repair options. An effective means of troubleshooting potential issues, Smart Diagnosis™ is the ideal solution for today's busy customers who don't have the time to waste on costly, inconvenient service visits.
Convenience-enhancing Features
LG's bottom-freezer refrigerators come with a number of convenience-enhancing features that make consumers' lives easier. The lattice-type box cover of the Moist Balance Crisper™ improves moisture retention, helping to boost the longevity of food items. Located in the main refrigerator compartment, the convenient Fresh 0 Zone is an ideal place to store meats and fish, as users can access these oft-used items immediately without having to freeze and thaw them. Perfect for smaller kitchens, the Zero Clearance door can be opened to a 90-degree angle even if the refrigerator is placed close to a wall. In this position all drawers can be fully extended, making access to food much easier.
And finally, the sleek, attractive Easy Open Handle makes it possible to open the refrigerator door with a minimal amount of effort. Another impressive feature is LG's Non-Plumed Ice & Water, which adds a new level of convenience to the water and ice dispensers. Users can simply pour water into a tank, no installation or external water connection hoses are required and there are no filters to change. The Non-Plumed Ice & Water ensures that the family has access to convenient, hassle-free water and ice at all times.
Key Specifications:
Side-by-Side (Model GR D257SL)
– Door-in-Door™
– Inverter Linear Compressor
– A++ Energy Grade
– Horizontal Pocket Easy Handle
– Smart Diagnosis™
– Door Mounted Ice Maker
– LED lighting
– Pure N Fresh
Bottom-Freezer (Model GBB530NSCFE)
– Inverter Linear Compressor
– A+++ Energy Grade
– Total No Frost
– Smart Diagnosis™
– Fresh 0 zone
– Moist Balance Crisper™
– Easy Open Handle
– Zero Clearance
Side-by-Side (Model GWP545NSYZ)
– Inverter Linear Compressor
– A++ Energy Grade
– Horizontal Pocket Easy
– Smart Diagnosis™
– Non-plumbed Ice Maker
– Fresh Zone
– Moist Balance Crisper™
# # #