September 17, 2013
LG HOME CHEF CHAMPIONSHIP 2013 OPENS FOR ENTRIES
LG Gives Aspiring Chefs a Chance to Help the Hungry and
Win a Trip to Cape Town for the Global Cook-off Finals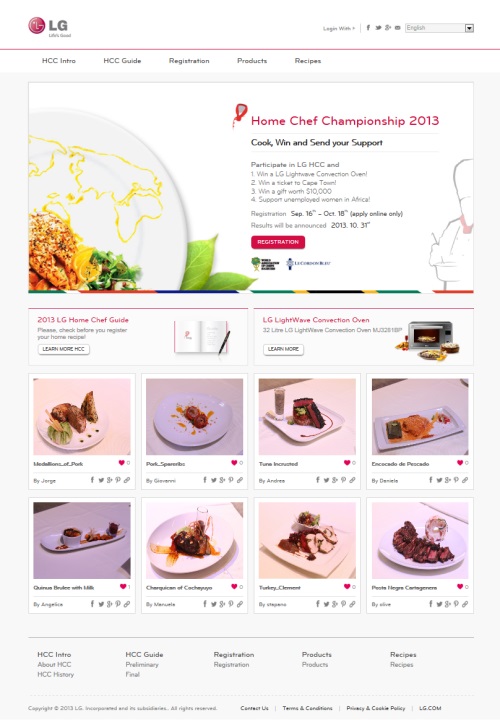 SEOUL, Sep. 17, 2013 — LG Electronics (LG's) will kick off its 2013 LG Home Chef Championship (LG-HCC) this week to find the world's best amateur chefs. Interested parties from participating countries[1] are encouraged to submit their most creative recipes to www.lgcooking.com for a chance to win an LG Lightwave Convection Oven and the opportunity to compete in the LG-HCC final cook-off in Cape Town, South Africa on December 4.
Held every year since 2008, LG's Home Chef Championship has brought together contestants from diverse cities such as Istanbul, Santiago, Bangkok, Dubai and Seoul to turn their dreams into reality. Unlike most culinary competitions which are geared towards professional chefs, the annual LG-HCC is open to only amateur food enthusiasts. As a new component to this year's competition, LG will donate USD 5 to the United Nations World Food Programme (WFP) for every recipe submitted and USD 1 for every recipe shared via Facebook.
"For the past five years, the LG Home Chef Championship has given amateur chefs a chance to shine on a global stage and experience the outstanding features and performance of LG's cooking appliances," said Seong-jin Jo, president and CEO of the LG Electronics Home Appliance Company. "We hope this year's social media component to benefit WFP will get even more aspiring chefs to participate and in turn, contribute financially to a cause that we believe in very strongly here at LG."
Winners of the best recipes from each participating country will receive LG Lightwave Convection Ovens and tickets to Cape Town to take part in the cook-off finals. The winner of the Cape Town finals will receive USD 10,000 worth of gift vouchers and the title of  "Grand Master Home Chef" while runners-up will receive USD 5,000 in gift vouchers and "Master Home Chef" certificates.
Winners will be evaluated on the following five categories:
– Menu Presentation — aesthetics and taste;
– Menu Recipe — how well a dish reflects local culinary traditions and use of widely available ingredients;
– Healthy Cooking — creativity, nutritional balance and minimal food waste;
– Work Plan — accuracy and detail of cooking instructions;
– Compatibility with Lightwave Convection Oven — ease with which the recipe can be adapted to LG's Lightwave Convection Oven.
WFP is the world's largest humanitarian agency fighting hunger worldwide. Last year, WFP reached more than 97 million people in 80 countries with food assistance. LG Electronics has been a partner in WFP's global work to eradicate hunger since 2009.
[1] For a list of participating countries, go to www.lgcooking.com.
# # #
---