September 27, 2013
LG WASHING MACHINES WORLD'S FIRST CERTIFIED FOR NEW UL 'WATER FOOTPRINT INVENTORY'
Lifecycle Analysis Examines Water Consumption at Every Stage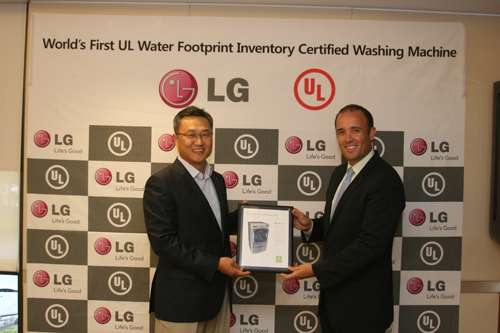 ENGLEWOOD CLIFFS, N.J., Sept. 25, 2013 ㅡ Breaking new ground in environmental sustainability for home appliances, washing machines from LG Electronics are the first in the world to be certified for the new Water Footprint Inventory being launched by UL Environment, a business unit of UL (Underwriters Laboratories).
The new certification reflects the commitment by LG, as a responsible manufacturer, to understand the impact of manufacturing and product lifecycles on natural resources, particularly in light of increasing global concerns around water and water scarcity. LG is believed to be the first major appliance manufacturer to track water use through the entire lifecycle of a product.
LG's ultra-large-capacity WM8000HVA and WM8000HWA front-load washers have undergone an extensive lifecycle water footprint inventory analysis, examining water use from component and packaging production, product assembly, product usage and disposal. UL Environment is leading the way in product verifications based on draft International Organization of Standardization (ISO) principles and guidelines for water footprinting of products, processes and organizations (ISO 14046).
"Since water is a global resource, we are all affected by and responsible for how it is used and managed," said Sara Greenstein, president of UL Environment. "UL Environment's water footprint inventory provides a tool for companies like LG to evaluate and address this important environmental metric for its products."
Based on ISO 14046 analysis,UL Environment certified that water consumption from the washer's pre-manufacturing stage represents about 37 percent of lifecycle water consumption, which will help LG identify processes and materials to reduce water consumption. The consumer usage stage of the washer's lifecycle accounts for about 53 percent of overall water consumption, underscoring the importance of continuing to develop products that use less water.
Chris Jung, president, Home Appliances, LG Electronics USA, said, "The UL Water Footprint Inventory is a key eco-design reference, and the results of the analysis show how important it is to track water over the life cycle of the product and not just the usage phase. LG is proud to be a pioneer in the water footprinting area and will use this data to improve the water-efficiency of our products."
LG's WM8000 washers are designed for a high-performance, ultra-efficient washing experience, having earned the coveted ENERGY STAR® "Most Efficient" 2013 designation from the U.S. Environmental Protection Agency. This means the washer is recognized as the best of the best among those that qualify for the ENERGY STAR and represents the leading edge in energy efficient products. In fact, a washer with this designation can save consumers the equivalent of at least 74,000 bottles of water a year, compared with conventional non-ENERGY STAR certified washers. This model also features LG's innovative TurboWash™ technology that can save 20 minutes per load, while still offering outstanding cleaning performance.
The first certification under UL's new Water Footprint Inventory is just one example of LG's leadership in developing products withthe environment in mind without sacrificing performance or style. The LG WM8000HVA/WM8000HWA washers also are the first to meet the "2013 Sustainability Standard for Household Clothes Washers" developed by UL Environment, CSA Group, the Association of Home Appliance Manufacturers and other stakeholders. This new sustainability standard identifies a product's environmental impacts in six key areas: materials, manufacturing and operations, energy and water consumption during use, innovation, use of consumables, and end-of-life management.
More than 70 LG products across multiple categories – from washing machines and refrigerators to televisions and air conditioners – have earned the 2013 ENERGY STAR Most Efficient designation so far this year. In addition, with a total of 32 certified products, LG is a key participant in the CarbonFree® Product Certification program, which verifies the GHG emissions associated with a product's life cycle and provides certification to products offering carbon offsetting and GHG reduction.
# # #