September 16, 2013
LG DELIVERS OVER ONE MILLION DOOR-IN-DOOR™ REFRIGERATORS WORLDWIDE
LG's Innovative Double Layered Refrigerator Increases Convenience,
Saves Electricity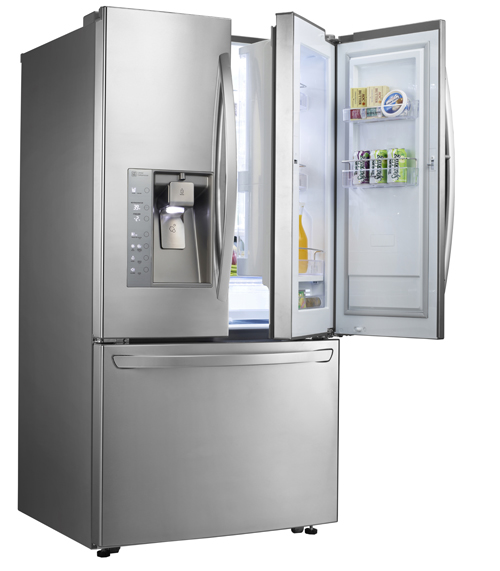 SEOUL,Sep. 16, 2013 — LG Electronics (LG) announced that it has sold over one million Door-in-Door™ refrigerators worldwide since its introduction in 2010, a significant achievement in the home appliance industry. The company's innovative double layered Door-in-Door™ feature enhances consumer convenience, providing quick access to frequently used items while also helping to prevent cold air from escaping the main refrigerator compartment.
"Today's busy consumers need appliances that help to make their lives easier and more convenient," said Seong-jin Jo, president and CEO of LG's Home Appliance Company. "With a strong commitment to excellence and technological innovation, we will continue to bring home appliances to market that enrich peoples' lives."
LG's Door-in-Door™ offers 65-liters of usable space, equivalent to an additional small single-door refrigerator[1]. In LG's side-by-side refrigerator models, the Door-in-Door™ feature not only gives users easy access, but also helps reduce cold air loss by 46 percent[2], contributing to lower electricity bills. The Door-in-Door™ provides a smart organization system that gives each member of the family their own storage space. The sealed compartment also provides maximum flexibility with easily adjustable shelving and Moving Baskets.
LG Door-in-Door™ refrigerators are available in over 50 countries all over the world. The innovative Door-in-Door™ feature can be found in LG's top-freezer, bottom-freezer, French-door and side-by-side refrigerator models.
---
[1] LG internal lab tests based on refrigerator model R-T873FBHGL.
[2] Based on Intertek testing according to internal test methods measuring percentage reduction in the exchange rate of air when opening the Door-in-Door™ compared to the fridge door for 10 seconds. Results may vary by models and duration of door opening.
# # #