April 28, 2013
LG OPTIMUS F5 MAKES ITS GLOBAL DEBUT
LG's Newest Smartphone Delivers Fast 4G LTE Performance
with Advanced User Experience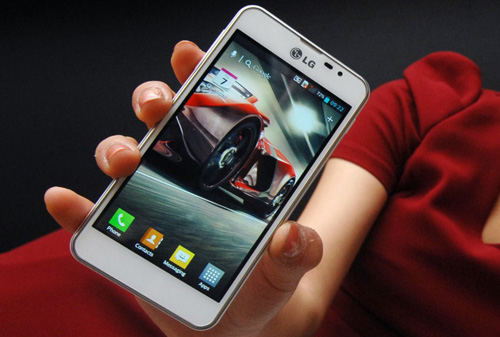 SEOUL, Apr. 28, 2013 ㅡ Following its successful unveiling at the 2013 Mobile World Congress, the Optimus F5 — the first device from LG's newest Optimus F Series — will make its world debut starting in Europe on April 29. Launching initially in France, LG will roll out the Optimus F5 in South and Central America, Asia and the Commonwealth of Independent States (CIS) over the next several weeks.
The Optimus F Series is a new family of Android smartphones for consumers who are ready to experience the blazing speeds of 4G LTE without the high costs that normally go with such a device. As a key component of LG's strategy to make 4G smartphones as ubiquitous as they are fast, the Optimus F5 features LG's advanced LTE technology and enhanced user experience (UX) features.
As display size and battery life become increasingly important among smartphone consumers, the 1.2GHz Qualcomm Dual-Core Optimus F5 addresses user demands by featuring a 4.3-inch IPS display and a largest-in-class 2,150mAh battery. LG engineers designed the Optimus F5 to deliver longer battery life without creating a larger battery. And the 4.3-inch IPS display offers clear, lifelike images for a superior viewing experience.
The Optimus F5 includes the latest Android Jelly Bean 4.1.2 operating system and the best of LG's innovative and exclusive UX features:
QSlide allows users to open multiple apps at the same time in full screen mode with the ability to change the size, position and transparency of the windows.
Live Zooming lets users zoom in on videos so they can get a closer, detailed look at any specific area.
Video Wiz lets users play movie director by giving them the power to edit videos and enhance them with sound and music right on the phone itself.
QTranslator function instantly translates not only words, but also entire sentences and phrases by simply using the camera to scan the text. QTranslator accepts 44 different languages and can translate them into any one of 64 languages.
"LG has consistently set the standard in the mobile industry with technology that complements, not complicates, users' lives," said Dr. Jong-seok Park, president and CEO of LG Electronics Mobile Communications Company. "The Optimus F5 is a natural extension of LG's lineup of strong LTE devices, offering the lightning-speed of 4G LTE and UX features of a premium phone. With the Optimus F5, we're confident we can capture an untapped market of new and upgrading smartphone users who crave a feature-rich, LTE device."
Key Specifications:
OS: Android Jelly Bean 4.1.2
Processor: Qualcomm 1.2 GHz Dual-Core
Display: 4.3-inch IPS (256 ppi)
Battery: 2,150mAh
Size: 126.04 x 64.46 x 9.30mm
Memory: 8 GB / 1 GB RAM / microSD (up to 32GB)
Camera: 5.0 MP AF Front / 1.3 MP Rear
# # #