May 15, 2013
LG COMMERCIALIZES FIRST SMARTPHONE WITH PRIVACY AND BUSINESS VIRTUALIZATION TECHNOLOGY IN U.S.
Strategic Venture with VMware and Verizon Wireless Enables
Secure Virtual Mobile Experience on LG's Optimus Vu: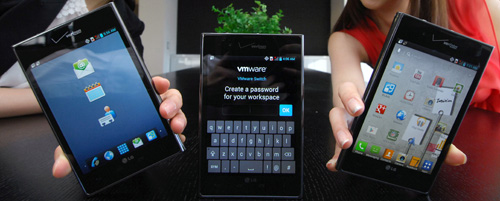 SEOUL, May 15, 2013 ㅡ LG Electronics (LG) announced that its Optimus Vu: — known as Intuition in the United States — is the first commercialized smartphone in the U.S. on the Verizon Wireless Network to offer Privacy and Business (P&B) Virtualization. P&B Virtualization essentially divides the smartphone's operating system in half — creating a secure, IT-controlled environment for business applications, while leaving the end user's personal data and applications unchanged. The LG Optimus Vu: is the first of a new breed of enterprise-ready smartphones that offer the convenience of this secure, virtual work platform along with all the benefits of LG's exceptional mobile technologies and user-friendly UX features.
The Optimus Vu: is the result of LG's successful strategic venture with VMware, the global leader in virtualization and cloud infrastructure, and Verizon Wireless, the largest mobile network operator in the United States. This newest device follows in the footsteps of another collaborative effort, the LG Revolution for VMware® Horizon Mobile™. Winner of the coveted International CES Innovations Design and Engineering Award in 2012, the device featured VMware Horizon Mobile and gave users an exciting sample of the virtual mobile experience.
Many of today's businesses implement a bring-your-own-device (BYOD) policy when it comes to mobile phones in the workplace. But having work information and applications on a personal device can represent a security risk, and also can make it challenging for the user to keep personal and business-related matters separate. LG's mobile device with P&B Virtualization provides a separate, secure virtual work environment that is accessible anywhere, anytime. Employing VMware Horizon Mobile, the LG Optimus Vu: allows users to run a second operating system, completely isolated from the one running on thedeviceitself. This makes it easy to keep work-related applications and data separate from personal ones. By reducing security risks and enhancing manageability for businesses, P&B Virtualization is also more secure than the current range of app container-based solutions available in the market.
"The Optimus Vu: with P&B Virtualization represents a giant leap forward in mobile virtualization technology," said Dr. Jong-seok Park, president and CEO of the LG Electronics Mobile Communications Company. "Joining forces with VMware and Verizon Wireless has enabled us to create an enterprise-ready smart device that enhances productivity and convenience. Users can enjoy the versatility of having two devices in one while businesses can feel safe in the knowledge that sensitive information will be completely secure."
"LG and VMware are addressing the challenges IT departments face every day due to BYOD and the consumerization of IT," said Boaz Chalamish, senior vice president and general manager, End-User Computing, VMware. "Creating a separate virtual workspace on a mobile device enables IT to provide security and control, while also reducing the burden and liability of managing the entire device. This approach strikes the best balance between addressing IT security needs and end user freedom."
LG plans to introduce P&B Virtualization in more of its industry leading mobile devices in order to meet the growing demand for secure, business-friendly smartphones.
# # #