August 29, 2012
LG ELECTRONICS, TP VISION AND TOSHIBA EXPAND MARKET REACH WITH SMART TV ALLIANCE
New Alliance Members Bring Wealth of Knowledge and Experience to Smart TV Universe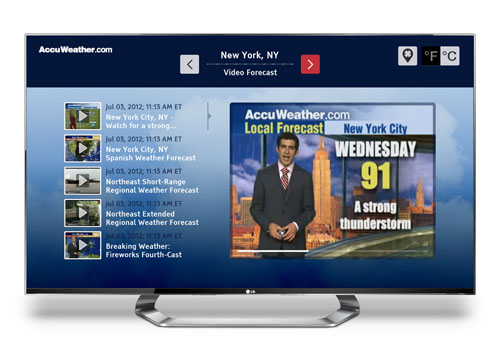 BERLIN, Aug. 29, 2012 -– Smart TV Alliance, launched in June this year by founding board members LG Electronics and TP Vision with Toshiba joining shortly after, has expanded with new members with expertise from different areas of the Smart TV industry. As it continues to expand its market reach, the Smart TV Alliance will publish specifications for its software development kit (SDK) 2.0 on its official website www.smarttv-alliance.org. The actual SDK tool will be made available by the end of the year for use by developers.
In addition to Smart TV manufacturers, organizations that contribute in different ways to the Smart TV experience have also joined the Alliance. Qualcomm and MStar will bring their expertise and understanding in hardware design to the consortium while Obigo, a leading web browser provider and application developer, will provide valuable input from a developer's perspective. And YuMe, a provider of video advertising software and services, will deliver knowledge and experience from the advertising community.
"The expanding membership of the Smart TV Alliance is clear indication that these companies recognize the value of this Alliance," said Richard Choi of LG Electronics, President of Smart TV Alliance. "This is an industry coming together to solve a common problem, which has clear benefits for the consumer. The diversity of the Smart TV Alliance is reassuring because it shows that this is an industry movement, not just an initiative from TV manufacturers."
Demonstrating that developing common Alliance specifications is not an exercise in theory only, Obigo has developed apps based on Alliance SDK 1.0 specifications that run consistently on TV sets from Alliance members. Consumers will be able to enjoy these apps, including Accuweather and Vilanoise, when they become publicly available in September. In addition, more apps will be developed and become available through Smart TV Alliance members.
"This is an important step for the industry. Being able to work with a much larger install base presents great opportunities for us," stated David Hwang, President of Obigo. "Now we can put our energy into making our apps better instead of testing the same app on many different TV sets. We can be a lot more productive this way."
As different communities in the Smart TV industry come together, the Smart TV Alliance will announce the SDK 2.0 specifications on its website, which will be supported by 2013 products from member companies. By looking at these specifications, developers will be able to understand what capabilities to expect on 2013 products and plan their application development accordingly. After the specifications are announced, the SDK software tool will be available for download from www.smarttv-alliance.org.
# # #