August 30, 2012
LG TO PRESENT FULL LINEUP OF LEADING HOME ENTERTAINMENT PRODUCTS FEATURING WORLD'S LARGEST AND SLIMMEST OLED TV
Designed for Immersive Viewing Experience and Easy User Interface, LG's Newest
Products Offer a Broader Smart TV Ecosystem Matched with Stunning 3D Technologies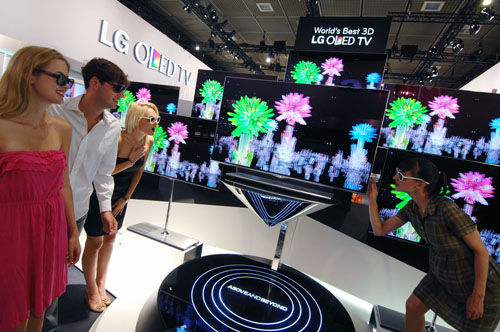 BERLIN, Aug. 30, 2012 -– LG Electronics will showcase a medley of industry-leading consumer electronics under the banner "ABOVE AND BEYOND" at this year's IFA show in Berlin. At the center of it all is the world's largest and slimmest 55-inch OLED TV, designed to deliver the ultimate viewing experience. LG's booth will also showcase the latest home entertainment products including world's first 84-inch UD (Ultra Definition) 3D TV, CINEMA 3D Smart TV, IPS (In-Plane Switching) monitors, and a huge range of audio and video products packed with market-leading CINEMA 3D technology and expanded Smart ecosystem with a vast of apps and premium 3D content.
"At IFA every year, LG delivers a new dimension of home entertainment experiences," said Havis Kwon, President and CEO of LG Electronics Home Entertainment Company. "This year is no exception, as we introduce a wide range of more advanced 3D and Smart TV products, including one of the most anticipated next-generation displays, the OLED TV."
CINEMA 3D Attractor
Visitors to LG's booth will first be mesmerized by a spectacular CINEMA 3D Attractor that showcases the best technology that LG has to offer. From there, they will get their first introduction to LG's OLED TV and impressive array of 3D products. With 122 3D screens covering the walls of the booth and completely surrounding the entrance, the zone will bring the most immersive 3D experience to life.
OLED TV
The OLED TV zone will invite visitors to experience the most advanced display on the market, LG's world's largest and slimmest 55-inch OLED TV, which delivers truly uncompromising picture quality thanks to its 4 Color Pixel and infinite contrast from self-lighting pixels. The 4 Color Pixel design adds a white sub-pixel to the three primaries (WRGB), providing realistic colors from any viewing angle. In addition, the Color Refiner enhances color precision and consistency, hallmarks of LG's OLED technology. Its 4mm-Paper Slim panel and use of strong Carbon Fiber-Reinforced Plastic (CFRP) give the OLED TV a sleek, minimal exterior and further help deliver a truly immersive ultimate viewing experience.
LG's OLED TV combines the company's industry-leading CINEMA 3D technology with Smart TV capabilities, creating the most immersive and comprehensive home entertainment experience on the market today. This product received the European Display Achievement Award at the EISA (European Imaging and Sound Association) 2012 Awards.
UD 3D TV
The world's first 84-inch UD 3D TV awaits next and will introduce another breathtaking 3D experience previously unseen outside a movie theater. LG's UD 3D TV offers amazingly sharp picture quality coupled with an enormous screen that boasts 8 million pixels and four times the resolution (3840 x 2160 pixels) of existing Full HD TV panels, thanks to LG's advanced Triple XD Engine and the Resolution Upscaler Plus. The 2.2 Speaker System offers rich and deep sound, providing additional depth that complements the on-screen action. The TV is equipped with Smart TV features, giving viewers the ability to explore LG's Smart TV ecosystem that includes a vast amount of apps and a growing range of content.
CINEMA 3D Smart TV
Visitors will get the opportunity to get up close and personal with the full lineup of CINEMA 3D Smart TVs, which have received positive reviews from awards and a number of leading IT and consumer magazines from all over the world. Earlier in August, LG's CINEMA 3D Smart TV (Model 55LM960V) won the European Smart TV Award at EISA 2012 Awards, one of the most coveted awards by Smart TV makers. More accolades include a 5-star Editor's Choice Award from CNET, a Best Buy Award from Which?, a Test Winner Award from HiFi Test and Audio Video Foto-Bild, alongside many more.
The CINEMA 3D Smart TV zone will also introduce visitors to how LG managed to secure leadership in the market and where the latest 3D technology stands. Thanks to LG's Film Patterned Retarder (FPR) CINEMA 3D technology, LG CINEMA 3D Smart TV provides a noticeably comfortable 3D experience with flicker-free images and battery-free 3D glasses. Among the CINEMA 3D Smart TV lineup, the high-end LM960V 55-inch CINEMA 3D Smart TV will impress visitors with its the most advanced and user-focused 3D features, including 3D Depth Control which users can customize the 3D experience and 3D Sound Zooming which perfectly matches the visual action. The CINEMA SCREEN Design offers the most immersive 3D viewing experience by reducing the bezel to just 1mm.
Smart TV Features
Focusing on its impressive Smart TV features, LG will demonstrate its leadership in connected TVs at its Smart TV zone. LG's highly advanced yet enticingly simple Smart TV user interface and wealth of smart features, in particular Magic Remote and Smart Share Plus, contributing to LG's dynamic Smart TV environment.
The Magic Remote offers a convenient means to access TV content and gives four different control options: point, wheel, voice recognition, and pattern gesture control. Additionally, Smart Share Plus offers a range of connectivity options. For example, devices on the same home Wi-Fi network can connect wirelessly to an LG CINEMA 3D Smart TV. If the external device features Intel's Wireless Display technology (WiDi), users do not even need a cable.
Visitors can also experience LG's Google TV at this year's IFA. LG's in-house engineers developed LG's own L9 dual-core processor that powers the Google TV delivering superior performance and a great Smart TV experience. The Google TV's Magic Remote QWERTY and Home Dashboard designed specifically for Google TV makes this smart TV especially easy-to-use and Google search, Google Play Store, Chrome browser and YouTube work as seamlessly as they do on PCs and smartphones.
IPS Monitors and PCs
LG will highlight a wide range of IPS monitors at IFA 2012 that are perfect for both work and play. Leading the lineup will be LG's EA93 and EA83 IPS monitors that are designed for graphics-intensive applications and multitasking. The EA93 boasts a 21:9 cinematic screen, perfect for recreating a true entertainment experience at home. The EA83 includes a Wide Quad High Definition (WQHD) display with a resolution of 2560×1440 pixels matched with one of the widest color spectrums available for the discerning professional. The IPS technology in the EA93 and EA83 monitors are able to produce more lifelike images at practically any viewing angle, while reducing eye fatigue. What's more, LG will showcase the 27-inch TM2792 Personal Smart TV with CINEMA 3D technology and the Z350 Ultrabook boasting a 9-second boot time.
Audio, Video Products and Smart Accessories
LG will demonstrate its 3D and smart capabilities by showcasing its most complete 3D Home Theater System, the BH9520TW, which features a 360-degree reflector and multidirectional 3D speaker set. Together these produce a CINEMA 3D Sound that truly enhances the 3D home entertainment experience. The 9.1 3D Speakers are capable of delivering an auditory experience similar to a state-of-the art movie theater. The BH9520TW is also equipped with smart features including LG Apps, powerful VOD service, and Wi-Fi Direct, which allows users to easily share content between digital devices.
The ND8520, LG's latest docking speaker for iPod, iPhone, or iPad, delivers a unique design along with excellent sound. It is compatible with Airplay, enabling users to get
the most out of their iTunes library. Apple's Airplay enables the user to share their extensive music collection throughout the home via Wi-Fi. Its compact size belies its impressive capabilities: the diminutive unit features a powerful built-in subwoofer, ensuring deep, crisp reproduction of even the deepest notes.
3D Video Wall
Visitors will be introduced to LG's world's first 3D Video Wall that features FPR 3D, the same flicker-free technology found in LG CINEMA 3D Smart TVs. The WV70MD features the world's narrowest bezel at just 5.3mm. With such a slim bezel, multiple WV70MD displays can be easily combined to provide a large single-screen display. The 3D Video Wall offers crystal-clear images without distortion or color inconsistencies, thanks to the IPS panels which also guarantee a wide viewing angle, perfect for accommodating a large group of people.
Last but not least, LG will also be unveiling a new version of its revolutionary Mouse Scanner, which takes all the pain out of document scanning.
To see more of LG's award-winning range of Home Entertainment products at IFA before opening day, please attend LG Media Day on August 30 at 15:00 or 16:00 in Hall 11.2 of Messe Berlin.
# # #