July 3, 2012
LG PRODUCTS RECOGNIZED WITH INTERNATIONAL DESIGN EXCELLENCE AWARDS
IDSA Honors LG 2012 Home Entertainment Products for Design Breakthroughs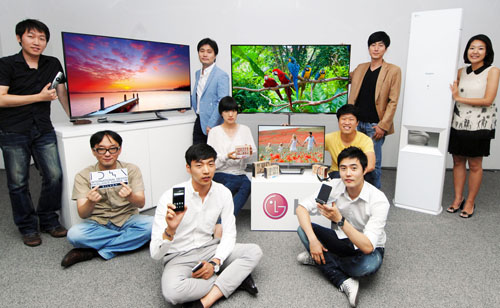 SEOUL, July 3, 2012 -– LG Electronics received accolades from the Industrial Designers Society of America (IDSA), earning multiple International Design Excellence Awards (IDEA®), the world's premier product design competition.
IDEA 2012 honorees include LG's 55-inch OLED TV and LG's CINEMA 3D Smart TV with Magic Remote. An LG concept product also was honored. This IDEA recognition follows on the heels of 12 LG products earning red dot design awards earlier this year and 14 being honored with iF awards, making LG one of the most recognized consumer electronics and appliance companies this design season.
LG's 55-inch OLED TV (Silver)
The world's slimmest 55-inch OLED TV from LG was first showcased at the 2012 International Consumer Electronics Show, where it was recognized as the best new product of the year. At the World IT Show (WIS) in Seoul, it received the Republic of Korea Presidential Award for Multimedia Technology.
With its 4mm Paper Slim design and light 10kg weight utilizing carbon-fiber-reinforced polymer (CFRP) and white, red, green and blue (WRGB) technology, LG's OLED TV boasts 4-Color Pixels and a Color Refiner, for the most consistent, natural and accurate picture. LG's 4-Color Pixel technology relies on a white sub-pixel to perfect the color output. This innovative WRGB technology sets LG's OLED TV apart from conventional three-color RGB systems. Because it requires fewer layers, it is also the primary reason LG was able to reduce the TV's thickness and weight. The CFRP that LG utilizes for the casing is a superior, high-quality material more commonly found in race cars and aircraft. The design of the TV ultimately aims to maximize the total immersion of the viewer, hence the minimized bezel. Likewise, the harmony of technology and design fits well with virtually any interior décor.
LG's LM8600 CINEMA 3D Smart TV with Magic Remote (Bronze) 
Model LM8600 represents a popular series in the new LG CINEMA 3D Smart TV lineup for 2012. The LM8600 features LG's unique CINEMA SCREEN Design with a barely visible bezel, offering an elegant, streamlined and modern look. With little in the way of physical obstruction, LG's LM8600 with CINEMA SCREEN Design has garnered much praise for its ability to complement any interior space in both the home and office. The LM8600 received a red dot design award in March.
LG's new Magic Remote brings a much desired boost to user convenience. It combines Smart TV, cable, satellite and IPTV set-top box controls into a single remote to reduce living room clutter. The Remote's ergonomic design is easier to hold onto, resulting in a more comfortable CINEMA 3D Smart TV experience. The smooth, curved shape accommodates the viewer's grip while its new four modes -– Voice, Wheel, Pointing and Gesture -– have replaced conventional push buttons with a set of cleverly designed controls that are intuitive and extremely user-friendly. The Magic Remote also includes a 3D button, transforming 2D content to 3D for limitless 3D content.
The Industrial Designers Society of America (IDSA) is the world's oldest, largest, member-driven society for product design, industrial design, interaction design, human factors, ergonomics, design research, design management, universal design and related design fields. IDSA organizes the renowned International Design Excellence Award (IDEA) competition annually; hosts the International Design Conference and five regional conferences each year; and publishes Innovation, a quarterly on design, and designBytes, a weekly e-newsletter highlighting the latest headlines in the design world. IDSA's charitable arm, the Design Foundation, supports the dissemination of undergraduate scholarships annually to further industrial design education.
Images of the recognized IDEA 2012 Award products can be found at: http://www.idsa.org/idea-2012-gallery .
# # #