July 6, 2012
GET INTO THE SPORTING SPIRIT THIS SEASON WITH LG'S QUICKMEMO™
Send Messages of Encouragement Through LG's Facebook Campaign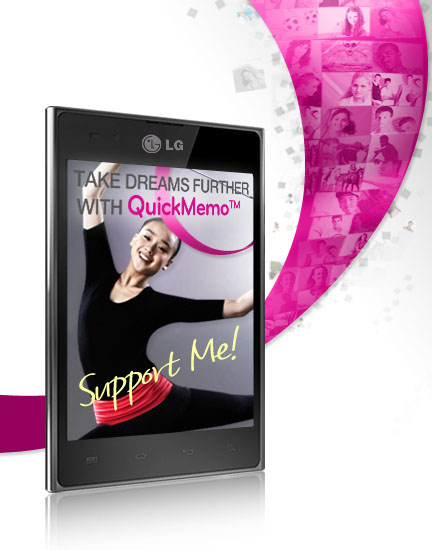 SEOUL, July 6, 2012 -– LG Electronics (LG) today kicks-off a virtual event campaign where FACEBOOK fans send messages of support and create their own moments of victory to share through LG QuickMemo™, the unique LG Mobile's UX feature.
In celebration of the upcoming sports season, LG Mobile will hold a digital event, "Take Dreams Further with QuickMemoTM", consisting of two parts. In the first event, from July 6-18, participants can show their support for their favorite athletes or friends who are pursuing personal goals, by sending them messages of encouragement through the virtual QuickMemoTM on LG Mobile's Facebook page
In the second part of the campaign, fans can participate in an interactive game on the LG Mobile Facebook fan page where they can create their own personal moments in soccer, gymnastics and track events to share with friends using the virtual QuickMemoTM from July 19 to August 12.
Participants will have the opportunity to win Optimus smartphones on LG's Facebook page as part of the campaign.
Available on a number of LG mobile phones including the LG Optimus Vu:, Optimus L7 and Optimus 4X HD, QuickMemoTM gives users the ability to instantly jot memos or notes by finger from any screen without having to open a separate application.
# # #