May 28, 2012
LG LTE SMARTPHONES RECORD THREE MILLION IN SALES
Company on Track to Offer LTE Smartphones in 20 Countries by Year's End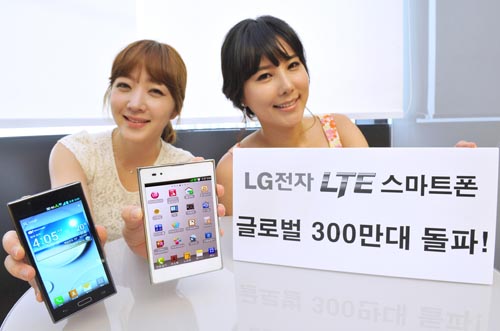 SEOUL, May 28, 2012 -– Global sales of LG Electronics' LTE smartphones have reached three million units, positioning it among the frontrunners in the competitive LTE market. Achieving the three million sales mark in the nascent LTE market confirmation of LG's smartphone strategy and speaks of the company's success in meeting the needs of customers in North America, Korea and Japan. LG will be significantly expanding its LTE leadership in 2012 as the number of countries offering LTE smartphones from LG expands from 10 to 20 markets by the end of the year.
LG's offering of LTE smartphones to date include:
– RevolutionTM by LG — LG's first LTE model released in May 2011.
– LG Optimus LTE –- The world's first HD LTE smartphone was launched in October 2011 and exceeded sales
of one million units within the first 100 days, making it the most popular LTE-capable phone in a highly
competitive market at the start of the year.
– LG Optimus Vu: –- Launched in Korea in February 2012, the Optimus Vu: with its 5-inch IPS display and 4:3
aspect ratio offers a unique viewing experience. At 8.5mm, the Optimus Vu: is the slimmest LTE phone
currently on the market.
– LG Optimus LTE Tag -– This smartphone offers Tag+, a unique feature which uses Near Field Communication
(NFC) to interact with special stickers that change the phone's settings automatically.
– LG Optimus LTE II –- The latest in the series and the world's first LTE smartphone with 2 GB RAM.
"Reaching the three million milestone this early in LTE's global roll-out is a strong sign that customers are on board with our LTE strategy," said Dr. Jong-seok Park, President and CEO of LG Mobile Communications Company. "Improving the user experience is at the core of LG's vision and we'll continue to take leadership in the LTE market by offering features that offer clear customer benefits."
According to a report by Jefferies & Company, LG is the global leader in LTE patents with ownership of 23 percent of approximately 1,400 LTE patents filed worldwide worth almost USD 8 billion. LG demonstrated the world's first LTE technology in 2007, developed the world's first LTE modem chipset in 2008, introduced the world's fastest LTE technology in 2010 and conducted the world's first video phone call on a LTE network in 2011.
# # #