May 17, 2012
LG'S MOST POWERFUL LTE SMARTPHONE UNVEILED IN KOREA
With 2GB RAM and Maximum Battery Efficiency,
Optimus LTE II Boosts LG's LTE Footprint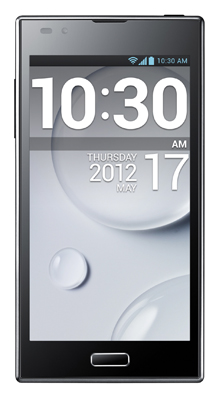 SEOUL, May 17, 2012 –- The Optimus LTE II from LG Electronics (LG), the world's first smartphone offering 2GB RAM for optimal LTE connectivity, speed and stability, will be available in Korea starting this week, the company announced today.
The Optimus LTE II's 2GB DDR RAM, offering an optimal environment for multitasking and running large applications, blurs the line even more between smartphones and portable computers such as laptops and netbooks. The device's 4.7-inch True HD IPS display is a bright 550 nits with a resolution of 1280 x 720 pixels. The Dual-Core Qual-comm one-chip solution incorporates both the LTE modem and Application Processor (AP) for advanced power efficiency.
LG sets a new ceiling for smartphones with a removable 2,150mAh battery that is the largest currently available on a LTE smartphone in the 4- to 5-inch display category.
"The Optimus LTE II is the most powerful smartphone technology currently available in Korea," said Dr. Jong-seok Park, President and CEO of LG Electronics Mobile Communications Company. "With a faster LTE network, the barrier for downloading and running very large applications is no longer a significant one for many customers, which is why LG saw a need for more RAM on high-end smartphones."
The LG Optimus LTE II also offers various innovative features to maximize the user experience. The advanced camera in the Optimus LTE II comes with a powerful new feature that allows users to select the best shot among multiple images take just before the shutter button is depressed. Users never again have to miss out on capturing that once-in-a-lifetime moment. And the Voice Shutter feature allows users to take photos using only their voice, elimination the camera shake that often occurs when pressing the shutter.
The new User Interface (UI) on Optimus LTE II offers a diverse range of convenient features such as face recognition unlocking, widget size control and easy-to-organize folder management. Furthermore, Optimus LTE II comes with the Quick MemoTM fea-ture which first debuted on the Optimus Vu: that allows for quick note-taking from any screen without opening a separate application.
Users will also benefit from the most current Android 4.0 OS (Ice Cream Sandwich) on the Optimus LTE II, the first smartphone from LG in Korea to offer this operating system. With the smarter and faster ICS OS, users can enjoy a more advanced multitasking experience.
Another innovative feature only available for Opitmus LTE II is the optional magnetic induction wireless charging system, sold separately. The smartphone can be recharged by placing the device on the wireless battery charging pad. The system has been recognized by the Wireless Power Consortium with its "Qi" (pronounced chee) logo, assuring interoperability with all other Qi devices.
The Optimus LTE II is available through all three Korean carriers this week. Availability in markets outside of Korea will be announced at a future date.
Key Specifications:
• Chipset: 1.5GHz Dual-Core (Qualcomm MSM8960)
• Display: 4.7-inch True HD IPS Display (1280 x 720)
Memory: 2GB DDR RAM, 16GB Internal Storage,
Micro SD support (up to 32GB)
• Camera: 8MP rear-facing, 1.3MP front-facing
• OS: Android 4.0 Ice Cream Sandwich
• Battery: 2,150 mAh SiO+, Wireless Charging Support Available
• Others:  Wi-Fi (802.11 a/b/g/n), Bluetooth 4.0 LE, MHL, NFC,
USB 2.0 HS, DLNA
# # #