June 8, 2012
LG OPTIMUS L-SERIES TO DEBUT IN PEROU FASHION SPREAD
Vanity Fair UK Teams Up with LG to Introduce
New Design Philosophy for Mobile Devices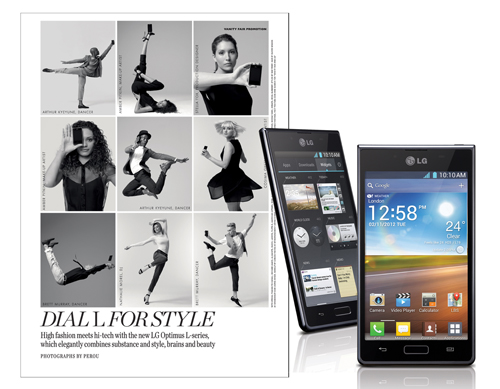 SEOUL, June 8, 2012 –- LG Electronics (LG) today unveiled an exclusive collaboration with Vanity Fair UK and British celebrity fashion photographer Ralph John Perou to bring to life L-Style, the brand's new design identity, for style connoisseurs with an eye for great technology.
An established portrait music and fashion photographer who has worked with personalities such as Katy Perry, Justin Timberlake and Helen Mirren, Perou helmed the style-meets-technology photo shoot that is to be featured in the July issue of the magazine. The series of black and white photographs showcases models in various poses with LG's newest Optimus L-Series smartphones, illustrating the five elements of L-Style: Modern Square Style, Harmonized Design Contrast, Floating Mass Technology, Seamless Layout and Sensuous Slim Shape.
The artistic concept behind the pictorial spread was jointly created by LG, Vanity Fair and Perou. LG and Vanity Fair each brought ideas on how technology and fashion can be best represented during the shoot while Perou married the two together seamlessly with his passion and creativity.
The models for the pictorial spread come from diverse backgrounds, from dancers to makeup artists to neuroscientists but are chosen for one unifying factor –- their effortless and strong sense of style, much like the audience the LG Optimus L-Series is tailored for.
"People think photographers are only interested in how things look but personally, I want everything to 'work' as well as 'wow,'" said Perou. "So it was great to be involved in this style and substance collaboration of LG and Vanity Fair. We deliberately chose intelligent, beautiful, vibrant people to photograph to reflect the exciting, sleek, tech-loaded phones."
"LG is thrilled to be collaborating with Vanity Fair UK and Perou on this campaign," said Brian Na, Executive Vice President and Head of Global Sales and Marketing for LG Mobile Communications Company. "Our main goal is to evangelize the essence of L-Style to style connoisseurs across the UK and we could not have asked for better partners in this regard."
The LG Optimus L-Series is designed for fashion-forward consumers who are keen to express their taste and style with their mobile devices. The series comprises three smartphones: L3 and L7 which were launched earlier this year and L5 which will be available in the second half.
For a look behind the scenes go to: http://bit.ly/KDaGOH.
# # #