August 23, 2011
LG'S NEWEST 3D NOTEBOOK DELIVERS ALL THE THRILLS OF SEEING, SHOOTING AND SHARING IN 3D
With 3D Dual Webcam and an Array of Powerful 3D Features,
LG A530 Adds Another Dimension to 3D Experience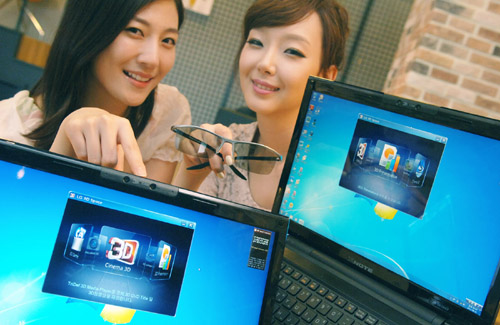 SEOUL, Aug. 23, 2011 –- LG Electronics (LG) today unveiled the LG A530, a premium new 3D notebook offering all the thrills of seeing, shooting and sharing 3D content. A 3D dual webcam above the 15.6-inch Full HD 3D LCD screen lets users shoot their own 3D videos and photos, while a slew of innovative features in a luxurious metalliclook chassis deliver great looks along with an impressive stereoscopic 3D experience.
"With 3D becoming ever more popular, the logical next step is to let users make their own 3D content and watch it on a top-quality 3D screen. And that's just what our new A530 does," said J.J. Lee, Executive Vice President and Head of LG Electronics PC Business Unit. "LG is already a leader in the ever-growing world of 3D technology. With the LG A530's wide range of lineup including 3D HD in addition to 3D Full HD, LG is already leading the 3D notebook market."
Perfect Thrills with Full 3D Creation with Dual Webcam
Whereas most 3D notebooks offer only 3D viewing, the LG A530 stands alone in providing a full, superior 3D experience, with the ability to see, shoot and share via the 3D dual webcam. With the 3D dual webcam making it simple to create dazzling 3D content, the LG A530 delivers an integrated 3D experience allowing simple, hassle-free playback of 3D content from the notebook to LG's other cutting-edge 3D devices, such
as smartphones, TVs and monitors.
The LG A530 also lets users easily share 3D content with their friends and family by uploading it to YouTube. And the built-in 3D Space Software -– LG's new integrated user interface that makes it easy to access 3D video, photos, games and movies –- presents users with an even wider range of 3D options.
Thanks to LG's proprietary Film Patterned Retarder (FPR) technology, which produces brighter 3D images that are entirely free of flicker, users can watch 3D content on the LG A530 for extended periods without worrying about eye strain or dizziness. The 3D LCD screen, with Full HD 1920×1080 resolution, keeps images brighter than on shutter glasses-type 3D notebooks, meaning richer, more vivid games, movies and pictures.
The LG A530 includes a free pair each of the lightweight 3D glasses and clip-ons, so owners can watch 3D content in complete comfort straight away. In addition, the LG A530 features an SRS Wide 3D Sound system for truly immersive audio.
Unprecedented Performance, Ultimate Convenience
To guarantee exceptional overall performance in addition to its 3D functions, the LG A530 packs a second-generation Intel® Core™ i7 processor with up to 8GB memory. The new processor delivers 60 percent faster speeds and double the power for playing HD media than the previous Intel® Core™ i7 processor. In addition, the NVIDIA® GeForce® GT 555M graphics card boasts 20 percent better performance than NVIDIA® GeForce® GT 540M, for the ultimate experience in 3D games and movies.
A built-in solid-state drive (SSD) complements the LG A530's high-capacity HDD drive, so boot-up times are between 20 and 30 percent faster than on competing notebooks. The speed and convenience is further bolstered by fingerprint access for quick log-in and USB 3.0 transfers data 10 times faster than USB 2.0.
Modern Look, Sophisticated Touch with Diamond Cutting
The LG A530 sports a luxurious, modern exterior in a sturdy, Ebony Black case. Its metallic look has a solid brushed aluminum finish, while the touchpad's edges have been rounded using real diamonds as the cutting element. A wider touchpad and pebble keyboard make the notebook's interior more ergonomic and comfortable to use.
LG will be rolling out the premium LG A530 in Europe, the Middle East and Africa this month followed by other markets soon after.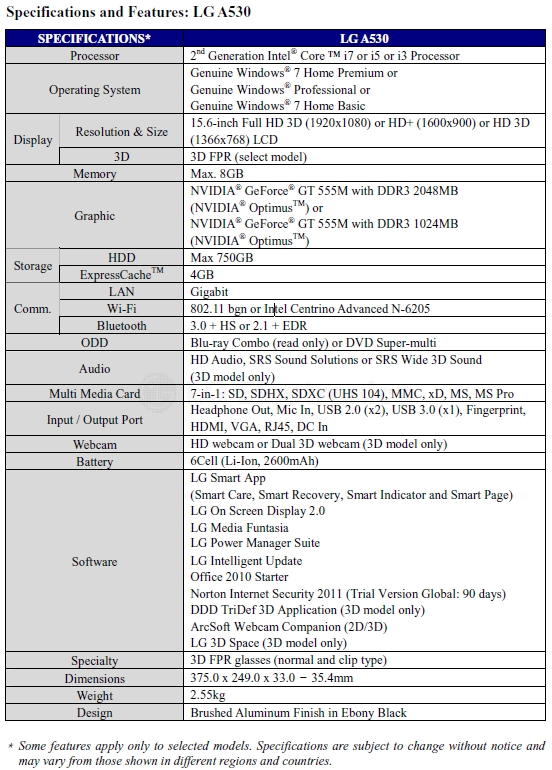 # # #