August 22, 2011
LG'S CINEMA 3D GAME FESTIVAL GOES GLOBAL
3D Gaming Festival Heads Overseas to Show Gamers
and the Public LG's Full Range of CINEMA 3D Technology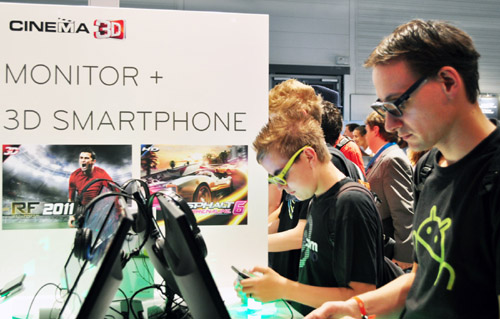 Seoul, Aug. 22, 2011 – LG Electronics (LG) is taking its successful Korean CINEMA 3D Game Festival around the globe in order to demonstrate to the public the potential of its 3D products in the gaming environment. The events will mirror the energy and excitement that was seen in the highly successful 3D Game Festival in Seoul last June, attracting some 50,000 spectators and contestants.
LG's 3D Game Festival will be visiting 20 different countries – including Canada, Russia and U.A.E. later this month – so audiences can experience LG's full lineup of 3D offerings as they did at Gamescom, which took place from August 17 to 21 in Cologne, Germany. Gamescom, the biggest exhibition of game and entertainment in the world, gave more than 250,000 visitors the opportunity to try out LG's CINEMA 3D TVs, monitors, projectors, home theater systems and the LG Optimus 3D smartphone in a true gaming environment.
Visitors to LG's booth played some of the newest 3D game titles from Blizzard and were able to experience 3D action on Microsoft's XBOX Kinect. Utilizing LG's proprietary 2D to 3D conversion technology, all the games were displayed in thrilling 3D. LG's lightweight and battery-free glasses worked on all CINEMA 3D products so thousands of spectators were able to watch the action with their own pair of free glasses which they received at the event.
"Hearing about how good our 3D products are is one thing, seeing them in action is quite another," said Havis Kwon, CEO and President of LG Electronics Home Entertainment Company. "LG is currently the only company offering a 3D experience on such a wide variety of products. At the 3D Game Festivals, thousands of gamers and consumers will be able to see and feel just why LG 3D is generating so much buzz."
LG's 3D products will also have a large presence at IFA 2011 in Berlin, which runs from September 2 to 7.
# # #