August 24, 2011
LG BRINGS SCANNING CONVENIENCE TO IFA 2011 WITH INNOVATIVE MOUSE SCANNER
LSM-100 Saves Time, Space and Creates a Whole New Way of Capturing Images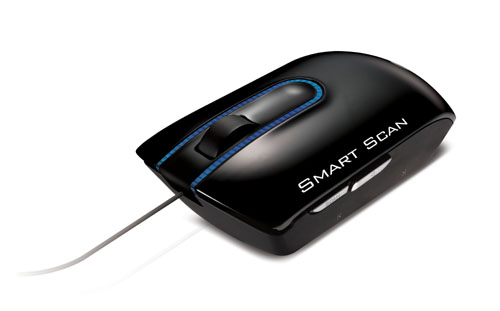 SEOUL, Aug. 24, 2011 –- LG Electronics (LG) will be opening a new era for scanners at this year's IFA with the LSM-100, the mouse with a built-in scanner. Incorporating technology specifically developed for the new device, the LSM-100 offers an array of unique functions that blend surprising innovation and user convenience.
Operating the LSM-100's scanning function is far more convenient than on conventional scanners. While holding the Smart Scan button on the left side of the mouse, the user simply swipes the mouse over the material to be scanned. The scanned image can then be saved in a variety of file types -– PNG, JPEG, TIFF, BMP, PDF, XLS and DOC –- or dragged and dropped into the desired application.
The LSM-100 is also equipped with LG's Optical Character Recognition technology, which converts scanned text into a Microsoft Word document that can then be edited and manipulated as the user sees fit. By eliminating the need to retype text from print media onto the screen, Optical Character Reader saves users a great deal of time.
The mouse's compact size belies its big-sized capabilities. Because it's not limited by a frame, the LSM-100 can scan page sizes up to A3, larger than most conventional portable scanners. Additionally, the scanning technology itself has been upgraded to handle faster pass-over rates, meaning that scanning an A3 sheet can be done smoothly and quickly.
The LSM-100 is also a top-end mouse. The laser sensor is accurate and durable, and the stylish design lends itself to easy, smooth motions as well as providing an ergonomic, comfortable grip.
LG Home Entertainment Company will be participating in IFA 2011 in Berlin, Germany. To see more of LG's Home Entertainment offerings at IFA, take a "LG 3D World Booth Tour" on HE Media Day on September 1 at 15:00 or at 16:00 in Hall 11.2 of Messe Berlin.
# # #