November 9, 2010
LG ALIGNS WITH GOVERNMENT TO PROMOTE HIGHER GREEN STANDARDS AT GREENOMICS 2010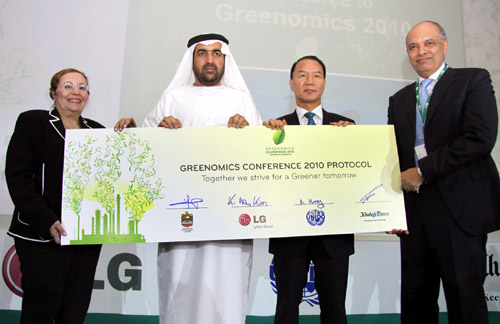 Setting a Higher Bar for Environmental Initiatives with
Sustainable Solutions for Global Manufacturers in MENA
DUBAI, Nov. 9, 2010 — LG Electronics, the UAE Ministry of Environment and Water (MoEW) and the United Nations Industrial Development Organization (UNIDO) joined force in Greenomics 2010 to develop a solid platform to address environmental threats and issues arising from the practical implementation of organisational eco strategy.
Greenomics 2010, held on November 8, 2010 in Dubai, was an opportunity for public and private entities to come together to determine environmental corporate responsibility for global companies conducting business in the Middle East and North Africa (MENA) region. The event was attended by over 250 high level participants including industry and thought leaders, government entities, business conglomerates, environmental specialists, blue chip companies and academia, among others.
Greenomics was born out of LG Electronics determination to ignite a positive change across all aspects of life. This year's Greenomics focused on "clean production" in the manufacturing sector and looked to study ways to design products and manufacturing processes in harmony with natural ecological cycles. Last year, LG established a voluntary target of reducing greenhouse gases by 150,000 tons from manufacturing and 30 million tons from product use in 2020. Furthermore, LG is investing heavily in solar cell and next generation lighting as part of its 10-year business strategy.
"The Middle East and North Africa are particularly vulnerable to climate change as this is one of the world's most water-scarce regions with a high dependency on climate-sensitive agriculture and a large share of its economic activity and population in flood-prone urban coastal zones," said Mr. Ki-wan Kim, CEO and President of LG Electronics Middle East and Africa. "So any discussion about the environment must make this region a priority. Greenomics provides a compelling platform for change in this part of the world."
# # #