March 2, 2023
[On the Job] Leveraging Innovation to Understand the Lifestyles of the Younger Generation
In this installment of On the Job, we go inside LG's Home Appliance & Air Solution Design Lab and Air Science Lab to learn how the company is creating new customer value for the younger generation.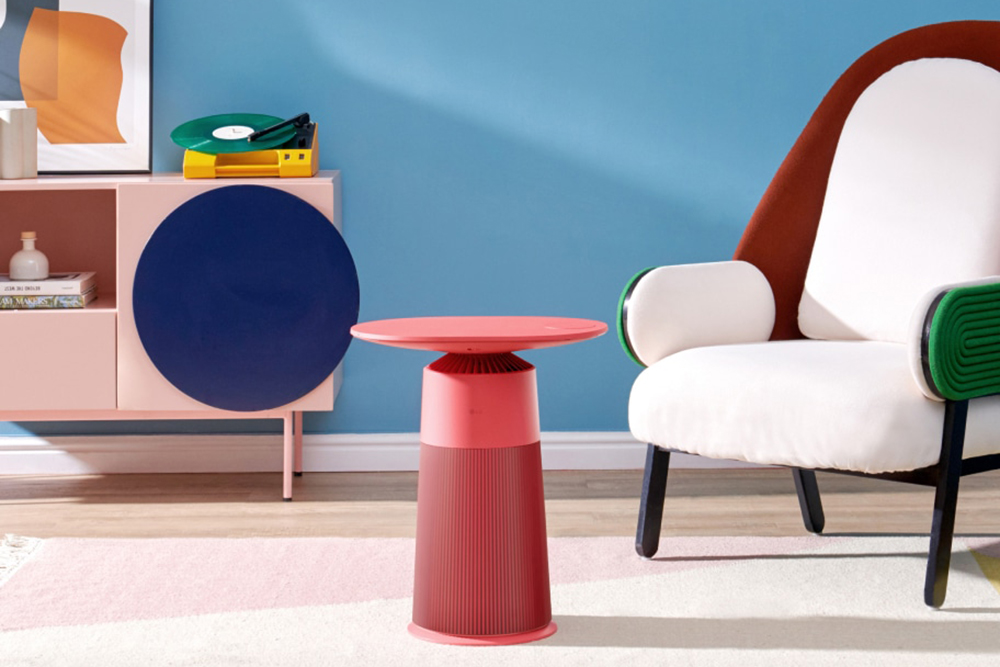 Young consumers, with their unique tastes and keen eye for design, are at the forefront of creating and embracing new lifestyle trends. To understand their sensibilities and satisfy the needs of this highly influential customer segment, home tech providers are rethinking their approach to product design and development.
Always quick to adapt and innovate, LG offers a wide array of home electronics designed with today's younger generation in mind. A noteworthy example is the PuriCare Aero Furniture, an air purifier that doubles as a side table and mood lamp, which can blend in with the most sophisticated home décor. Having made its debut at IFA 2022, the device is a fine example of how LG applies its in-depth insight into what young consumers value to deliver differentiated, new solutions.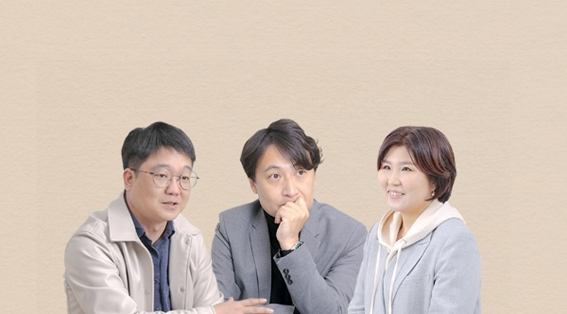 (From left to right) Yoon Ju-hyup, LG Air Science Lab professional, Paik Seung-ho, H&A Design Lab's Air Solution Design Team lead and
Oh Hyun-sook, H&A Design Lab professional
The Aero Furniture was the brainchild of the Home Appliance & Air Solution (H&A) Design Lab and the Air Science Lab. A bold reimagining of conventional air purifier design – both in terms of function and aesthetics – the distinctive product showcases LG's ability to respond to the fast-evolving lifestyle needs of young consumers.
Size was a principal consideration in the making of the Aero Furniture, as many younger people prefer products that don't take up a lot of space. The teams involved also sought to depart from the blocky, bulky look of most air purifiers, opting instead for a more refined design that could harmonize effortlessly with diverse interior styles. Hence, the side table concept was born; a unique, compact design that adds extra functionality and an original visual appeal to elevate the mood in the home.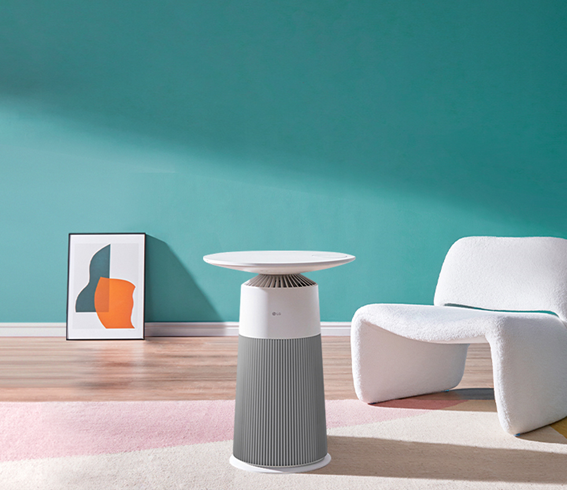 The H&A Design Lab took a particular interest in the way young consumers like to style and adapt their home electronics to reflect their own individual identities. To support this passion for creative expression and customization, the teams elected to provide three different colors (Crème Rose, Crème Yellow and Crème Grey) to choose from, and two distinct shapes for the table-top of the Aero Furniture – Round and Track.*
LG's next-gen air purifier even offers a built-in wireless charger and a mood lighting function with a total of eight different hues to help set the atmosphere in the room. For further personalization, users can change up the look of the Aero Furniture's table-top and base, exploring different color combinations to refresh the product and its surroundings.
"By replacing the top, you can refresh the ambience in your living space – and by replacing both the top and the base, it's practically like experiencing a brand-new product altogether," explained Yoon Ju-hyup, research professional at LG's Air Science Lab. "These color combos allow you to experiment with a variety of styles, which is something we've found to be very important to many young consumers," said Oh Hyun-sook, research professional at H&A Design Lab. "For instance, Crème Grey is a great choice for a calm, toned-down look, while the duo of Crème Rose and Crème Yellow goes well with maximalist furnishings."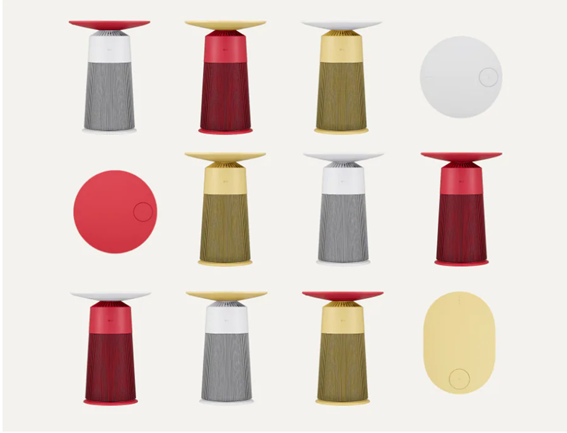 The two teams understood that, in order to meet the preferences and demands of today's discerning young customers, they had to artfully combine the very best of design and technology.
"Elevating the customizable element was quite challenging as we had to find the perfect balance between functionality and design, all while maintaining the highest standard of product quality and performance," said Yoon. "We are very happy with the final result, and with the extraordinary teamwork and collaboration that allowed us to get there."
Additionally, the teams worked hard to meet the strict standards for sustainable design that LG continues to pursue as part of its commitment to people and the planet. The Aero Furniture is made with post-consumer recycled (PCR) materials that give the product its sleek and sophisticated marble-like 'terrazzo' finish.
As young consumers' preferences and lifestyles evolve, the Aero Furniture can evolve with them thanks to ThinQ™ UP. LG's appliances with upgradable features can adapt according to usage patterns and offer smart features that can be downloaded from the LG ThinQ app.
A stylish, versatile and customizable product that speaks to the sensibilities of the younger generation, the Aero Furniture is just one example of how LG is providing innovative solutions tailored to the needs and tastes of specific consumer segments.
Stay tuned to Beyond News to learn more about LG's products and services for a better life.
# # #
* Currently, the PuriCare Aero Furniture has only been launched in South Korea. Product color and shape offerings may differ by country with global launch.