June 3, 2021
The Future of Mobility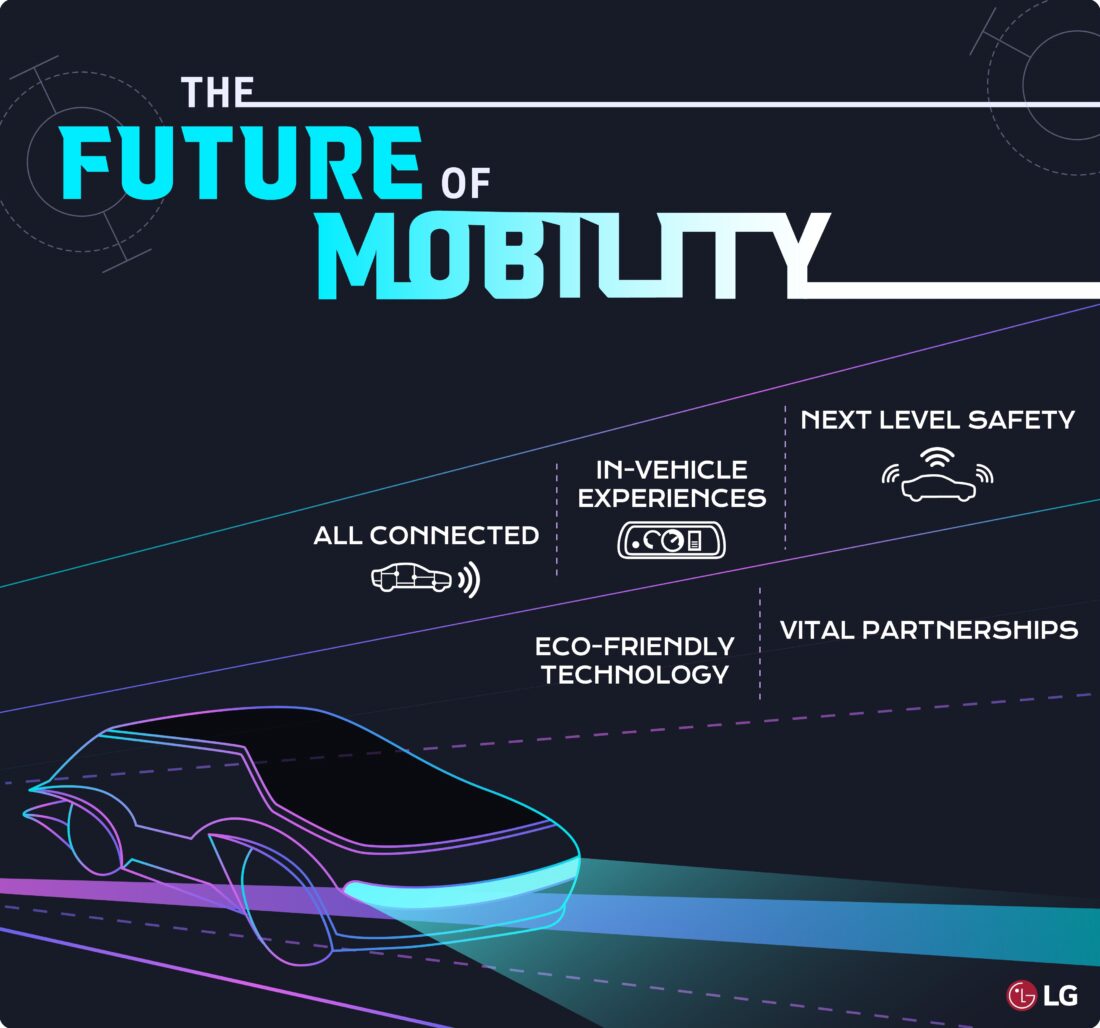 The mobility landscape has been completely reshaped over the last few years with landmark achievements being made in electrification, connectivity and autonomous driving.1 With next-generation electric vehicles and intelligent driving fast approaching, LG Electronics also has been hard at work developing future-enabling technologies to accelerate the electric vehicle industry to the next level.
Below, we take a look at some of those trends and LG's response to them.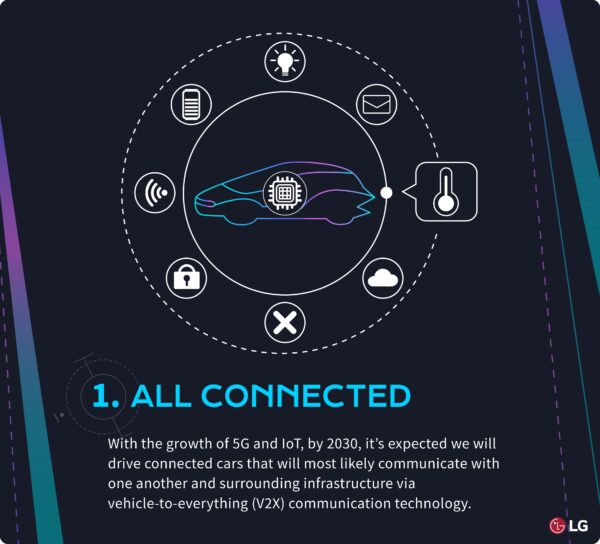 Telematics, or vehicle connectivity, is poised to explode on the back of 5G and advanced vehicle-to-everything (V2X) technology, the system that transmits information at high speed via high-bandwidth, low-latency connection. LG's In-Vehicle Infotainment (IVI) system, which leverages the combined strengths of webOS Auto and Microsoft Connected Vehicle Platform (MCVP), can collect and transmit a wide variety of information such as driver status, door status and app usage seamlessly.
LG Electronics is dedicated to developing highly competitive infotainment innovations including AVN, display systems, telematics and monitoring systems that account for more than 50 percent of the company's total sales.
Infotainment systems provide drivers and passengers with helpful information, such as directions and weather forecasts, on top of in-vehicle entertainment that lets them listen to podcasts, make hands-free calls and check messages. The fast-growing global vehicle infotainment market is projected to increase from USD 24.3 billion in 2019 to USD 54.8 billion in 2027 (CAGR of 10.7 percent).2 And with the increase in demand for more safety and security solutions, in-vehicle communication features and technologies will only become more important.
According to the Boston Consulting Group, the market for partially and fully autonomous cars will make up approximately 25 percent of new-vehicle sales by 2035.3 With the advancement in self-driving vehicles, one of the biggest concerns for car companies is safety which may explain why the global driving assist market is expected to grow from USD 1.9 billion in 2019 to USD 10.7 billion in 2027 (CAGR of 23.9 percent).4
LG Electronics is also actively developing components for driver assistance, such as the LG-designed ADAS (Advanced Driver Assistance Systems) which utilizes a front camera to collect traffic information so drivers can make better decisions and roads can be made safer. ADAS can also recognize and respond to surrounding environments – even through busy intersections.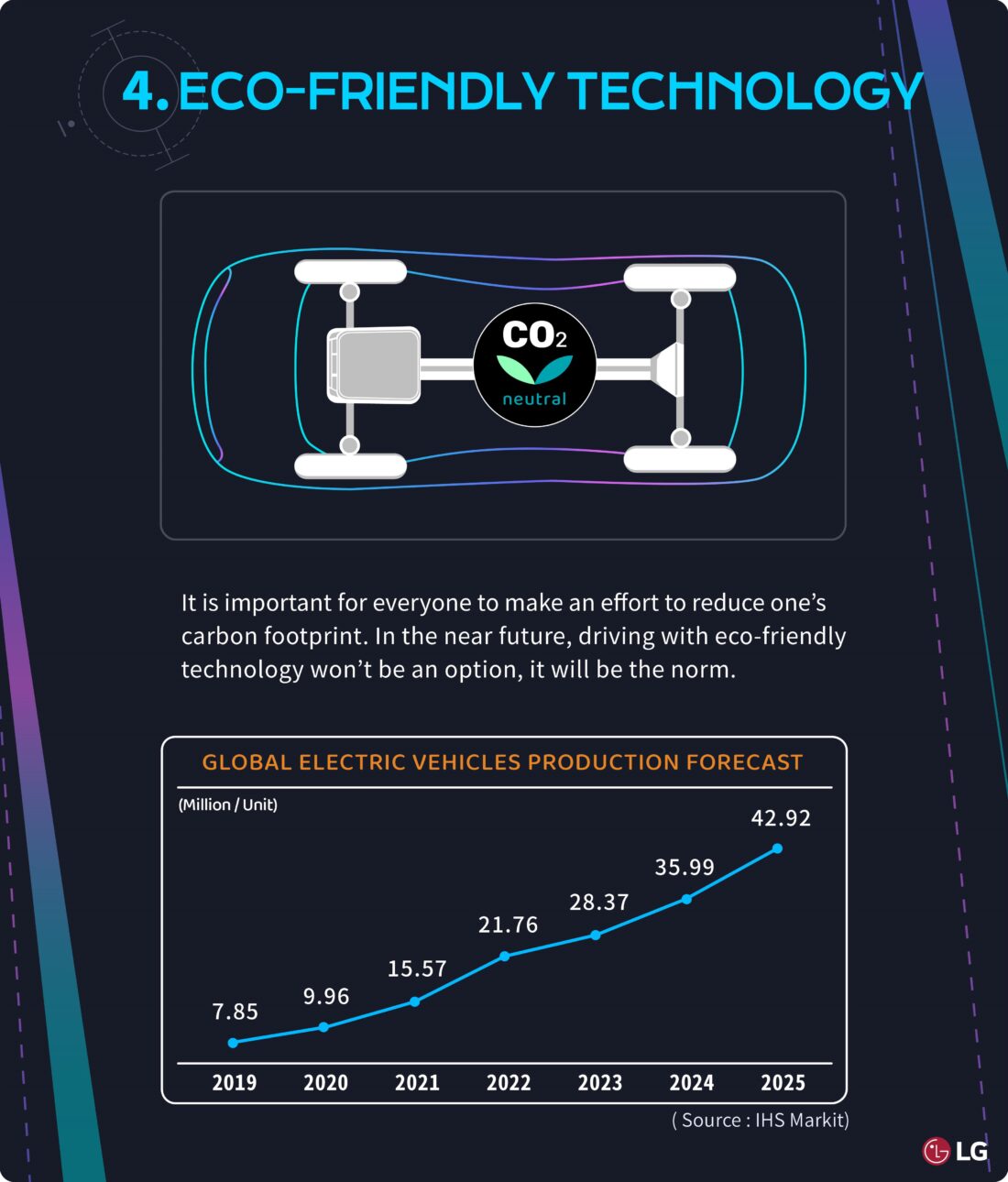 According to IHS Markit, global sales of electric vehicles hit 10 million units in 2020 and is expected to exceed 20 million units in 2022 and 40 million vehicles in 2025. Along with the growth of electric vehicles, relevant components such as motors and inverters are naturally expected to grow as well.
LG Electronics is working closely with Magna to develop cutting-edge technologies for components of electric vehicles. Under a new joint venture to launch next month, LG Magna e-Powertrain will produce EV components that benefit from Magna's strength in electric powertrain systems and world-class automotive manufacturing as well as LG's expertise in developing components for e-motors and inverters.
To respond to the rapidly changing automotive industry, LG is pursuing a strategy of strategic alliances and partnerships to develop industry-leading innovations for global automakers. In addition to LG Magna e-Powertain, LG and Luxoft created Alluto to drive the commercialization of production-ready digital cockpit, infotainment and ride-hailing systems based on LG's webOS Auto platform. And in 2018, LG brought on board leading automotive lighting and headlight systems provider ZKW Group in a deal worth more than EUR 1.1 billion.
With vehicles of tomorrow just a few years away from becoming commonplace, LG is well positioned to be a leading provider of technologies for future mobility.
# # #
1 https://www.mckinsey.com/industries/automotive-and-assembly/our-insights/the-future-of-mobility-is-at-our-doorstep#
2 https://www.marketsandmarkets.com/Market-Reports/in-car-vehicle-infotainment-ici-systems-market-538.html
3 https://www.bcg.com/publications/2015/automotive-consumer-insight-revolution-drivers-seat-road-autonomous-vehicles
4 https://www.marketsandmarkets.com/PressReleases/highway-driving-assist.asp