June 1, 2021
Experience Your Favorite Sports Like Never Before
Summer is on its way, bringing with it the promise of better weather and a golden time of year for sports fans everywhere. And while some major sporting events have been cancelled or delayed, there's plenty of first-class action to be had with football leagues up and running, basketball playoffs just around the corner, baseball in full swing, as well as tennis and auto racing. With so much to look forward to as we approach the second half or the year, now is the ideal moment to upgrade to a new TV – one that can light your game up and make you feel like you're right there to witness all the exhilarating contests and mind-blowing plays as they unfold.

Video Light the game up
When it comes to shopping for a TV that's great for watching sports, there's more to consider than just screen size and color expression. To deliver that realistic stadium/arena feel, high-quality motion control handling is crucial. Because to keep up with the blink-and-you'll-miss-it movements of the world's top athletes, you'll need a TV that can handle it all without any motion blur or drop off in detail. Let's face it, there's nothing more frustrating than trying to follow a flickering, blurry soccer ball stuttering its way across the screen, or watching a titanic battle between two star players reduced to a fuzzy, indistinct mess.
Luckily for sports fans, LG offers a variety of "premier league" TVs that can capture all the blistering action in absolute clarity. From multi-award-winning OLED TVs to the soon-to-launch QNED Mini LED TVs, and the more affordable yet highly capable NanoCell TVs; the company has all of your sports-viewing needs covered. With an advanced TV from one of LG's championship 2021 lineups in the living room, you can watch live as sporting history is made, review the must-see highlights from every game or replay those legendary goals from classic matches.
Conveniently available on LG TVs, Sports Alert keeps you effortlessly up to date on your favorite teams.1 Receive notifications when their games are about to begin, real-time scoring alerts and final results even while you're watching other content. You can also easily check out your teams' upcoming matches and other key information so you're always in the know. Setting up Sports Alert is as easy as can be. Just press the Speak button on the LG Magic Remote and say "Sports Alert" and ThinQ instantly launches the app so you can select the sports leagues and teams you want to follow. After the initial setup, you can sit back, relax, and let LG's customizable feature keep you abreast of the sports that matter most to you.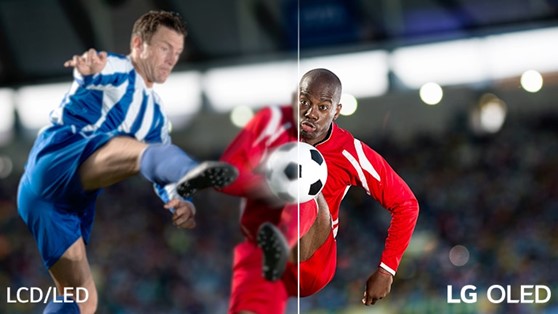 The company's TVs deliver memorable sports-viewing experiences thanks to a combination of outstanding picture quality, large screen sizes, and superb surround sound via Dolby Atmos and LG's exceptional sound engine, as well as compatibility with a range of external audio solutions. Along with realistic, three-dimensional images and sound, you can enjoy unique features created specifically for sports fans such as Sports Alert.
LG's advanced motion handling technology allows its TVs to display action with incredible smoothness, even during the fastest periods of play. So the fuzziness, stuttering and juddering that detracts enjoyment of the game on other TVs won't be an issue when you team up with LG. LG TVs also boast excellent contrast and the ability to make details sharper in every scene, ensuring every score or stat shown on screen and the names and numbers on players' jerseys can be easy to read at all times.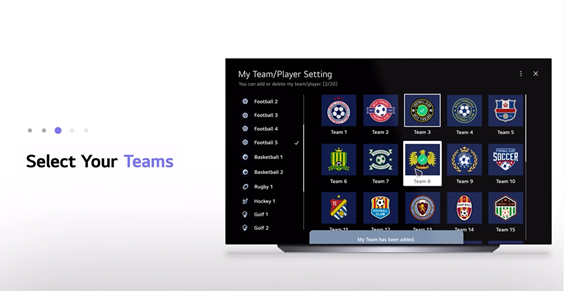 When it comes to immersive sports viewing, sound quality is just as important as image quality. LG TV's AI Sound Pro offers a dedicated mode for sports that lets you hear all the sounds of the game. Whether it's the coach shouting orders, players directing their teammates or the ball flying off the boot, bat or racket, you won't miss a sound. Dolby Atmos support means you can experience dynamic 3D audio at its best, while Bluetooth Surround Ready offers easy connection with LG's powerful XBOOM speakers and wide selection of soundbars.
And with multiple AI assistants to choose from, including Google Assistant and Amazon Alexa, you can control the entire viewing experience using just your voice so you'll never again miss a key moment of the big match searching for the remote. The 2021 TVs even offer support for Apple AirPlay 2.2
The wealth of sports streaming apps available on LG's webOS-based smart TVs makes it easy to keep up with all the leagues you love. Along with a significant number of local options, there are globally-popular services such as Fubo TV, BBC iPlayer, CBS All Access, ESPN and many, many more to choose from.
For the ultimate in realistic picture quality, LG OLED is your go-to option. Thanks to LG OLED's self-lit pixels which can turn on and off independently, LG 2021 OLED TVs can display fast-moving sports with outstanding detail, color and contrast, no matter how hectic the action gets. OLED Motion Pro further enhances the impressive motion handling performance of LG's next-gen TVs, allowing viewers to see the most subtle of details in every split-second play in every type of sport.3 And with screen options ranging from 48- to 88-inches, there's an LG OLED for every space and every preference.
If you're looking for a big screen that offers balanced light control along with great contrast, brightness and deeper blacks, QNED Mini LED TV is an excellent choice. LG's pioneering TV combines Mini LED backlighting with Quantum Dot NanoCell color technology to deliver brighter, clearer images, while a larger number of dimming zones ensures precise backlight control and an ultra-high contrast ratio. The end result is a greater level of detail and more accurate color reproduction than other LG LCD TVs can provide.

Video introducing Sports Alert
The QNED Mini LED TV lineup also offers compelling large screen choices – 65-, 75-, and 86-inches – each working in harmony with LG's latest audio products. Once you've paired an LG soundbar with the TV, you can use the TV's Magic Remote to control the soundbar's volume and sound modes.4
A solid all-rounder, LG NanoCell shouldn't be overlooked in the ideal for watching sports TV stakes. In addition to providing all of LG's sports-centric features and ultralarge screen sizes, LG NanoCell produces incredibly pure colors, leveraging 1nm nanoparticles to filter out color impurities and enhance color expression. With 100 percent color consistency, the TVs display colors with accuracy and vibrancy, making you feel as though you're seated in the stands, witnessing the skill and passion of your sporting heroes in person.5 The LG NanoCell range offers a wide selection of screen sizes, starting from a space-friendly 43 inches, and going all the way up to a mammoth 86 inches.
To learn more about why LG TVs are a sports fan's dream, click here for OLED and here for NanoCell.
(Images simulated to enhance features. May differ from actual use.)
# # #
1 Available on 2020 and 2021 models. Sports and sports leagues supported may differ by country. Functionality and EPG limitations vary by country.
2 Google Assistant and Amazon Alexa support varies by country.
3 OLED Motion Pro available in G1, C1 and B1 models.
4 Soundbar Mode Control only available with LG soundbar models SP11, SP9, SP8 and SP7.
5 Certified by Intertek for 100 percent color consistency measured to CIE DE2000 using 18-color Macbeth patterns with viewing angle ±30°.