April 22, 2021
Home Entertainment That's Healthier for Consumers, Friendlier to the Planet
In many places around the world, daily life is now spent primarily within the safer confines of home. One of the byproducts of this new homebound lifestyle is that there is more time to contemplate important topics, such as what can we do to make the world a better place? When we consider how to ensure a good future for the planet and its inhabitants, sustainability is likely one of the first words that comes to mind. But what exactly is enough sustainability and how do we get there?
Sustainability is commonly used to refer to a broad range of activities and initiatives geared towards maintaining the health of the environment and promoting a lifestyle more in balance with nature. However, it is not something that can be achieved through focusing on any one area, or through the efforts of any one person. Sustainability requires everyone to play their part and reassess – and in many cases, change – the way they live, work and play.
As a leading consumer electronics manufacturer, LG has long been a proponent of doing right by the consumer and the planet, an approach that can clearly be seen in its latest home entertainment products, including its acclaimed OLED TVs. Sustainability is factored into every stage of LG OLED TV's lifecycle, from product development to manufacturing and usage and even disposal.
The company's next-generation TVs use panels that have received Eco-Product recognition from Swiss-based SGS Société Générale de Surveillance SA, a respected provider of testing, inspection and certification services based in Geneva.1 SGS found LG OLED panels to be particularly strong in key evaluation categories covering the lowering of indoor air pollutants, the reduction in the use of hazardous substances, and recyclability.
LG OLED's "eco" credentials are largely the result of its unique, self-lit display technology, which also enables the pixel-level dimming so crucial to the TVs' superior picture quality. As it does not require a backlighting structure, LG OLED uses fewer components (mostly made from plastics, one of the major causes of environmental problems) than LED-LCD TV and emits less indoor air pollutants.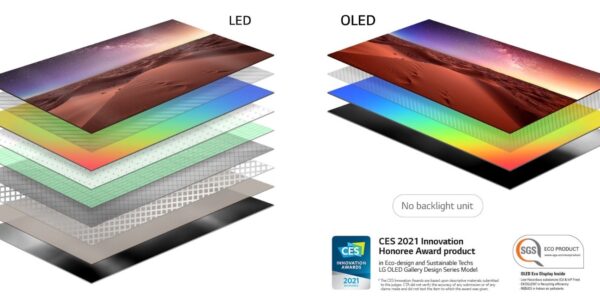 Indoor air quality also can be a concern about any electronic devices because of the potential health issues that volatile organic chemicals (VOCs) released into the air may occur when heat is generated. Total VOC emissions from an LG OLED panel is less than 50 percent of a typical LCD TV panel and unlike some high-end LCD products, LG OLED TV panels do not use any components containing hazardous substances such as cadmium and indium phosphide.
The panels also offer excellent resource efficiency and a comparatively-high recycling rate, all of which speaks to LG's consistent and wide-ranging efforts to increase sustainability at all points of its products' journey.
Not only is LG OLED TV better for the environment and indoor air quality, but protects consumers' eyes as well. With people spending more time in front of their TVs in the social distancing era, instances of eye strain and fatigue have been on the rise. In a survey conducted by YouGov on behalf of Fight for Sight, more than a third of all respondents said that their eyesight had worsened in recent months.2
Where watching the TV is concerned, screen flickering and the emission of blue light are the main culprits for eye-related issues. Screen flickering is known to cause eye fatigue and headaches, and after prolonged exposure, even diminished vision, while blue light can lead to disruptions in sleep patterns, eye strain, dry eyes and feelings of exhaustion. With LG OLED, neither flickering nor blue light is a problem.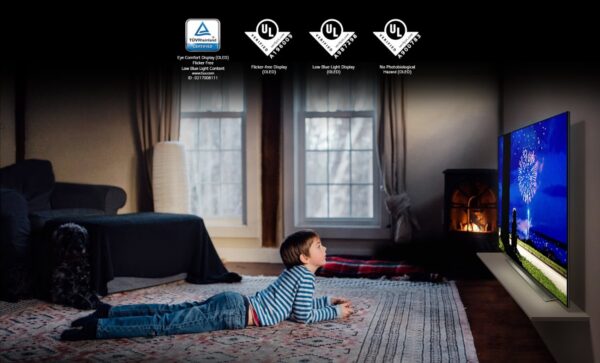 Thanks to their advanced OLED panels, LG OLED TVs have been found to be flicker-free and discomfort glare free by UL. They are also TÜV Rheinland Eyesafe® certified for meeting low blue light requirements, emitting approximately 50 percent less blue light than similarly-sized premium LCD TV panels.
When it comes to immersive home entertainment experiences, sound quality is just as important as picture quality. LG OLED TVs are not the only "eco" products considering the planet and consumers. LG's latest audio solutions that deliver dynamic, realistic sound, demonstrate the same focus on sustainability that can be seen in its next-gen TVs.
LG's 2021 soundbars use recycled materials such as resin for the outer cases of many of the models while some models feature jersey fabric made from recycled PET bottles and have been certified as meeting the Global Recycled Standard.3 In fact, many of LG's soundbars have received UL 2809 Environmental Claim Validation Procedure (ECVP) for Recycled Content, an assurance to consumers that these products are indeed as environmentally responsible as advertised.4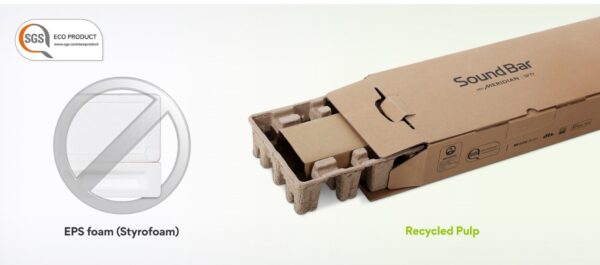 In another measure to reduce environmental impact and waste, LG has adopted earth-minded packaging for the entire lineup. Using mainly recycled molded pulp, and greatly reduced quantities of EPS foam and plastic, the packaging has earning Eco-Product certification from SGS.5 As such, the soundbars have been assessed by SGS to have minimal environmental impact, emitting less air pollutants, containing few hazardous substances and providing a high degree of recyclability. What's more, the packaging is designed in an "L" shape so more soundbars can fit in a typical delivery truck, lowering CO2 emissions.

For home entertainment products that take both consumers' and the environment's health into consideration, LG continues to lead the way with a commitment as unwavering as its resolve to deliver the most immersive home entertainment experience possible.
# # #
1 According to SGS Eco-Product certification ECO/18/CEBEC/00003, OLED TV panels are recognized as Eco-Product based on data showing they reduce the use of hazardous substances (Cd and InP free), reduce indoor (VOC) emissions during use phase and are excellent in resource and recycling efficiency.
2 Online poll of 2,021 respondents conducted by YouGov on behalf of Fight for Sight in November 2020.
3 Models SP7Y, SP2W, G1.
4 Models SP11RA, SP9YA, SP8YA, SP7Y, SPD7Y, SP2W.
5 Models SP11RA, SP9YA, SP8YA, SP7Y.